Federal Student Aid
Moneyzine Editor
Last updated 4th Oct 2022
Anyone that's enrolled in a two or four-year public or private institution, a career or trade school, may be eligible for federal student aid. Nearly all federal aid is need-based, and covers school expenses such as tuition and fees, books and supplies, room and board, and even transportation expenses to school and back home.
Types of Federal Student Aid
In general, there are three types of student aid offered through the federal government:
Work Study Programs
Federal Loan Programs
Federal Grants
Additional Resources
In this article, we're going to talk about each of these programs, explaining the differences between each type of aid, and the benefits each program has to offer.
Federal Work Study
Work study
is fairly self-explanatory; the student is paid to work around campus, with the money earned going towards educational expenses. Work study is not the same concept as a
college internship
. Students also need to be aware of how they get paid under these programs. For example, some schools will take the money earned from a work study program and apply it directly to the cost of tuition. Others may direct the money into an account, which is used to pay for the student's expenses.
Federal Student Loans
Just like a
mortgage
, a
student loan
is borrowed money that must be repaid with interest. Federal student aid, in the form of student loans, is a part of the following three programs:
Federal Direct Loans
Federal Direct Loans are made available to students as part of the William D. Ford Federal
Direct Loan Program
(Direct Loan). There are two forms of Direct loans, only one of which is based on demonstrated financial need:
Subsidized Direct Loans: Awarded based on financial need, and no interest is charged until repayment of the loan begins.
Unsubsidized Direct Loans: Awards are not based on demonstrated financial need, and interest accumulates while the student is still in school.
Federal PLUS Loans
Federal
PLUS Loans
are unsubsidized student loans that are made to parents. There is only one way to apply for this type of loan:
Direct PLUS Loan: The student's parents must complete a Direct PLUS Loan application, and promissory note, to determine eligibility for this loan. This application can be obtained from the school's financial aid office.
Federal Perkins Loans
Finally, there are
Federal Perkins Loans
, which consist of low-interest loans available to both undergraduate and graduate students with demonstrated financial need. With Perkins Loans, repayment is made to the school, not the Department of Education or the federal government.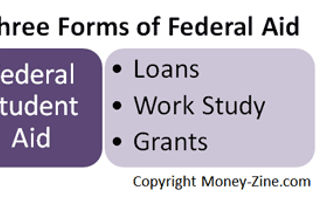 Depending on when the student applies, the level of need that is demonstrated, and the level of the school's funding, the student may be able to:
Borrow up to $5,500 for each year of undergraduate study. The total amount the student can borrow as an undergraduate is $27,500.
Borrow up to $8,000 for each year of graduate or professional study. The total amount a student can borrow under this program is $60,000. This also includes any Federal Perkins Loans the student may have borrowed as an undergraduate.
Federal Grant Programs
are a form of federal student aid that does not have to be repaid.
Pell Grants
and
Federal Supplemental Educational Opportunity Grants
(FSEOG) range from about $100 to $6,345 in 2020. In most situations, grants are targeted to the undergraduate student, and like loans, the size of the grant is determined by need and enrollment status. These programs also take into consideration the cost of attendance. There are a total of around ten requirements a student must meet to be eligible for federal student aid, but the three most important requirements are:
U.S. citizenship, with a valid Social Security number
Enrollment in an eligible program as a student seeking a degree, or certificate. If the student is a male between the ages of 18 and 25, they also need to enroll with the Selective Service
Finally, the student must have a General Education Development certificate, or have earned a high school diploma
Applying for Federal Student Aid
There are three steps to follow when applying for Federal Student Aid:
First the student's family must complete the Free Application for Federal Student Aid (FAFSA). It's important to apply as early as possible because some states, and institutions of higher education, set deadlines very early in the calendar year. The FAFSA can be found online here.
One to four weeks after the FAFSA has been submitted, the government will send a Student Aid Report, or SAR. The SAR seeks to confirm the information reported on the FAFSA, and will list the Expected Family Contribution, or EFC. The financial aid administrators at the schools the student is applying to will use the EFC to determine the family's qualification for federal aid.
The final step in the process is a conversation with the financial aid administrators. The administrator will review the SAR, and prepare a formal letter that outlines the size, and forms, of federal financial aid that the school will offer to the student and parents. This document is commonly referred to as the Award Letter.
---
About the Author - Federal Student Aid
---