Controlling Student Debt
Moneyzine Editor
Last updated 4th Oct 2022
In 2006, Congress slashed $12 billion in student lending funds in a desperate attempt to reduce the fiscal budget deficit. Recent studies have shown that student debt is getting out of control, and lawmakers on Capitol Hill have decided to take steps to help ease the burden for students with college loans.
In this article, we're going to discuss some of the measures elected officials are taking to help make college more affordable. Specifically we're going to discuss five programs that make getting a college diploma easier. We'll start by looking at two of the most popular ways to pay for college today: Stafford Loans, and Pell Grants.
Paying for College Costs
There are a number of ways to pay for college. It's possible to obtain a private student loan, or apply for two of the most popular federal programs that exist today:
Direct Loans, and
Pell Grants
It's important to understand how these programs can help because, later on, we're going to talk about some legislation that directly affects these two very important sources of college funding.
Direct Loans
Families can apply for a Direct Loan using the Free Application for Federal Student Aid form. These loans have variable interest rates, and are aimed at providing loans to both undergraduate and graduate college students. In general, there are two types of these loans: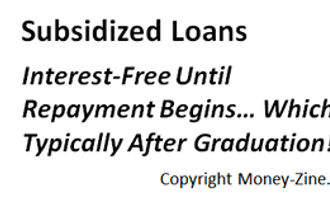 Subsidized Direct Loans: which are awarded to students based on demonstrated financial need, and no interest accrues on the loan balance until repayment begins. They're called subsidized loans because the federal government is paying the interest due on the loan until the scheduled payments begin after graduation.
Unsubsidized Direct Loans: which are not awarded based on financial need. The interest due on the outstanding loan balance accumulates while the student attends school, and stops when the loan is repaid in-full.
According to statistics from the U.S. Department of Labor, approximately 43 million students borrow money to pay for college through Direct Loans, and the average loan amount is roughly $35,000.
Pell Grants
There are exceptions, but generally, Federal Pell Grants are awarded only to undergraduate students. These grants are paid out by universities or colleges at least once each term. The money can be paid directly to the student, to the school via a student account, or any combination of the two. Unlike a loan, a grant does not have to be repaid.
The average grant under this program is $4,031, and there are approximately $28.7 billion in Pell Grants awarded to 7.1 million students annually (2017 / 2018).
Reducing Student Debt
As mentioned earlier, there have been recent cuts to federal spending on student loans. Congress is reversing that trend, and is trying to reduce the total debt burden held by students using at least five different approaches:
Linking Loan Repayment to Income Levels
Increasing Competition Between Lenders
Reducing Student Loan Interest Rates
Increasing Pell Grant Maximums
Reducing Reliance on Private Lenders
We're going to finish this article by taking a closer look at each of these approaches, and explain how students may benefit from these changes in the near future.
Loan Repayment
The late Senator Edward Kennedy, former Chairman of the United States Senate Health, Education, Labor and Pensions (HELP) Committee, released a study on the student loan system entitled "Report on Marketing Practices in the Federal Family Education Loan Program." As part of his student loan reform stance, Senator Kennedy proposed a repayment plan that would place a cap on monthly loan payments.
Under this program, if a former student were to take a low paying job after graduation, their monthly payments would be capped at 15% of their monthly income. The federal government would then pay the remaining interest expense on the loan. For students entering such fields of work as law enforcement, social work, or teaching, there would be a loan forgiveness provision that starts after 10 years.
Lending Competition
Senator Kennedy also pushed for legislation that would encourage colleges and universities to borrow directly from the federal government. By bypassing large lenders such as Sallie Mae, which receives subsidies from the federal government on the loans they write, studies indicate the Department of Education would save taxpayer money.
To provide an added incentive to schools, the Department of Education is even willing to send half of their savings back to participating schools, so they can provide additional financial aid to students in lower income brackets.
Lowering Interest Rates
The House of Representatives has passed legislation that lowers the interest rate paid on student loans by half. This program would apply to Stafford Loans, and once again, target students coming from lower income families.
For students with $10,000 in loans outstanding, this can mean the difference between paying nearly $6,200 in interest over the course of a 15 year loan at 7.00%, and $2,200 in interest at 2.75% (2020 / 2021 rates). That translates into $4,000 in savings over the life of the loan.
Pell Grant Maximums
Former President Bush proposed to increase the maximum awards under the Pell Grant program from $4,050 to $4,600 in 2008 and to $6,345 in 2020 / 2021. The rationale behind this move is the feeling that Pell Grants have not kept pace with the rising cost of a college education. This program would cost taxpayers $15 billion over five years, but the prospects of it gaining legislative approval are high.
Private Lenders
Finally, most college students do not understand the financial relationship that exists between lenders and the schools they're attending. Many schools maintain a preferred list of private student loan lenders, in exchange for certain gifts made available to the schools themselves.
Prior to July 1, 2010, private lenders provided Stafford, PLUS, and Consolidation Loans under the Federal Family Education Loan Program. This program was eliminated by the Health Care and Education Reconciliation Act of 2010. New student loans are now available directly from the U.S. Department of Education's Direct Loan Program.
---
About the Author - Controlling Student Debt
---