Sallie Mae Student Loan
Moneyzine Editor
Last updated 25th Nov 2022
Sallie Mae was created in 1972 as a government-sponsored enterprise to enhance public access to higher education by serving as a secondary market, and warehousing entity, for student loans. The company offers existing and former student borrowers a wide variety of services, including securing private student loans and debt management.
History of Sallie Mae
While the company may have started out as a government enterprise, by 1996 the SLMA Privatization Act was passed into law, which allowed the creation of SLM Corporation; the holding company for Sallie Mae.
Additional Resources
Sallie Mae's student loan purchases are a substantial portion of the Family Federal Education Loan (FFEL) program. For example, in the years 1997 through 2000, Sallie Mae purchased roughly 25% of all the outstanding FFEL. That's nearly $40 billion in student loans. Sallie Mae currently owns, or manages, nearly 10 million former students with loans valued in the area of $130 billion.
Note
: The Health Care and Education Reconciliation Act of 2010 eliminated the FFEL program, and no loans were permitted to be made after June 30, 2010. However, many of these loans are now in repayment. Sallie Mae operates loan servicing centers in Gilbert, Arizona; Panama City, Florida; Indianapolis, Indiana; Mount Laurel, New Jersey; Wilkes-Barre, Pennsylvania; and Killeen, Texas. Sallie Mae is both a Fortune 500 and Forbes 500 listed company, and has been recognized as one of the 100 Best Corporate Citizens according to Business Ethics magazine.
Subsidiaries
SLM also owns, operates, or is affiliated with the following companies: Academic Management Services Corp., Arrow Financial Services, First Trust Financial, General Revenue Corporation, GRP Financial Services, Nellie Mae, Noel-Levitz, Pioneer Credit Recovery Inc., Sallie Mae Bank, Sallie Mae Home Loans, SLM Financial Corporation, Southwest Student Services Corporation, Student Assistance Corporation, Student Loan Finance Association, Student Loan Funding and Upromise.
Corporate Developments
In August 2006, Sallie Mae acquired Upromise, a company that provides rebates to buyers of certain retail brands. In turn, these rebates can be applied to college savings accounts. These companies co-market financial aid information, student loans, and investment plans to both students and parents. On April 16, 2007, the company announced that an investor group led by J.C. Flowers & Co. had signed an agreement to buy Sallie Mae for $25 billion. That agreement fell through in September 2007, when Flowers told Sallie Mae that he was having second thoughts because of a plan the U.S. Congress was considering, which involved reductions in government subsidies for student loans. In March 2010, the company laid off 2,500 of its 10,000 employees when the federal government announced it was providing loans directly to students and bypassing financial institutions.
Student Loans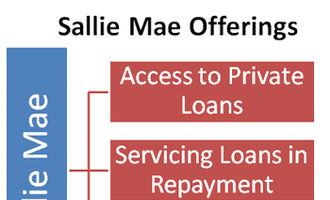 Sallie Mae offers students, parents, and former students a wide array of services including access to federal
student loans
in repayment, private loans, and even post graduate loan consolidation. The Smart Option Student Loan program provides undergraduate students with the choice of three repayment options: deferred (pay more later on), fixed, and interest only. In addition to the Smart Option Student Loan, graduate students entering a medical or dental residency program, as well as students studying for the bar examination, are offered loan programs tailored to their needs.
Rights and Responsibilities
Borrowers have a number of rights and responsibilities under these student loan programs. The rights of a borrower include:
The responsibilities of a borrower include:
Repayment of loans in a timely fashion; even if unhappy with the post-educational outcome.
Notifying the holder of a student loan of any change to in address or name.
Finally, even if a request is made to have payments deferred, borrowers must wait until they are granted written notice before withholding payments.
Loan Consolidation
In addition to providing students with a way to manage their loans, Sallie Mae also offers
consolidation services
. Simply put, consolidation is a way for students to bundle their loans together into a one larger loan. By consolidating a loan, the borrower can reduce the number of monthly payments, and even reduce the total payment made on the loans. Students with federal loans have the opportunity to lock in a lower fixed rate, which can significantly reduce the interest charges. As was the case with private loans, it's possible to choose a convenient repayment option. This includes level payments, graduated, extended, and even an income-sensitive plan. It's possible to qualify for consolidation if:
A private student loan was obtained from a bank or credit union.
There is at least $5,000 in student loans.
The student has a good credit rating, or has access to a cosigner with a good rating.
The borrower has already graduated, or will be graduating, from a postsecondary program.
---
About the Author - Sallie Mae Student Loan
---