26 Revealing Affiliate Marketing Statistics for 2022

Martynas Pupkevicius
Last updated 29th Nov 2022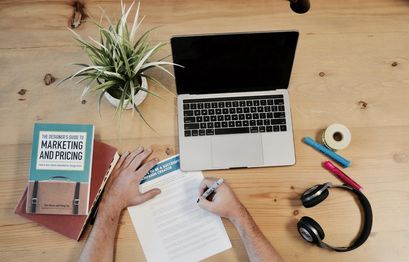 Affiliate marketing is a growing business with top companies earning vast sums of money simply by recommending a product to the public. In addition, the internet has made it possible for affiliate marketing to become automated and be implemented as a viable business model across various industries.
Keep reading to get a grasp of the top affiliate marketing statistics and gain insight into the industry. You will learn where this marketing method is headed in the future and the trends that have taken place in recent years. We will break the list into sections so you can find the ones you want to learn about first. Finally, don't skip the FAQ section at the end for answers to commonly asked questions that reveal some interesting affiliate marketing stats.
Top 10 Affiliate Marketing Statistics and Facts for 2022
The portion of brands offering affiliate programs is 81%.

Relevancy is the top factor in how affiliates choose products.

Affiliates are the top marketing method for 40% of US-based merchants.

Most US-based shoppers will visit multiple affiliate websites before buying.

A quarter of affiliate programs are in the fashion industry.

The top affiliate networks have around 100,000 affiliates.

94% of affiliates use more than a single platform to source products.

86% of affiliates expect their income to remain the same or increase.

Mobile devices make up around half of all affiliate traffic.

By the end of 2022, the US affiliate marketing spend will increase to $8.2 billion.
General Affiliate Marketing Facts and Figures
81% of brands provide an affiliate marketing program.
Companies are required to invest very little in order to offer an affiliate program. After all, it is the affiliate who does all the work to earn the commission. Also, affiliate marketing trends change over the years, which makes way for new methods of implementing this marketing strategy.
(Mediakix)
In the United States, shoppers will check multiple affiliate websites before purchasing.
Affiliate websites are typically designed in a way that makes it easy for online shoppers to read a review and compare various products. Then, once they know what they want to buy, they will proceed to the store to purchase the goods.
(CyberCash Worldwide)
Around 68% of affiliate marketers use social media to connect to customers.
The use of social media within the affiliate marketing industry is close to 70%. This means that nearly a third of affiliate marketers are not taking advantage of social media platforms to secure commissions. It might be because social media platforms are generally the least favorable type of traffic for converting customers.
However, if competing affiliates are not taking advantage of these marketing platforms, others who have a more creative approach can step in and take advantage of the opportunity.
(Master Blogging)
Mobile affiliate marketing statistics reveal that half of all affiliate traffic comes from mobile devices.
It is unsurprising that around 50% of traffic coming from affiliates is mobile based. Keep in mind that this reflects the portion of all internet traffic. However, it highlights an important point: affiliates must ensure that their digital assets are mobile-optimized.
This means creating responsive designs that adapt to the device where the content is viewed. Overall this is likely to increase conversion rates.
Moreover, a significant portion of affiliate marketing revenue comes from mobile traffic.
(Call Hippo)
18.5% of marketers say that relevancy is the top factor for choosing an affiliate program.
There are many factors that go into choosing an affiliate program, but the top one is ensuring the product is relevant. This means it must fit into their existing digital assets so that it's applicable to their audience.
Other factors that go into choosing an affiliate program include merchant reputation, tracking platform, and the reputation of the affiliate program. If there is positive word of mouth, the affiliate marketing revenue tends to be good as well.
(Social Media Today)
40% of US merchants share that affiliate programs are their top method of attracting new customers.
A large segment of companies relies on affiliate programs to gain new customers. As a result, some companies don't mind providing 100% commission to affiliates to increase their effort to attract new buyers.
The company will then use the acquired customers to upsell more expensive products to profit from the affiliate commission model. This means they can concentrate on selling big-ticket items instead of focusing on marketing.
(Backlinko)
The best affiliate networks have over 100,000 affiliates generating commissions.
The large pool of affiliates working for the top platforms find the best possible deals through affiliate networks. Since relevancy is the biggest factor in choosing an affiliate program, top networks manage and understand how to provide the best programs.
According to affiliate marketing statistics, the biggest networks are the most popular ones and naturally attract new affiliates. This means that smaller networks will have a hard time attracting new affiliates if they can't offer competitive deals.
(Influencer Marketing Hub)
65% of affiliates generate traffic through blogging.
Blogs are essential in the affiliate marketing industry because they can generate traffic.
With nearly two-thirds of affiliates using blogging to generate commissions, it indicates that this marketing method works. Also, it is one of the cheapest marketing methods—especially if the affiliate can write the blog content themselves.
Blogging has the advantage of being a long-term marketing method that will provide commissions repeatedly. On the other hand, marketing methods like PPC ads rely on constant spending to work.
(Awin)
According to statistics on affiliate marketing, cost per action (CPA) is the most frequently used payment model for affiliate networks.
Most of the affiliate marketing profits come from this payment model.
This payment model generates commissions when the user interacts with the product, ad or by clicking on a link or filling out a form. The action is specified by the affiliate network and set by the merchant. Affiliates can choose the payment model that works for their strategy.
Pay-per-lead is the other popular payment model, which only provides a commission when a conversion is achieved. This is a risk-free payment model for merchants since they only pay out when they receive money from a sale.
(Influencer Marketing Hub)
Affiliate marketing is used by 79% of marketers to engage current customers.
Customers loyal to a brand usually end up buying from affiliates of a company. That's because they cannot distinguish between official company digital assets and the official website. However, if they find the affiliate website first, the affiliates are credited for the sale.
Affiliate marketing growth has been increasing over the years. There are so many affiliate sites in various industries that it's often difficult to find the official brand website and buy products directly.
(Get Cake)
Affiliate marketing is considered an important skill by 40% of online marketers.
Many online marketers recognize the affiliate marketing success rate and appreciate its impact. When the right program is put to use, both the brand and the marketer benefit from it, this type of collaboration brings in a steady profit for both parties.
Many affiliate marketers can build a comprehensive array of skills that are transferable to other industries. Because the affiliate marketing industry is well-branched out in different kinds of websites and businesses, marketers can progress in several directions if they decide to stop with affiliate marketing specifically.
(BloggingX)
Around 25% of affiliate programs are in the fashion industry.
This is one of the most interesting affiliate marketing facts. Online fashion is a big industry, so many affiliates actively try to get commissions. However, the fashion industry is much more than just clothes. Other affiliate program industries include sports & outdoors, health & beauty, travel, home & garden, and electronics.
This indicates that the fashion industry alone takes up a significant share of the overall affiliate marketing industry size.
(AM Navigator)
94% of affiliate publishers use more than one network.
Most affiliate publishers understand the importance of diversifying their affiliate marketing revenue. Apart from ensuring a consistent revenue stream, using multiple networks ensures that the audience has a broader choice of products. This improves the quality of the affiliate website and user experience. It is important to note that the number of affiliate networks available will vary based on the industry.
(Affise)
Affiliate Marketing Industry Statistics
16% of global sales happen because of affiliate marketing.
This number is indicative of just how big the affiliate marketing business is. Without it, many online stores would lose a significant number of sales. Some online merchants rely on affiliate sales more than others, depending on their business model.
Successful affiliate marketers help push e-commerce sales by providing comparison and review services. This informs customers about products and allows them to buy the right ones according to their needs.
(Fetch Profits)
Affiliate marketing industry statistics revealed that the biggest affiliate marketing platform is ShareASale with 55.7% of the global sales.
There are many affiliate networks to choose from, but according to affiliate marketing stats, ShareASale is the top choice for many merchants. It is vital to choose a quality network since they can be trusted with the tracking software and provide high payouts.
Other notable affiliate networks include Rakuten LinkShare, Avangate, and the eBay Network. These are the networks where marketers go for the bulk of their income.
(Appsero)
The country with the most affiliate marketing sales is the United States with 39%.
It comes as no surprise that the US has the most significant portion of affiliate marketing sales since it has the most developed economy in the world. According to US affiliate marketing spending statistics.the country has the most extensive networks and the market with the biggest spenders.
In second place is the UK with 15%, and Germany rounds out the top three with 11% of the affiliate marketing revenue. Surprisingly, China has not made this list yet, despite being on track to become the largest economy in the world.
(Software Findr)
According to affiliate internet marketing statistics, 0.5% to 1% is the average affiliate marketing conversion rate.
The conversion rate varies based on the industry. While a 0.5% conversion rate could be excellent in one industry, it could be meager in another one. Apart from this, the strategy that the affiliate marketer uses plays a crucial role in determining the conversion rate.
Affiliate marketers can profit with low conversion rates from low-cost models like blogging. However, when PPC is used, the conversion rate must be high enough to generate a profit.
(Influencer Marketing Hub)
The affiliate marketing industry size is estimated at $12 billion.
The affiliate marketing industry is worth billions, so it's a big business and spans many industries. Furthermore, digital media allocates 15% of its revenue towards affiliate marketing, which is another sign that it is lucrative.
There are no signs that affiliate marketing is slowing down. As e-commerce sales grow, so do the number of commissions generated. Affiliate marketing profits are set to increase over the years.
(BloggingX)
$6.4 billion was reached in affiliate marketing turnover in 2019.
Affiliate marketing revenue has been increasing every year. Not only that, but the affiliate marketing growth hasn't slowed down since it is expected that the revenue will increase by 10% during this decade.
The growth rate is in line with the increase in sales and the amount of money consumers spend online.
(eMarketer)
Affiliate Marketing Earnings Statistics
9% of all affiliates earn over $50,000 per year.
These affiliate marketing statistics indicate that many affiliates make a solid living from generating commissions. However, most affiliates are not earning significant sums of money. That might be because they are learning how to generate commissions and trying to grow as a business.
Furthermore, affiliate marketing is an easy industry to get into. Anyone with a website can get started by writing a few blog posts. This means many amateurs contribute to this statistic.
(Investopedia)
86% of affiliate marketers expect their income to remain the same or increase.
Affiliate marketing growth statistics indicate that most affiliate marketers are confident in the longevity of their business. Most have received increases in income over the last few years due to the upward trend of e-commerce. This fuels confidence that the industry is booming online and will only increase in the future.
As more networks are added to the selection list for affiliates, it will increase the options for getting even more revenue.
(Fetch Profits)
65% of merchants who provide affiliate commission share that it makes up 20% of their revenue.
Indicating that around a fifth comes from affiliate marketing, this revenue estimate shows affiliate marketing is a strong source of sales. Many companies will feel the difference if they suddenly decide to stop offering commissions on affiliate sales.
Merchants love the commissions based model since it reduces their marketing costs. Businesses that have had trouble with marketing in the past can outsource the work to affiliates with established digital assets.
(BloggingX)
Affiliate marketing revenue statistics revealed that marketing programs meet the revenue expectations of 73% of merchants.
This indicates that the vast majority of merchants are happy with the amount of revenue that is being generated by affiliate sales. The customers gained can be used for upselling, which increases revenue even further.
The merchants with a system to upsell existing customers will profit from the affiliate marketing model the most. Some merchants are happy to provide 100% commission if it means their buyers' list will grow.
(Fetch Profits)
Affiliate Marketing Trends
According to affiliate marketing growth statistics, the term "Affiliate Marketing" has seen a constant increase in searches since 2015.
The increase in search popularity may indicate that more businesses will offer affiliate marketing commissions. This increases the rewards provided for publishers that want to take advantage of the commission-based model.
(Google Trends)
By the end of 2022, the US affiliate marketing spend will increase to $8.2 billion.
Statistics on affiliate marketing show that by the end of 2022, the expenditure in the US will reach $8.2 billion. This is almost a $1 billion increase from 2021—when the industry spend was $7.4 billion. In 2012, affiliate marketing spend was only $2.5 billion, but there were fewer opportunities for publishers at the time.
The increased marketing spend indicates that a larger number of businesses are offering affiliate commissions in their marketing campaigns. It is becoming a valuable source of income for many businesses that want to rely on a network of established and successful affiliate marketers.
(Statista)
Voice search and artificial intelligence are big trends to watch out for in the affiliate marketing industry.
With the continual improvement of technology, the number of voice searches has become an up-and-coming trend this decade. Therefore, affiliate marketers can get ahead of the trend by taking advantage of this new search preference.
Also, artificial intelligence-based technologies can provide affiliate marketers with extra tools to capture more sales and achieve higher conversion rates.
(Influencer Marketing Hub)
The Bottom Line
Affiliate marketing stats point to a bright future for the industry. This business model is both profitable and low-risk. It brings in a noticeably large income for the merchant and the marketer. Moreover, well-established networks prove that this method of generating revenue is here to stay.
However, there is always room for growth and progress as this industry is innovative and ever-changing. The affiliate marketing spend is expected to increase even more in the upcoming years. For the time being, most of the affiliate traffic is made through digital assets, which most often come across on mobile devices.
FAQs
What industries provide affiliate marketing programs?
What are the top 3 affiliate marketing networks?
Can beginners do affiliate marketing?
Is affiliate marketing worth it in 2022?
References
Our content quality team consulted the following expert sources to maximise the value and accuracy of this page:

Martynas Pupkevicius
Martynas is a seasoned freelance writer that has written on a broad range of topics over his 10 year career. He enjoys diving into the research and sharing what he's learned with readers.