Revealing Remote Work Statistics & Facts for 2022

Martynas Pupkevicius
Last updated 29th Nov 2022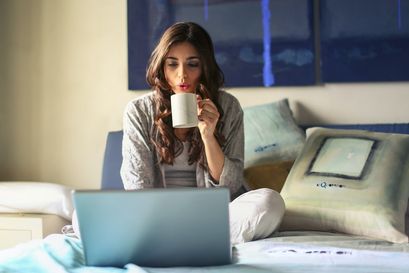 Since the start of the pandemic in 2020, the popularity of remote work has been off the charts. Companies had no choice but to take advantage of working remotely because employees could not physically come into the office. However, as our selection of remote work statistics will show, remote work continues to be a large part of the new work environment even when the pandemic isn't in full swing.
On this page, we will explore interesting statistics about remote work. We will group the statistics in several key areas and answer commonly asked questions surrounding the topic. These stats might reveal a few surprising facts you did not know about this growing trend.
Top 10 Remote Work Statistics (Editor's Choice)
73% of all departments will have remote workers in the near future.

44% of companies don't allow remote work.

High-income level cities have a large percentage of remote workers.

15% of healthcare employees are remote.

69% of millennials would trade work benefits for a more flexible work environment.

Remote workers make $4,000 more annually than other workers.

77% of remote workers feel that they are more productive at home.

Unplugging after work (22%), loneliness (19%), and communication (17%) are the biggest challenges for remote workers.

Remote work positions are 2x more likely to be offered by small businesses.

74% of employees say they are less likely to leave a company if they have remote work opportunities.
General Remote Work Stats
In this section, we take a look at the most commonly shared facts about remote work. They provide interesting data on how the remote work phenomenon is shaping what having a job means in the modern age.
73% of all departments will have remote workers in the near future.
This shows that there will be a far-reaching adoption of remote work in the near future. Furthermore, it will be acceptable to work remotely in more industries and departments. Obviously, as time goes by, the remote work trend is becoming more popular among different professions.
(Upwork)
Given a choice, 99% of people want to work remotely for the rest of their lives – even if it is part-time.
Many people are successfully working at home, and the flexibility and freedom of working remotely is a big advantage that employees do not want to give up. Therefore, remote work is not a fad that will fizzle out. On the contrary, the majority of people looking for a new job are seeking the opportunity to work remotely whenever possible.
(Buffer)
95% of company executives believe that employees must be in the office to maintain a strong company culture.
This stat clearly reflects the fact that a large part of the company culture is developed in the office. However, this doesn´t follow the current remote work trend worldwide and includes the office vibe and standards employees have to follow. Be it the work hours or the dress code, the point these managers are trying to make is that remote workers can lose the sense of what the company is if they aren't present in the office daily.
(PwC)
Remote work is not allowed by 44% of companies.
According to work-at-home statistics, it has been revealed that remote work is not yet accepted by nearly half of all businesses, despite its rise in popularity. However, because of the pandemic and technological advancements, the benefits of remote work are undeniable and for that reason, many companies allow employees to work away from their regular reporting location (flexplace). Therefore, you can expect this number to decrease over time due to the increasing percentage of employees working from home.
(Own Labs)
70% of US company executives are prioritizing the development of virtual coloration tools.
The lack of highly developed online collaboration tools is one of the roadblocks that remote workers face. Improving the functionality of these tools can offset the disadvantages of not being able to communicate in an office environment.
(PwC)
High-income level cities have a large percentage of remote workers.
This statistic might reflect the fact that high-income jobs are usually technology-based. These jobs are desk-orientated by their nature, which means they can easily be completed at home. Also, according to these work from home statistics, the employees earning higher wages can afford the hardware that is required to work remotely.
This is becoming more popular, and it is known as BYOD (Bring Your Own Device). However, a lot of companies also provide a budget for employees who want to create a home office and work remotely.
(Pragati)
The highest number of people working from home based on the industry are healthcare (15%), technology (10%), and financial services (9%).
Most remote work jobs are associated with technology-based industries. Typical roles include content creation, web design, and web development. However, the majority of remote jobs are in the healthcare sector. This shows that remote work jobs are available in many areas of modern industries.
(Own Labs)
16% of worldwide businesses have gone fully remote.
This number is low, but going 100% remote is a big change from the traditional office-based model. This growing trend indicates that the model works, and it is only a matter of time before the numbers in most of these working-from-home stats go up.
(Own Labs)
The number of remote workers since 2009 has increased by 159%.
Many factors contribute to remote industry growth, but the main ones are technological advancements and a cultural shift. People value the freedom and flexibility afforded by remote work, so it is a big advantage for employees that want to improve their work-life balance.
(Global Workplace Analytics)
62% of employees in the 22 to 65 age bracket work remotely at least occasionally.
This reflects the fact that many modern offices have opted for a hybrid model where employees can work both remotely and in the office. Statistics on working from home reveal that, in some cases, the split is determined by the company, or the employee can choose based on their preferences.
(Own Labs)
Remote Work Advantages Statistics
The following statistics will show the numerous advantages of remote work. You will see that there is solid evidence for why this type of work is becoming more and more popular worldwide.
One of the top benefits of remote work is being able to dress more casually.
Remote working statistics reflect that 69% of remote employees questioned in Europe shared they view being able to dress casually as one of the top benefits of remote work. Most offices require a strict dress code that does not leave much room for experiments or comfort for some people. Therefore, being able to wear what you want is added freedom.
(Buffer)
Greenhouse gas emissions are reduced by 600,000 cars due to a lack of commuting.
It is not just the employers and employees that can enjoy the benefits of remote work but also the environment. That is because fewer people need to use private or public transport for commuting to work.
(State of Telecommunicating)
Up to 69% of millennials would trade some work benefits for a more flexible work environment.
It was not an overstatement to say that the current workforce wants more freedom and flexibility. This is one of the WFH statistics that shows many employees would give up some advantages if they could achieve a better work-life balance by working from home.
(CBRE)
Most people choose to work remotely because of better work-life balance.
Working remotely enables people to set their own schedules. This means they can work at the times of the day when they feel their productivity will peak. Also, there is time for hobbies or looking after your kids since you can work around scheduling conflicts. Finally, commuting to work becomes a thing of the past when you work remotely.
(Owl Labs)
75% of people decide to work remotely because there will be fewer distractions.
Global remote work statistics show that some employees feel that the office environment is too distracting. This might be because of constant meetings, noise, or other employees getting in the way. Remote workers have more control over how their home environment is regulated, which allows distractions to be controlled. Also, due to a less distracting environment, employees have developed better time management skills.
(FlexJobs)
77% of remote workers feel that they are more productive at home.
One stereotype that gives remote work a bad name is reduced productivity because of no oversight. However, working from home statistics show that the opposite is true because most people report that they get more done while at home. This could be because they save time since there is no commute, and they face fewer distractions at home.
(CoSo Cloud)
50% of IT-based industries reported an increase in productivity.
Companies are realizing that by switching to a remote work format or hybrid model, employees are getting more productive. This increases the productivity of a company as a whole by significant amounts. Therefore, adopting the remote work model allows companies to be competitive in highly contested fields. More and more companies will adopt this model, and we will see the WFH trend increase.
(Capgenni)
Remote Work Earnings Statistics
This section highlights some of the main statistics for how much remote workers earn. So, if you take note of these remote working trends, you can decide if choosing a remote work position is a good move for your career.
Around $7,000 annually is saved on childcare, food, and transportation for remote workers.
The huge savings remote workers make means they get to save more money in the long run. The money they would otherwise spend on childcare and transportation. Also, meals can be prepared at home, which is much cheaper than buying food at restaurants.
(TECLA)
Businesses earn increased profits of $2,000 per remote worker.
This shows one of the most surprising work-from-home facts. Companies reliably see increased profitability by allowing their workforce to go remote. That is because they save money on lower rental fees and fewer equipment costs. The lower overheads mean that more money can be reinvested into the business to promote its growth.
(Stanford)
Remote workers make $4,000 more annually than other workers.
Other than the benefits of more flexibility, remote workers can make more money too. However, most workers that have jobs at home are higher up on the company ladder, which can inflate the numbers in this example. Nevertheless, the overall trend shows that remote work is more lucrative.
(FlexJobs)
Remote Workforce Statistics
Now we will share a few statistics about how likely a company is to keep remote workers. These stats can provide insight into the volatility of this work format.
During 2017, companies that allowed remote work experienced 50% fewer resignations.
Research conducted by Stanford shows strong evidence for companies having fewer retention problems when they allow remote work. This is one of the remote worker statistics that indicate companies with more flexible work arrangements have an easier time attracting and keeping employees.
(Stanford)
Up to 74% of employees say they are less likely to leave a company if they have remote work opportunities.
The lack of face-to-face interaction might cause employees to feel frustrated due to difficulties in managing projects. However, this helped them to develop stress management skills, and, in reality, work-from-home stats reflect they prefer the benefits of remote work and deal with the negatives of having to collaborate online. This static is a strong indication that employees want more remote work in their careers.
(Owl Labs)
64% of recruiters share that offering remote work policies allows them to hire higher quality talent.
It is unsurprising that most recruiters are having an easier time getting good talent with remote work on the table. WFH stats show that this happens because they are actively looking for these opportunities. The work-from-home option is becoming more important as the cultural shift continues to develop.
(IWG)
85% of managers feel that it will be the new normal for teams to be formed in a remote work environment.
While many businesses have yet to make the shift to remote work, most managers see the writing on the wall. Namely, 6 out of 7 managers feel that remote work teams or a hybrid model will be the new way of creating a successful work environment.
(TECLA)
Remote work positions are 2x more likely to be offered by small businesses.
Stats on remote working show that the switch to remote work arrangements allows companies to save large amounts of money. These savings are important for smaller businesses that might be struggling to be profitable. Also, new companies need to hire the best talent to compete in contested industries and offering remote work tends to be a cutting edge.
(Owl Labs)
Remote Work Challenges
While we shared a lot of positives about remote work on this page, there are also a few stats that describe their negatives. Here you will learn about a few of the drawbacks that are worth knowing.
Remote employees are 16% less likely to agree that their manager involves them in the goal-setting process
According to remote work statistics, one of the key challenges that remote workers face is communication. The lack of face-to-face interaction can cause some remote employees to feel isolated, so they feel like they are not kept in the loop. Digital team collaboration platforms do a good job of linking remote employees, but for some, it does not replace the office environment.
(Gallup)
Coworking space memberships are only paid by 23% of employers.
Remote employees may need the services of a coworking space if they do not have a distraction-free environment at home. However, this can come at a cost, and it is not reimbursed by most employers. They may see this as a cost that is not justified when remote workers can use their homes as an office.
(Buffer)
54% of IT professionals feel that remote employees are a higher security risk than traditional workers.
Remote work trends reflect that employees who are working remotely need to use online collaboration tools to work effectively with other team members. This creates many points of attack for hackers. Therefore, the cybersecurity threats for remote workers are higher because they do not have the same level of protection as at an office location. However, stats show that these workers are given cybersecurity training to reduce the chances of successful attacks.
(OpenVPN)
Only 70% of remote employees receive consistent training from their company.
Remote working stats show that the actual number of remote workers that receive training is 87%, but only 70% of them get it from their company. This means they need to seek training on their own and pay for the expenses. This may create the impression that companies do not care about their remote workers because they are out of sight.
(TalentLMS)
Some of the biggest problems with working remotely include unplugging after work (22%), loneliness (19%), and communication (17%).
Remote employees face challenges that come from working alone from home. Issues such as feeling lonely and not being able to communicate can be solved easily when going to the office. Also, some employees have difficulty unplugging at the end of the workday since the lines between work and leisure time can often get blurred.
(Buffer)
Frequently Asked Questions
Are remote workers happier?
Does working remotely work?
Do remote workers get less money?
What percentage of jobs are remote?
How can you be productive when working from home?
References
Our content quality team consulted the following expert sources to maximise the value and accuracy of this page:

Martynas Pupkevicius
Martynas is a seasoned freelance writer that has written on a broad range of topics over his 10 year career. He enjoys diving into the research and sharing what he's learned with readers.