Federal Student Loans
Moneyzine Editor
Last updated 4th Oct 2022
The term federal student loan applies to three different types of financial aid available to help students pay for college. The government has created several ways to help students pay for school, and loans are only one of those ways.
In this article, the discussion will be focused on three loan types: Federal Direct Loans, Federal PLUS Loans, and Perkins Loans. As part of that discussion, we'll talk about eligibility, the application process, as well as repayment options.
Federal Student Aid
Before beginning a discussion of federal student loans, it's worth a reminder there are other ways to help pay for college. Families that are looking for aid beyond federal loans should read our publication: Federal Financial Aid. That article talks about student grants and work study programs, in addition to a brief discussion of student loans.
Loan Guidelines
There are only a few guidelines that are worth mentioning when it comes to student loans. The first guideline being that, by definition, these are loans and the money borrowed needs to be repaid back to the lending institution.
The second guideline is that most federal student loans are based on demonstrated financial need. In order to calculate financial need, the student's family needs to complete a Free Application for Federal Student Aid, or FAFSA. Once that application is completed, and verified to be correct, the student will receive a Student Aid Report, or SAR. One of the items listed on the SAR is the Expected Family Contribution, or EFC.
The SAR will be used by the college's financial aid office to determine eligibility for all forms of federal aid, including student loans. The financial aid office will then prepare an Award Letter, which outlines the aid package the school is willing to offer the student. With that explanation behind us, let's take a closer look at each of the federal loan programs.
Direct Loans
These loans are made available to students as part of the William D. Ford Federal Direct Loan Program (Direct Loan). As long as the student is enrolled at least half time, they are eligible to receive a Federal Direct Loan. There are two forms of these loans, only one of which is based on demonstrated financial need:
Subsidized Direct Loans: Awarded based on financial need, and no interest is charged until repayment of the loan begins.
Unsubsidized Direct Loans: Awards are not based on demonstrated financial need, and interest accumulates while the student is still in school.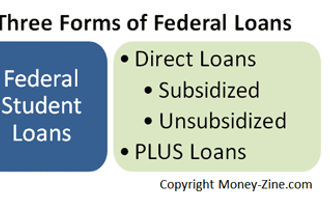 The limits for Direct loans depend on the year of attendance, and the student's dependency status. Direct loans have a dual structure when it comes to interest rates: the interest rate is lower when the student is in school and for any subsequent grace period. Once a student is in repayment, the interest rate on the loan will increase. For more complete information, see our article dedicated to this topic:
Direct Loans
.
Federal PLUS Loans
Unsubsidized loans that are made to the parents of students are known as Federal PLUS loans. If the student is not a dependent of their parents, they are not eligible for loans under the PLUS program. (However, the student may be eligible to borrow more money through the Direct Loan program.) The Federal PLUS Loan program is only available as follows:
Direct PLUS Loan: The student's parents must complete a Direct PLUS Loan application, and promissory note, to determine eligibility for this program. This application can be obtained from the school's financial aid office.
In 2020 / 2021, depending on when the student applies, the level of need that is demonstrated, and the level of the school's funding, the student may be able to:
Borrow up to $5,500 for each year of undergraduate study. The total amount the student can borrow as an undergraduate is $27,500.
Borrow up to $8,000 for each year of graduate or professional study. The total amount a student can borrow under this program is $60,000. This also includes any Federal Direct Loans the student may have borrowed as an undergraduate.
A Directs Loan carries with it a fixed interest rate of 2.75% (2020 / 2021) for the duration of the ten year repayment period. The Direct Loan Program also has a nine-month grace period. This means that a student borrower will begin repayment during the tenth month after graduation or withdrawal from their college or university.
Finally, because the Direct Loan is subsidized by the federal government, interest does not begin to accrue on the loan until the borrower begins repayment.
---
About the Author - Federal Student Loans
---