Student Loan
Moneyzine Editor
Last updated 4th Oct 2022
We've all read, or heard, about the runaway costs of a higher education. Both public and private colleges and universities are now charging students $25,000 to $80,000 annually to attend school. Costs of this magnitude mean that finding a student loan to help finance college costs is essential to most families and students.
On Campus Loans
The good news is that according to the Department of Education, a college or university is likely to provide nearly as much funding as the federal government. Families need to contact the school's financial aid office to find out what help is available. Graduate students might also want to check with their department's chairperson.
Federal Student Aid
In this article, we're going to concentrate on the federal student loans available to the public. We've mentioned in our Federal Financial Aid article the types of aid available fall into three categories: grants, work study, and student loans. Let's take a closer look at each of these financing options.
Student Grants
Grants are financial aid that does not have to be repaid. The federal government sponsors two programs: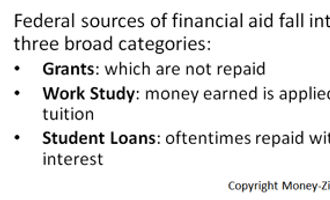 Federal Pell Grant: This grant is available almost exclusively to undergraduates. Pell Grants are based on need, cost of attendance, and whether you are a full or part time student. In 2020 / 2021, the annual Pell Grant limit is $6,345.
Federal Supplemental Educational Opportunity Grant: FSEOG Grants are targeted to undergraduates that demonstrate exceptional financial need. Priority for FSEOG Grants is given to students that are already recipients of Federal Pell Grants.
Work Study Programs
With work study programs, the student is earning money while enrolled in school. The money earned is applied to educational expenses.
Federal Work Study: This program is for both undergraduate and graduate students, and consists of jobs on or off campus. If enrolled in a Federal Work Study program, students are paid at least minimum wage. There is no limit to the amount of money a student can earn in this program.
Federal Student Loans
Federal student loans are borrowed money and need to be repaid with interest. Some programs allow the parents and / or the student to borrow money. The student loans offered from the federal government include:
Subsidized Direct Loan: part of the William D. Ford Federal Direct Loan Program (Direct Loan), and subsidized by the Department of Education. This means the government pays the interest on the loan until the student graduates. Both parents and students are eligible for these loans, which range from $5,500 to $12,500 depending on the grade level of the student.
Unsubsidized Direct Loan: works the same way as the Subsidized Loan, except the borrower (student or parent) is responsible for the interest during the entire life of the loan. Unsubsidized loans can range from $5,500 to $20,500 for graduate students.
Direct PLUS Loan: available to parents of dependent undergraduate students. PLUS loan maximums are calculated as the cost of attendance minus all financial aid received by the student.
Applying for a Loan
There is a three step process to follow when applying for a student loan:
Complete the FAFSA (Free Application for Federal Student Aid)
Review the SAR (Student Aid Report)
Contact the schools the student is considering attending
Financial aid administrators are a useful and helpful source of information on grants, work study, and student loans. The college or university they're planning to attend will eventually package their offer of aid, and present that information back to a student's family in the form of an Award Letter.
Private Loans
Once the federal student loan or student aid options are exhausted, the next logical step would be to seek a private student loan. These types of loans are becoming increasingly popular. This is due to the fact the size of federal grants and loans have not been keeping pace with the rising costs of tuition and college living expenses.
There is a fairly robust market when it comes to financial institutions that are willing to lend students money. Citibank, Chase, Wells Fargo, and Bank of America are some of the larger banking lenders that specialize in this area. In fact, all of these private lenders run accredited programs aimed at meeting the financial needs of students.
Managing Loans
Eventually, students will need to start repaying their loans. If a student has completed four years of undergraduate work and / or attended graduate school, the number, and complexity of their student loan structure can be confusing.
At this point, many student borrowers will look for help in managing their payments. For example, a student may be interested in paying off their loans as quickly and efficiently as possible. They may also want to make sure they're meeting all of their obligations on time, so that they can start building their credit scores.
Sallie Mae has been helping students manage their student loans for over 30 years. If the idea of managing loans online, and in one place, is appealing, then take a close look at Sallie Mae's offerings.
Consolidating Loans
Perhaps the ultimate in management services is the ability to consolidate several student loans into one larger loan, requiring only one monthly payment. That's where consolidating a student loan offers help.
Student Loan Consolidation Center
Eligibility rules, student loan types, and interest rate calculations, can be difficult for many of us to understand. Fortunately, the student loan consolidation center will walk the borrower through both the decision making process and consolidation loan applications.
More information on student loan consolidation can be found by visiting the student loan center. Run by the Department of Education, the website contains information concerning repayment periods, loan terms and conditions, consolidation tips, checklist tools, and even online forms that can be used to apply for a consolidation loan.
---
About the Author - Student Loan
---