Choosing a College
Moneyzine Editor
Last updated 29th Nov 2022
Choosing the right college is not easy to do. It would be unusual for a teenager to really know what kind of profession they want to pursue. Parents see sons, daughters, nieces, and nephews go through the process of picking a college. The decision takes a toll on these young adults; it's a combination of fear, frustration, and confusion.
Picking the Right College
This section of the publication is about college loans, but the first decision that students face is not about loans. It's about narrowing the choices of schools they'd like to attend. Picking the right college is more than calculating an Expected Family Contribution. The college needs to deliver a valuable service to the student.
Additional Resources
We don't need statistical proof to tell us the obvious: College graduates are more "qualified" for higher paying jobs. Students go to college so they can find a good paying job after they graduate. According to information published by the Bureau of Labor Statistics back in 2015, individuals with a bachelor's degree earn nearly 80% more than those with a high school diploma.
Difficult College Decisions
The best place to start the process is with the end in mind. That means finding out what a student would like to do after they graduate. For example, what kinds of jobs are of interest to the student?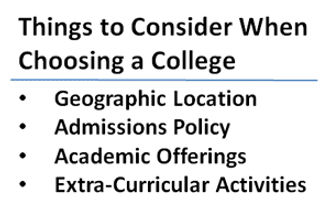 Trying to get a teenager to answer these questions is what makes choosing a college so difficult. To get the best value from a college education, it's important to pick one that provides the student with a strong background in the profession in which they are likely to work. So what's the real question we're asking this teenager? Paraphrasing, it's something like this:
"Tell me what kind of job you'd like to do for the next 40 years of your life. This will help us pick out a college together that maximizes the chances of you getting a high paying job in that field."
These children barely know how to drive. They cannot even imagine studying chemistry in college so they can work for a pharmaceutical company to develop a new wonder drug. They need help.
Narrowing Down College Choices
Given the fact choosing the right college is difficult, it's time to figure out how to make the best decision. The first step is to narrow the choices a bit. The deciding factors are limited, and have to do with only five criteria:
Location: the distance a student is willing to travel to attend a college or university.
Admissions Policy: if required, the student needs to have the grade point average, SAT scores, or class ranking needed to be admitted.
Academic Offerings: even large institutions of learning have "strengths" in certain academic areas of interest. Coursework needs to be aligned with the student's goals.
Non-Academic Offerings: this includes campus settings, campus activities, and recreational sports.
Tuition, Room, and Board Costs: the total cost to attend each college or university needs to be measured against the family's financial resources.
College Location
There are many colleges in the United States, nearly 5,000. Traveling across the country is commonplace today, but that's a relatively recent development. With so many colleges to choose from, it's an easy task to find a suitable educational institution that is either close to home or across the country.
One of the factors to think about when choosing a college is geographic limitations. Does the student want to be able to drive to school, or would they rather fly away? Many schools are interested in providing a geographically-diverse student body. If someone's willing to travel, this desire or ability can work in their favor.
Keep in mind that student airfare can add significantly to the cost of attending a school. When choosing a school that requires travel by airplane, remember to include the cost of travel in the college expense calculations.
Admission Policy
Typically, there is a great deal of emphasis placed on the admissions standards of the colleges being targeted. By junior or senior year in high school, it's too late to start worrying about meeting a school's admission policy. It's time for a reality check.
If a student's GPA and SAT scores are known, then align these with the college or university's standards. If they don't have the grades needed to be admitted to the schools they'd like to attend, don't let them give up on that dream forever. They can always transfer to that school later on, after their grades improve.
Academic Offerings
A very important factor to consider when picking a college is their academic offerings. While a family member might want a student to follow in their footsteps, the university needs to be strong in the academic field the student is interested in pursuing. A student shouldn't go to an engineering school if they plan to be a lawyer.
This is one area where parents may want to provide some help. Students might be more interested in factors like the college setting or how pretty the campus is, rather than academics. While it's nice if a student can enjoy campus life, the real purpose of college is to study and learn about various subjects.
Campus Life
Once enrolled, a student spends the next four years living on, and walking around, the school's campus. They need to decide if they like the idea of taking a bus across campus to attend a class with 300 other students before enrolling. At the other extreme, they might be uncomfortable with the closeness of a smaller campus. If they're not sure what they'd prefer, then visit schools that are at each extreme to get a feeling for what campus life is going to be like at each institution.
Activities and Sports
For many of us, the college years spelled an end to a career in sports. If a student is going to study engineering at Penn State, and they like to play football, they'd better be a great high school player. On the other hand, schools realize they need to expand their offerings of activities and sports clubs if they want to attract students of various talents. If this is important, and it should because of the balance we all need in our lives, then make sure the school offers activities and sports that are of interest too.
Cost of Attendance
This topic was left for last because the real cost of attendance can be deceptive. The true cost of attendance is what a family actually has to pay from their savings, and the number of student loans after graduation. Costs will vary from college to college, and just because one school's tuition is higher than another's does not mean it will cost a family more out-of-pocket money.
There are many factors that go into figuring out what kind of financial aid package the school will put together. Until an Award Letter is received from the school's financial aid office, it's impossible to know the real cost. The bottom line is this: Don't get too caught up in the cost of attendance. Leave some options open when it comes to choosing a school.
College Screening Resources
Now that we've outlined the considerations to keep in mind when selecting a college or university, we'll finish up by providing some resources that can help to quickly narrow the field.
Perhaps the single most useful tool for screening colleges and universities can be found at CollegeBoard.org. They have a screener that is both powerful and user friendly. It's possible to filter schools based on any, and all, of the parameters discussed earlier. It's really a must-visit website for anyone planning to attend college.
Another useful resource is U.S. News. They publish a list of America's Best Colleges and Graduate Schools. This includes college rankings, interactive tools, admissions guides, as well as college directories.
---
About the Author - Choosing a College
---