Using Resume Wizards
Moneyzine Editor
Last updated 29th Nov 2022
In addition to resume templates, word processing applications may include a resume wizard too. Unfortunately, there are some misconceptions as to how to use one. No doubt they can be helpful, if the user follows the right process. In this article, we'll discuss the pros and cons of using a wizard, and describe the most effective way to use one. Then we'll provide links to both online word processing applications as well as links to resume examples that can be downloaded for free.
Using a Resume Wizard
Additional Resources
There is no doubt there are some useful tools that allow writers to quickly compose a great looking
resume
. In fact, this is probably the single biggest advantage of using any wizard; they can put together a resume that looks professionally designed.
Professional Looking Resumes
Anyone that doesn't believe the look of a resume is important has never thumbed through hundreds of documents submitted by job applicants. In some professions a great looking layout can make a very big difference. For others, it might only give the candidate a slight edge, which can be very important in a competitive job market. A resume wizard will save the user the time normally spent formatting a document. In fact, most wizards will give the user a choice of several professional looking layouts from which to choose. While this might be the biggest advantage of this tool, it offers the user a second advantage: speed.
Saving Time
Job applicants know putting together a resume is important, but sometimes they don't know how to start writing one. This is sometimes referred to as writer's block. The writer knows what they want, or need, to say but they can't seem to figure out how to begin writing the words. A resume wizard walks the user through the process of creating a resume. It asks for certain information: name, address, and contact information. These are critical elements that appear in any
resume format
. The resume wizard will ask the user to fill in this information, and then later place that data into the layout selected.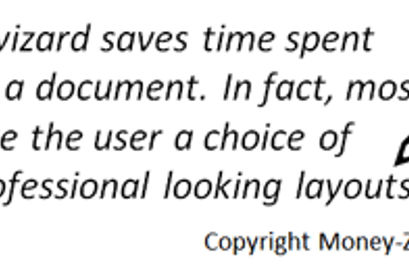 Microsoft's Word 2003 has a built in resume wizard that allows the user to customize the categories of information appearing in the document. This tool also allows the user to choose between a chronological and a functional resume format. But how does the user know which format to use? Remember, a resume is like a personal advertisement, so choosing a format that highlights strengths and does not bring attention to weaknesses is important. Unfortunately, a wizard doesn't give the user any hints, or advice, when selecting the format.
Disadvantages
Tools like wizards are made for speed. After all, they are an add-on to most word processing applications, and that makes them a secondary product. The writers of the application need to make some simplifying assumptions that might not be true in all situations. Specifically, the user has to know what kind of resume format will best highlight their career achievements. This is a big assumption, since it's likely the same people looking for help from this tool are the same individuals that do not understand the pros and cons of each format. Fortunately, this topic is addressed in our articles on
combination
,
functional
, and
chronological resumes
. The best way to use a resume wizard is by understanding the shortcomings of the process itself. Automation is great to a point, but it really needs to be supplemented with knowledge. Before using a wizard, learn how to go about
writing resumes
. The format picked is a very important choice. Once the writer understands which format to use, they will be better prepared to make informed choices as the resume wizard walks them through the process. For example, a job applicant might learn a combination resume is the best format to use, but the wizard does not allow that choice. It's possible to get around this shortcoming by using the strength of the wizard to provide a baseline of information, and a professional looking format. The user can then modify the resume created by the wizard to align it with the elements of the resume format chosen based on their research.
Free Tools
Starting with Word 2007, these built-in tools were replaced by a larger number of templates available on the Microsoft
Office.com
website. Individuals that don't own a word processing application can download a free one at
Openoffice.org
and
LibreOffice.org
. Both OpenOffice and LibreOffice are open source versions of StarOffice, a product developed by Sun Microsystems. They are a robust suite of tools that include word processing, spreadsheets, database, and presentation applications. Fortunately, Writer (the word processing application in these suites) still retains the wizard approach to creating a resume. This provides the writer with even more options since they can find free
resume templates
that work with OpenOffice or LibreOffice too. Finally, below are some additional examples, illustrating the three resume formats mentioned earlier:
---
About the Author - Resume Wizards
---