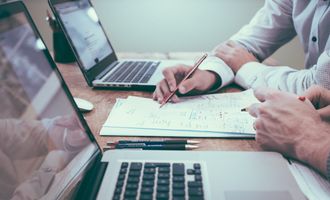 Gen Z's Reliance on Social Media Leaving Them Most Vulnerable to Online Fraud

Yasmin Purnell
Last updated 1st Nov 2022
27% of Gen Z get financial advice from social media, higher than any other generation.
31% of 18-40 year feel confident and informed when investing their money.
18-29 year olds are the most likely demographic to fall victim to online identity theft.
With Gen Z five times more likely to get financial advice from social media than adults aged 41 and over in the US, Moneyzine.com has looked into the impact of social media on financial literacy. We discovered a direct correlation between Gen Z being the most frequent users of social media for financial advice, as well as the most likely demographic to fall victim to online identity theft.
A Google vice president recently revealed that younger generations are changing how they use the internet. While Google and other search engines are relied on as a powerhouse of information for older generations, Gen Z favour TikTok and social media platforms as their search engine of choice- including for financial information. Does this make younger generations vulnerable, or is it an advantage?
Gen Z 5x More Likely to Use Social Media for Money Advice
Research from CreditCards.com revealed that in 2021, US Gen Zs were five times more likely to use social media for financial advice than adults aged 41 and over. Interestingly, from the same survey, just 21% of all respondents said they thought social media platforms are trustworthy.
A separate study from the Motley Fool in the same year found that 91% of investors aged 18-40 surveyed got their investing information from social media. Despite this, social media buzz and influencer reviews were ranked as the least influential factors when determining whether to invest.
It's clear that younger generations are changing how they access financial information compared to older generations. However, what we may need to consider is that social media provides an instant gateway to thousands of sources - both reputable and questionable. Rather than questioning the credibility of social media as a whole, perhaps more pertinent is whose content Gen Z is consuming on these platforms. What remains to be seen is how the increased reliance on social media and instant-access platforms for financial advice will benefit - or hinder - younger generations during this current financial crisis.

Luke Eales, CEO of Moneyzine.com
Does social media leave Gen Z financially vulnerable?
The unreliable nature of social media could be seen in full force earlier in 2022 when three celebrities - Kim Kardashian, boxer Floyd Mayweather Jr, and basketball player Paul Pierce were sued by investors for allegedly promoting the cryptocurrency EthereumMax without disclosing that they had been paid to do so.
Beyond the potential to be misled is the very real possibility to be a victim of fraud via social media. According to the FTC, more than one in four people who lost money to fraud in 2021 reported that this started on social media via either a post, message, or an ad.
Despite younger generations generally being viewed as more tech savvy, a report from SocialCatfish found that people aged between 18-29 were actually the most likely to be victims of identity theft. Meanwhile, people aged 20 years and younger were found to have shown the fastest growth rate of victims since 2017 - surging a shocking 156% from 9,053 victims of internet scams to 23,186 reported in 2020.
Why are Gen Z so much more vulnerable to scams compared to less-savvy older generations? In general, younger generations have grown up with technology at their fingertips and are more comfortable sharing information online - potentially putting their personal information at risk.
Confidence in personal finances
Studies into how younger generations use the internet for their finances and financial education paint an interesting picture. On the one hand, Gen Z and millennials feel more assured of their handling of their personal finances: 31% of 18-40 year olds described themselves as 'fully confident and informed' when it comes to investing, in contrast to just 16% of 57-75 year olds.
On the other hand, figures show the increased likelihood of this same demographic falling victim to fraud - while further research demonstrates the widespread financial anxiety among Gen Z and millennials in 2022 (30% of Gen Z and 29% of millennials reported that they do not feel financially secure, with just under half of both generations living paycheck to paycheck in Deloitte's 2022 survey).

Yasmin Purnell
Yasmin Purnell is a Content Writer and Editor for Moneyzine.com. Yasmin has a wealth of experience writing across a range of topics within the personal finance, student, and business niche. Yasmin joined the team with the one main mission to provide accessible financial, career and business information and advice for all.