Blue Chip Stocks
Moneyzine Editor
Last updated 29th Nov 2022
When investors talk about quality stocks, they'll often use the phrase "blue chip." Unfortunately, even seasoned market analysts can't agree on a definition of this term. But they do agree that blue chip stocks have some very desirable attributes.
Defining Blue Chip Stocks
So what exactly are these high-quality stocks? The term "blue chip" itself is a reference to placing a wager. At one time, blue was the color of the highest-valued wagering chip, so the term is actually referring to stocks that are considered "safe bets."
Additional Resources
History tells us a blue chip stock is one that is very likely to provide a fair
return on investment
. In order to do so, a stock must have a proven track record, be financially sound, and must be somewhat insulated from the cycles of the economy. Terms that are often used in conjunction with blue chip include "bellwether" and even "large cap." Bellwether is used to describe a company that is recognized as the leader in its industry. For example, Microsoft would be considered a bellwether stock for computer software. Large cap is a reference to the size of a company in terms of total market capitalization. Market capitalization is calculated by taking the number of shares outstanding and multiplying by the stock's current price per share. It's the value of all the company's shares of common stock owned by investors.
Dow Jones Industrials
Perhaps the most famous list of 30 blue chip stocks is the
Dow Jones Industrial Average
. First published in 1826, the 30 companies in the DJIA are carefully selected from a variety of industries to provide a good indication of the American economy's health. While the performance of any individual member of the DJIA will fluctuate over time, most investors would agree the Dow is a good benchmark for identifying blue chip stocks.
Finding Blue Chip Stocks
We're going to use a stock screener to develop a quick list of what would be considered blue chip stocks. Before doing so, it's important to have a quantifiable definition. That means we need to translate the characteristics described above into parameters to be entered into the screening tool.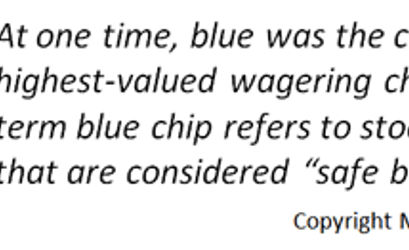 Proven Companies: Part of our definition includes companies with a proven track record. We'll use membership in the S&P 500 as a proxy for this requirement.
Large in Terms of Resources: To make sure our list only contains large companies, we're going to set our blue chip stock's minimum market capitalization at $10 billion.
Financially Sound: Characteristics of these companies include profitability, paying of dividends, and having good bond ratings on their debt. We're going to screen the universe of stocks for high dividend yields, earnings growth, and current ratio.
During this exercise, we used the following criteria to develop the list of ten blue chip stocks appearing in the table below:
Membership in the S&P 500
Market Capitalization in excess of $50 billion
Dividend Yield > 1.9% over the last five years
Expected EPS growth > 3% per year over the next five years
Current Ratio greater than or equal to 1.8
Blue Chip Stock List
Symbol
Company Name
CSCO
Cisco Systems Inc
DWDP
Dowdupont Inc.
AMGN
Amgen Inc
MCD
McDonalds Corp
MDT
Medtronic
MMM
3M
AVGO
Broadcom Inc.
TXN
Texas Instruments
QCOM
Qualcomm Inc.
GILD
Gilead Sciences Inc.
Of the ten stocks found using the stock screener, and based on our definition of a blue chip stock:
Cisco, McDonalds, DowDuPont, and 3M are current members of the Dow Jones Industrial Average.
This is a surprisingly good outcome; given the fact the stock screen was based on several relatively simple search criteria.
Buying Blue Chip Stocks
Investors looking to purchase blue chip stocks have several options. Perhaps the easiest way is to purchase a
mutual fund
based on the Dow Jones Industrial Index, or the
Dogs of the Dow
. A second option is to purchase an
exchange traded fund
such as the
Dow Diamonds
. Finally, those investors interested in buying stocks of individual companies might want to read through our series on
Stock Research
. In those articles is found a step-by-step method to help identify not only blue chip stocks, but also stocks that might be undervalued.
---
About the Author - Blue Chip Stocks
---