Social Security Debit Card
Moneyzine Editor
Last updated 29th Nov 2022
In January of 2008, the Treasury Department first announced plans to offer prepaid debit cards for recipients of Social Security. Coamerica Bank was chosen as the debit card issuer, and the Direct Express card provides users with safer and more convenient access to their Social Security benefits when compared to paper checks. In this article, we're going to explain the benefits of choosing the Direct Express debit card versus paper checks. We'll also quickly cover the fees that can be charged when using the card, as well as information that explains where applicants can go to sign up for the Direct Express Card.
Debit Cards for Social Security
Additional Resources
Issuing debit cards to
Social Security
recipients was a win-win proposition. This new card allows the Treasury Department to more effectively serve the estimated 4 million Social Security and Supplemental Security Income (SSI) check recipients that do not have bank accounts. In fact, if all of those recipients were to sign up for the card, the annual savings to taxpayers would be in the neighborhood of $44 million each year. The Direct Express debit card also removes the risk of check delivery delays due to poor weather or local emergencies. It eliminates problems related to lost, forged, or stolen checks, which account for nine out of ten problems with Social Security payments according to the Treasury's Financial Management Service bureau.
Direct Express Debit Card
The Direct Express debit card is a prepaid card offered to those individuals receiving Social Security and SSI benefits. The card has been available nationally since the summer of 2008.
Benefits of Direct Express
Once enrolled in Direct Express, monthly payments will be automatically deposited into the cardholder's account. This provides faster access to money, as well as improved convenience. Cardholders can use a nationwide network of 56,000 ATMs, in addition to banks, to remove cash directly from their accounts. Alternatively, they can use their cards at local retail locations, and over the Internet, to make online purchases or pay bills. In addition to the added safety of direct deposit, all accounts are PIN-protected and insured by the FDIC.
Debit Card Fees
The issuer of the debit card, Comerica, will profit from cardholder fees including interchange fees (which are charged to retailers when they accept a debit card as payment), and the float on funds in cardholder accounts. For example, the money residing in accounts can be invested by Comerica prior to its use by accountholders. Initial estimates, provided by Comerica, indicate they expect between 2.5 million to 10 million cardholders by 2013. There were 2.5 million cardholders in 2012.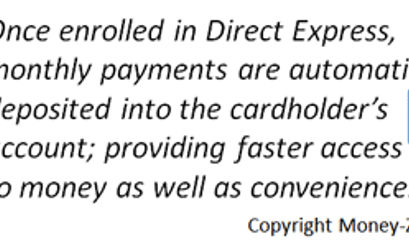 Cardholders are entitled to one free ATM cash withdrawal per deposit per month. Comerica will charge $0.90 for each additional ATM withdrawal. Just like existing arrangements with debit-card holders, users may face surcharges at certain ATMs. Other fees include a $0.50 charge for each online bill payment, and a $0.75 fee to receive a paper statement each month.
Debit Card Fees
Transaction Type
Fee per Transaction
ATM Cash Withdrawals
$0.85
Monthly Mailed Paper Statement
$0.75 (per month)
Direct Express Bill Pay
$0.50
Funds Transfers to a U.S. Bank
$1.50
Emergency Cash
$8.50 to $12.00 per transaction
Card Replacement
$4.00 (one free per year)
Overnight Delivery of New Card
$13.50
International ATM Withdrawal
$3.00 plus 3% of withdrawal
International Transactions
3% or purchase amount
ATM surcharge fees can be avoided if cardholders utilize a network of more than 56,000 ATMs managed by Charter One, Comerica Bank, Privileged Status / SHAZAM, Alliance One, and Money Pass. Balance inquiries and cash withdrawals at teller windows will be free of charge. There are also no overdraft, inactivity, or declined transaction fees. Cardholders can also sign up for deposit notifications and account balance alerts.
Obtaining a Direct Express Debit Card
The Direct Express program was previously administered by JPMorgan Chase. In the spring of 2008, all accounts of cardholders were moved to Comerica Bank. Social Security recipients that don't have a bank account can call 1-800-333-1795 to sign up for the Direct Express Card. If direct deposit is preferred, then visit the Treasury's
Go Direct website
or call toll-free at 1-800-333-1795. Once signed up, participants can enjoy all of the safety and convenience that direct deposit of their Social Security benefits has to offer.
---
About the Author - Social Security Debit Card
---