Credit Insurance
Moneyzine Editor
Last updated 29th Nov 2022
Anyone that's been thinking about making a large purchase, such as a new home or car, might be faced with a decision that involves the purchase of credit insurance too. In this article, we're going to discuss the pros and cons of buying this insurance, as well as choices available to consumers today. Credit insurance is often sold to consumers in the process of making a large purchase such as a new car or home. The insurance purchased can be used to pay off the outstanding loan balance if the borrower becomes disabled or passes away.
Credit Insurance Policies
Additional Resources
Unlike
life insurance
, where the beneficiary may be a family member or relative, the beneficiary of credit insurance is the lending institution or creditor. This includes traditional lenders such as banks, as well as credit card companies. The amount repaid can include part, or all, of the money still owed. A credit insurance policy is normally associated with a specific
line of credit
or loan such as a
mortgage
. Premiums are paid monthly, and the cost is usually based on factors such as the size of the loan and the age of the borrower. Oftentimes, the monthly premiums can nearly double the effective cost to borrow.
Advantages
Although these premiums may be high, one of the big advantages of credit insurance is that it's normally guaranteed by the issuer. Regardless of the insurability of a person, they can purchase this insurance if it's offered. This means a person that might not be eligible for life insurance would be eligible to purchase credit insurance.
Disadvantages
Oftentimes, it might cost the borrower less (it's cheaper) to purchase a term life policy or disability insurance. The popularity of credit insurance has a lot to do with its advantage: It's guaranteed, and no one is excluded due to health reasons.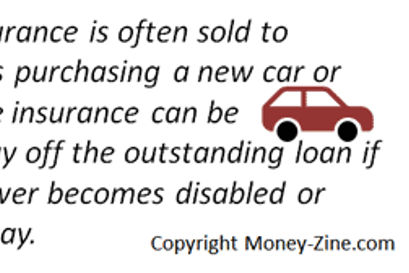 Healthy individuals would be better off purchasing more traditional policies such as term life or
disability insurance
. In addition to being more cost effective than credit insurance, the policyholder does not have to worry about insuring each individual loan or line of credit.
Single Premium Credit Insurance
When credit insurance is sold as a single premium policy, this arrangement requires the borrower to make a large, single, upfront payment. Effectively, this becomes a prepaid credit insurance policy. If the policyholder were to refinance this loan, the premium is wasted. This is the primary disadvantage of this type of arrangement. Oftentimes, individuals purchasing single premium insurance do not understand this fact, and lose all the benefits of purchasing the coverage.
Buying Insurance
So how does a borrower know if buying credit insurance is the right choice? Lenders and creditors will normally ask the borrower if they're interested in purchasing a policy. Premiums can also be included as part of the monthly loan repayment proposal. Consumers should be aware there are certain protections offered when it comes to this type of policy:
Purchasing credit insurance is normally optional. No one can be forced to buy it.
It's illegal for any lender to include this insurance in a loan without the borrower's permission or knowledge. That's considered a deceptive practice.
Before making any commitment, it's important to know the exact terms and conditions of the policy offered, including:
Whether the policy covers the entire loan or just a portion of it.
Exclusions or limits of any benefits payments.
Possible waiting periods before the insurance becomes effective.
If it's possible to cancel the insurance, and if so, the terms of the refund policy.
Also be aware that many times, credit insurance is offered to individuals on an introductory basis, which can last anywhere from 30 to 90 days.
Four Types of Policies
If offered, policies are normally sold, or bundled, into one of four ways:
Credit Life Insurance: can be used to pay off part of the loan, or the entire loan, in the event the policyholder passes away.
Credit Property Insurance: protects the personal property purchased from theft, accidents, and even perils such as earthquakes and floods.
Involuntary Unemployment Insurance: covers involuntary loss of income that may occur if the insured loses their job or is laid off from work.
Credit Disability Insurance: sometimes referred to as accident and / or health insurance; makes payments on a loan if an injury or illness prevents the insured from working.
Private Mortgage Insurance
The most common type of credit insurance offered today is known as private mortgage insurance. This type of policy is usually provided by private mortgage insurers to help protect lenders against loss if a borrower defaults on the loan. Lenders will usually require
private mortgage insurance
, or PMI, if the loan to value (LTV) percentage is greater than 80%. This is why many new home buyers attempt to save enough money to put a down payment of at least 20% on a home; to avoid paying PMI.
Alternatives to Credit Insurance
There are several very good alternatives to buying credit insurance, including purchasing term life and disability insurance.
Term life insurance
is arguably the most efficient policy anyone can buy. It doesn't have all the added features found in
universal life
or
whole life policies
; this is basic insurance coverage. Anyone worried about a disability that might prevent them from working can seek the help of companies, and even employers that offer
disability insurance policies
. Most policies will replace anywhere from 40 to 60% of pretax or after tax income, and the monthly premiums can be very reasonable. Finally, before making such an important and long-term decision, obtain quotes from several sources. Comparing quotes greatly increases the chance of paying a fair price for the level of coverage provided.
---
About the Author - Credit Insurance
---