Medical Credit Cards
Moneyzine Editor
Last updated 25th Nov 2022
One of the increasingly popular ways to pay for elective health care services is the medical credit card. These specialized cards offer patients the convenience of paying for medical care using a credit card that provides attractive payment terms too.
In this article, we're going to cover the topic of medical credit cards. As part of that discussion, we'll talk about the types of services charged on these cards, as well as the application process. We'll also talk about the pros and cons of using them in addition to some alternatives.
Credit Cards for Medical Care
Additional Resources
Starting back in 2005, a number of financial institutions began partnering with healthcare providers to offer medical credit cards. Also known as health care credit cards, offerings were marketed to two groups:
Individuals that did not have healthcare insurance; and
Individuals electing to receive medical services that were not covered by their insurance policies.
Cards were offered by dentists, family physicians, chiropractors and even cosmetic surgeons. They could be used to pay for services such as teeth whitening, dental veneers and implants, hearing aids, weight loss treatments, LASIK surgery, Botox and Restalyne injections, in addition to cosmetic surgeries such as breast implants, liposuction, rhinoplasty, and facelifts.
The potential market for these cards is quite large. According to information published in September 2020 by the U.S. Census Bureau, 29.6 million people in the United States (9.2%) do not have health care insurance.
Application Process
These cards are actively marketed by doctors, dentists, and chiropractors. Patients will often be encouraged to apply while visiting a medical office. The advantages these cards offer professionals in the health care industry make them hard to resist:
Patients often elect to receive services they might not be able to afford if they had to pay directly for that service
Doctors no longer have to worry about collecting money owed from patients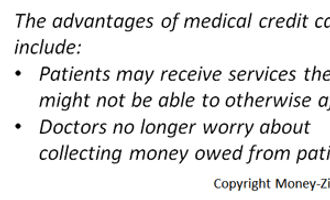 A short application can be filled out right in the doctor's office, over the phone, or online. Application decisions are immediate, and provide patients with instant access to credit. The doctor will have pre-selected the
interest rates
charged, and the payment terms offered by the card issuer.
Payment Plans
Card issuers provide doctors a choice of plans that will be offered to their patients. Generally, repayment plans will be one of two types:
No Interest: patients will be offered a monthly payment plan and no interest charges will apply if the payments are made in full each month. Repayment terms will vary from six to 24 months.
Extended Payment: these plans offer low interest rates on outstanding balances, but will provide the cardholder with more time to repay the money owed than the No Interest offer.
Fees and Penalties
The application process is not only fast, but it's typically free too. A minimum monthly payment will apply in all cases in order to maintain the attractive interest rate of the extended payment plan or preserve the "no interest" status. If payments are not made on schedule, the interest rate charged on the outstanding balance can rise substantially. For example, penalty rates approaching 30% may apply, and interest charges can also be retroactive.
Pros and Cons
For individuals seeking immediate medical care, there is no doubt that health care credit cards are convenient. For the uninsured, they essentially provide families with access to no interest loans. The application process is also convenient, fast, and free. These cards provide health care practitioners with access to the payment for services rendered in two business days. They also relieve doctors of the responsibility to collect money from patients.
Unfortunately, these cards also make it easier for health care consumers to elect expensive procedures. For example, cosmetic surgery offers immediate gratification to patients. Worrying about paying back the money owed is a secondary consideration. Regrettably, if the consumer cannot make the required payments on a timely basis, the penalty rates carried by these cards can be extremely high.
Alternatives
The best alternative to using a credit card of any type would be to pay for the procedure using a debit card or cash. This approach provides the best protection against the primary weakness of borrowing money: enabling consumers to receive treatment they cannot afford. If credit is needed to provide immediate and urgent care, then it's usually possible to use a "standard" credit card to pay for those services.
---
About the Author - Medical Credit Cards
---