Part Time Jobs for Teens
Moneyzine Editor
Last updated 25th Nov 2022
When you're a teenager, looking for a part time job can seem like a pretty big undertaking. After all, even adults with a lot of working experience have a difficult time. Imagine how hard it can be for a teen that doesn't have any relevant experience to put on their resume.
Most parents think they're doing the right thing by letting their teenage daughter or son struggle through the job hunting process. Unfortunately, the reality of the matter is that just when that teen needs their parents the most, they are of no help at all. So what is the secret that all teens should know about finding part time work?
Preparing to Find a Job
Additional Resources
Before even heading down the road to getting your first job, it's time to do your homework. Fortunately, this kind of homework is pretty simple; and the assignment is to put a resume together.
Creating a Simple Resume
Teenagers often make the mistake of underestimating the value of a resume. Let's think this one through using an example:
Two 15 year olds walk into a store looking for a part time job. The first one introduces himself to the store owner, smiles a lot, shakes her hand, and tells the owner his name. The owner writes the young man's name on a piece of scrap paper along with his telephone number.
The second one introduces herself to the store owner, smiles a lot, shakes the owner's hand, and gives her a copy of her resume. Since the resume has the young woman's name and contact information right on it, she doesn't have to worry the owner is going to lose a little scrap of paper with some scribbling on it.
If you were that store owner, who would you offer the part time job? Putting a resume together will impress any prospective employer, and will separate you from the crowd. When trying to find a job, it's important to stand out. So putting a resume together is a must. In fact, we even have an article dedicated to Resumes for High School Students.
Dress for Success
The second tip is that you need to dress for success when looking for a job. That doesn't mean it's necessary to wear a business suit; it means looking presentable. Dress as if you were going to work.
If you're looking for a job at a retail clothing store, think about the clothes the employees wear while working. Dress at least as neatly as people already working at the store so the hiring manager can visualize how you'll appear as an employee.
Be Confident During Job Interviews
It's not only important to dress appropriately, but you also need to act the right way. That means being confident. Remember, the prospective employer may be trying to figure out how you're going to interact with customers.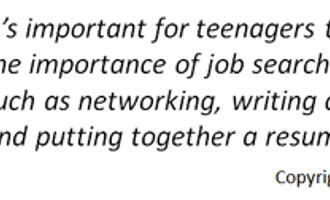 This means speaking clearly, and looking the person in the eye when you're talking to them. It's okay to be shy, but it's time to pull it together when asking for a job. It's critical to demonstrate to the owner your ability to interact intelligently with customers. Acting confident will also send the message that you're eager to find a job.
Finding Places to Apply for Work
There are many places on the Internet where you can find part time work locally. Oftentimes it's possible to find a part time job using the local newspaper just as quickly as using a search engine. Township libraries and schools often sponsor a job listings board too.
Finally, take a walk through the center of town or a nearby shopping mall looking for Help Wanted signs. Keep in mind that not every store will put a Help Wanted sign in the window. If you have a list of places to work in mind, then it can't hurt to stop in and ask the manager if they are looking for part timers. The worst thing they can say is "no thanks."
Websites Specializing in Part Time Jobs
There are some online resources that specialize in part time jobs for teens, college students, hourly workers, and adults. In fact, it is possible to find summer and seasonal part time jobs that may be flexible enough to provide some additional money, and still fit your lifestyle.
The following online websites specialize in listing part time jobs for teens:
SnagAJob.com: specializes in listings of hourly and part-time jobs.
CoolWorks: specializing in seasonal part time jobs, in some of the coolest places on earth.
SimplyHired: a job search engine; use the phrase "part time" along with a zip code to find local job openings.
Preparing for Rejection
At the start of this article, we said that finding a job was not easy for a teenager. That means being prepared for rejection, and possibly a lot of it. Think of it this way; if the likelihood of finding a part time job is 1 in 10, that means you could be faced with nine rejections before being offered a job. You need to get out there and get your fair share of "no thanks" to find that "yes."
Following Up on Potential Jobs
This is probably the most important part of getting a job. Employers are looking for candidates who have the initiative to follow up with customers, because it shows a willingness to get involved and be responsible; even if they're only 15 years old.
Always make a follow up call or get back in touch with any potential employer about a week after paying them a visit. When calling, make sure you talk to the person that's doing the hiring. Don't risk leaving such an important message with someone else or on an answering machine.
---
About the Author - Part Time Jobs for Teens
---