Tax Return Preparation
Moneyzine Editor
Last updated 29th Nov 2022
The majority of taxpayers prepare their own income tax returns, and that's the way it should be. After all, the IRS is supposed to ensure the average American understands how to complete a tax form. The Internet has made that process even simpler by providing direct access to tax preparation software programs. These applications walk a taxpayer through the process of preparing an income tax return.
Individuals have at least four choices when it comes to preparing returns. The first is to pull out a pencil and calculator, and start reading the Form 1040 instructions. The next option is to visit a local CPA or H&R Block office, and make an appointment to discuss individualized tax preparation services. The final two options are gaining in popularity: purchasing tax preparation software or using a hosted solution.
Preparing Income Tax Returns
Additional Resources
Before the electronic age, individuals had to sit down with their Form 1040 and start on Line 1; reading through each line, and filling in numbers on the form. This process would continue, line-by-line, until the tax return was completed.
When a filer ran across a line item they didn't completely understand, the IRS helped out by supplying a 70-page book of instructions that could be used for reference.
Tax Preparation Software
For many taxpayers, those days are over and software packages have replaced the pencil, calculator, and that 70 page instruction book. At first the software revolution started slowly, and was restricted to applications that were loaded directly onto a home computer. Today, there are three industry giants that dominate this area. Each of these offers the chance to prepare both federal as well as state income tax returns.
TurboTax by Quicken
TurboTax has the honor of being the leading tax preparation software package on the market today. The program can quickly import financial information from Quicken or QuickBooks if an individual is already using these products for budgeting or financial reporting for their small business. TurboTax is arguably the easiest program to use, and offers comprehensive income tax advice and explanations as it walks the taxpayer through the process of preparing a tax return.
H&R Block At Home
Formerly known as TaxCut, H&R Block At Home is another giant in this area, and like TurboTax, it uses an "interview" process to walk through the chore of preparing a tax return. TaxCut used to have a relationship with Microsoft Money personal finance software, which competes with Quicken. H&R Block At Home can easily import information from Money to speed up the process of preparing a return.
TaxAct
TaxAct is the least well known of these three giants, but the approach is the same. The software walks through an interview process, and when answering the questions is over, the income tax return is completed too.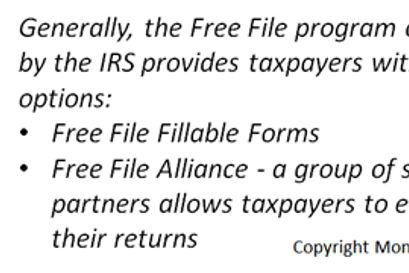 All three of these programs allow for
e-filing
, which is the electronic filing of tax forms. The benefit of e-filing is that information can be instantly sent to the IRS in an electronic format. This electronic exchange of information reduces the time it takes to process and receive a tax refund.
It is nearly impossible to compare prices, since competition is fierce and heavy discounting often occurs during the annual tax preparation season (January through April 15th). Typically, an individual can expect to pay anywhere from $0 to $90, depending on whether they are upgrading or bundling this purchase with another software program.
Tax Preparation Websites
Today, the power of the Internet provides everyone with access to tax preparation software residing on servers miles away. Just like the software loaded on a personal computer, the entire process consists of an interview method. It's possible to stop, and then conveniently continue at a later date or time.
Some of the nicer features of these programs include onetime entry of information such as a Social Security number, automatic calculation of formulas, and even a process to check forms for mistakes or inconsistencies when they are completed. For example, it's possible to compare a previous year's tax return information with that of the current year to see if something was missed.
These companies have the process down to a science, so it's pretty hard to miss a tax deduction or tax credit. They also include convenient features such as the ability to import the information from federal income tax forms into a state return. The software can even flag information that might trigger an audit of a return.
Free Income Tax Preparation Services
The IRS website supplies Americans with a list of free tax preparation service providers. In fact, in 2020 / 2021 they have roughly 12 online service providers that will prepare a return for free; just make sure to read the fine print on some of these offers.
For example, if an individual's adjusted gross income, or AGI, is below a certain threshold, they may qualify for free preparation and filing of a federal tax return. Other companies offer free preparation and filing to all taxpayers, but there is one small catch. The free offer is usually for their "standard" tax filing process. This will have fewer features than a premier or deluxe offering.
Another item to be aware of is that free preparation and filing is usually limited to federal income tax returns. While nearly all websites can provide services to file a state return, there may be a nominal fee associated with its electronic filing. These fees are usually in the $10 to $35 range.
---
About the Author - Tax Return Preparation
---