Writing an Entry Level Resume
Moneyzine Editor
Last updated 29th Nov 2022
Many entry level job seekers believe they are at a disadvantage because they have little or no work experience. That's certainly true if they're looking for a position that requires a lot of on-the-job knowledge.
But there is a market for entry level positions too; and it's possible to increase the chance of getting a job by knowing how to write an entry level resume. In fact, we're not only going to explain the best way to write a resume, but we're also going to provide an example that can be downloaded too.
Resume Formats for Inexperienced Workers
Additional Resources
As a backdrop to this tutorial, it's important to understand there are three resume formats in use today:
Chronological: does the best job at highlighting prior work experience.
Functional: focuses on the skills the writer possesses, and the knowledge gained.
Combination: begins in the functional style, and finishes up in the chronological format.
Anyone that is new to the workplace, such as former students, or experienced workers thinking about making a career change, should be using the functional resume format. This style emphasizes what the writer knows, what they've accomplished, and the skills they possess, rather than where they've worked in the past. Taking this approach will highlight those particular elements on a resume that are strengths of someone entering the job marketplace.
Functional Resume Format
In the next several sections, the features of this kind of resume will be discussed. It's important to note this resume template does not include a listing of prior work history.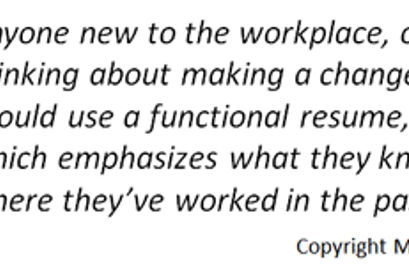 Name / Contact Information
Like most resumes, the functional style starts off with a banner at the top of the page that includes name and contact information such as a street address, telephone number and an email address.
Education
The next section is a table of the job candidate's educational background. While it's more common to see this type of information at the end of a resume, many experts know recruiters screen candidates to make sure they meet certain minimum job requirements. If education, or a degree in a certain discipline, is one of the items the recruiter or hiring manager is using to screen out candidates, then it might as well appear early in the document
Honors / Certifications / Licenses Held
This third section contains a bulleted list of any certifications, educational honors, or professional licenses held. For example, a certified public accountant would include that accreditation in this section of the resume. In the same way, a nurse or an IT professional that earned a certification or accreditation would highlight that achievement.
Careers Skills / Knowledge
The fourth section found in an entry level resume is a bulleted listing, or table, of the skills and knowledge acquired. Since this section is so visible, it's important to take a great deal of time making sure it is a comprehensive list that projects the right image of the experience and / or knowledge possessed.
Career Achievements
The next, and final, section appearing in a functional resume are bulleted listings of what are believed to be the writer's most significant accomplishments. Just because someone is looking for an entry level job doesn't mean they haven't accomplished a lot in life. In the sample provided, there are several examples of achievements that any active member of a community might possess. When writing achievements, it's important to provide hints how they are transferable to the workplace.
Resume Sample
The following is a link to a downloadable Word document in the functional format: Entry Level Resume Sample. This document can be used as a starting point, or template, when constructing a resume.
Anyone that would like to review additional samples can visit our download section, and take a look through all of the resume examples this website has to offer.
Final Hints
For anyone that is worried they simply don't have enough experience or achievements to put on their resume, we offer two final tips on how to build up a resume and confidence:
Keep in mind this is an entry level position. Companies are always looking for fresh ideas and new faces. Keep things in perspective, even relatively inexperienced workers are valuable to companies.
One great way to build up a resume is to volunteer. In the example provided above, several of the achievements involved volunteer activities. Volunteer work provides a unique opportunity to both gain valuable experience and help others in-need too.
---
About the Author - Writing an Entry Level Resume
---