Creating a Resume Outline
Moneyzine Editor
Last updated 25th Nov 2022
Experienced writers know the value of organizing their thoughts. Creating an outline saves time, and eliminates the possibility of omitting important information; this holds true whether the written document is a novel or a resume.
As is the case with cover letters, resumes are meant to leave a lasting impression on a prospective employer. The outline must be able to highlight career achievements in a compelling and concise manner.
Additional Resources
The overall objective of a resume is to provide the writer with the opportunity to interview for a job. Employers are looking for individuals who will both fit well in the culture of their company and bring value to their organization. These are two important considerations when putting together the outline.
Elements of a Resume Outline
A comprehensive resume outline will consist of five or six elements:
Contact Information (name / address)
Objective Statement(s)
Education
Accomplishments / Skills
Work Experience
Hobbies / Interests
The types of information to include in the outline will be described later in this article. But first, a deeper dive into its purpose is in order.
Purpose of a Resume Outline
Creating an outline doesn't take a lot of time, and the benefits are enormous. They serve as a guide, or collection point, for all of the information to include in a resume. It's much easier to start with the high level items to include, and then drill down into the detail. This is known as a top-down approach, which is extremely effective when writing any document. This process helps the writer stay organized and helps the reader by arranging information in a logical manner.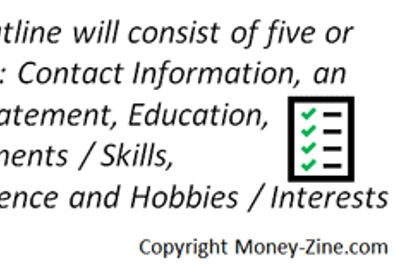 Before actually composing a resume, it's important to choose a
format
that best highlights career accomplishments and does not draw attention to any weaknesses. The document must also be aligned with the job-seeking objectives.
Our article, How to Write a Resume, can help writers to determine which resume format is most effective in any given situation.
Outline Information
The following types of information need to be gathered as part of putting together a good resume outline.
Name, Address, and Telephone
The job applicant's name should stand out at the top of the paper. After all, it's important for the reader to remember it, and it also makes it easier to find the right resume when looking back at a stack of documents. If at all possible, use a telephone number that will be answered by a real person.
Resume Objective Statement
A resume objective statement is standard for some outlines, and it's an essential element in cover letters. The statement should be one or two sentences that describe the job applicant's career objectives.
Education
Depending on the highest level of education achieved, the applicant will want to include where they attended high school, college courses taken or technical training, and college degrees. Dates of attendance are usually not included; unless there is a specific reason the writer wants a potential employer to know something special about their educational history.
Include in the outline any honors, awards received in the past, as well as licenses or professional certifications currently held.
Achievements / Skills
The outline should include a "brain dump" of everything ever learned, and all of the skills ever acquired. This can include technical training, formal schooling (classes), and experience gained while on the job.
Work Experience
The listing will start with the most recent work experience, and then move back in time. This arrangement is known as reverse chronological order. Emphasize the duties performed, indicating skills learned, training, responsibilities, and the results achieved. Highlight leadership potential, organizational skills, communication experiences, initiatives, and teambuilding activities.
Interests and Hobbies
Including a section on interests and hobbies is somewhat controversial. Depending on an individual's work history, it may not be appropriate to include hobbies. Some professionals are all "business" on their resumes. For others, this is the opportunity to talk about activities that create balance in life.
Traditional papers describing the elements of an outline state the final line on a resume is: References furnished upon request. This line item has become so standard that it has become a statement of the obvious, and is best left off the resume.
Examples
It's sometimes difficult to visualize how information is arranged on a resume, and that's where examples can help. There are three major types of resumes: functional, chronological, and combination. Each of these has its advantages and disadvantages. Listed below are links to each of these three resume formats:
---
About the Author - Creating a Resume Outline
---