Resume Cover Letter Samples
Moneyzine Editor
Last updated 25th Nov 2022
The majority of information found online treats cover letters as if they were far less important than the resume itself. Unfortunately, this understates the value of a well-written document, and limits the number of resume cover letter samples available for review.
Importance of a Good Cover Letter
There is no doubt that well-constructed cover letters can help candidates secure job interviews. The letter is often the only way to communicate the introductory statements a job applicant wants to make to a potential employer.
Additional Resources
At the extreme, a poorly constructed letter will result in that employer passing over a resume. On the other hand, a great cover letter will entice the reader to take a very close look at the accompanying resume, and bring the job applicant one step closer to finding a new job.
Cover Letter Basics
Listed below are the four basic components, or sections, of a cover letter.
Introductory Paragraph: a fact-filled overview of the skills and achievements that later appear on the resume.
Objective Statement: a summary of the opportunities the job applicant wants to pursue with a particular company.
Achievements: the same achievements that appear in the resume also need to be repeated in the cover letter.
Closing Statement: a simple statement of optimism is used to close out the letter.
More detail on this topic can be found in a dedicated article: How to Write a Cover Letter.
Cover Letter Examples
In this article, two examples will be used to illustrate how to construct a cover letter. Later on, this article will provide links to additional cover letter samples that can be downloaded for free.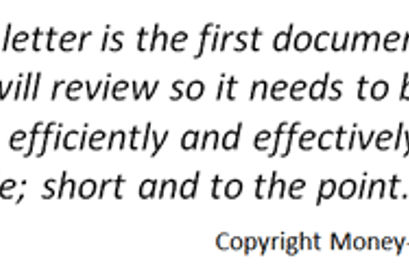 Keep in mind it's not possible to provide specific examples that apply to all employment opportunities and situations. But the examples below should offer enough insights such that a writer will feel comfortable constructing a cover letter that is aligned with their specific
career objectives
.
Every word processing software package sold in the last 15 years can help format the letter properly. Don't forget to use the spell checking capability of the word processing application, and have someone proofread the cover letter as well as the resume.
It is very discouraging to see spelling errors on a cover letter. It's often thought to be a sign the individual does not pay attention to details, or is thought to be a precursor to the job applicant's quality of work.
Cover Letter Sample 1
This first example is one that might be used by a job seeker with a technical background; specifically, this letter is written for someone trying to apply for a market research job:
I have developed and applied strong analytical skills in the market research area from the sample design stage through reporting. My abilities have been proven through the achievement of strong bottom line results. I would like to take this opportunity to bring my skills, experience and achievements to your attention.
I have interest in exploring the opportunity to join XYZ Company as a member of your Market Research staff.
The following results were achieved through the application of the market research skills outlined in the attached resume:
Led the construction of a research study, which framed the most cost-effective strategy for introducing a new product offering.
Authored a well-received research study for a division of a market leader in financial services, resulting in significant changes to their promotional strategy.
(A rule of thumb would be to include about 4 to 6 achievements in a resume cover letter.)
I worked hard to achieve these results, and look forward to discussing how I can contribute to XYZ Company's future success.
Cover Letter Sample 2
This second example is one that a professional might use; here the letter is written for someone looking for a financial or accounting position:
I have applied skills in financial planning, analysis, and capital budgeting to achieve cost reductions, identify cost savings opportunities, and realized bottom line results for a Fortune 200 company. Exceptional results have been consistently rewarded through a series of progressive promotions.
I would like to bring to your attention my talent, skills, and achievements for developing productive and results-oriented relationships with middle and upper management, so that we can discuss joining XYZ Company as a member of your Financial Planning Team.
Results achieved include:
Conducted in-depth calculations and analysis that generated significant reductions to expense budget, totaling $3.5 million in the areas of depreciation, benefits, and utilities.
Created the framework and was promoted to a position which centrally manages profitability studies and capital planning activities for ABC Company and its operating subsidiaries.
(Once again, the idea would be to include about 4 to 6 items in the resume cover letter)
I look forward to discussing with you how my skills and background can contribute to XYZ Company's future success.
As a follow up to this topic, a second article has been published: More Free Cover Letter Samples. In that article, readers will find links to four more cover letter examples.
---
About the Author - Resume Cover Letter Samples
---