More Free Cover Letter Samples
Moneyzine Editor
Last updated 29th Nov 2022
Due to the popularity of the cover letters previously published, this article contains four additional examples. While these letters follow a consistent format, they cover a wider variety of scenarios.
In this article, we'll quickly review the basics of writing a cover letter. Then we'll move onto four examples, including those for a customer services executive, an administrative assistant / executive secretary, stockbroker, and advertising professional. The job titles used in these examples is less important than the types of information contained in each letter.
Cover Letter Basics
Additional Resources
The cover letter is typically the first document read by a hiring manager or recruiter. It's critically important the letter catches and holds their attention. It also needs to be able to arouse their curiosity enough to encourage them to read through the accompanying resume.
Listed below are the four basic components of a cover letter. Additional detail on this topic can be found in the article: How to Write a Cover Letter.
Introductory Paragraph: a fact-filled overview of the skills and achievements that also appear on the resume.
Objective Statement: a summary of the job opportunities the writer wishes to pursue with a particular company.
Achievements: a subset of the achievements appearing in the resume is included in the cover letter too.
Closing Statement: a simple statement of optimism to close out the letter.
Cover Letter Samples
The following four samples illustrate how the above components come together in a cover letter. Additional examples can be found in a related article: Cover Letter Templates.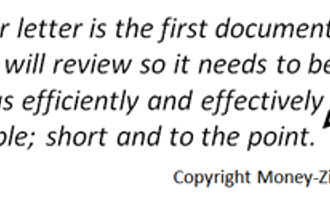 Customer Services Executive
This first cover letter can be used by anyone working in the customer services or customer operations area. This sample is suitable for those individuals with some fairly significant career accomplishments and operational experience.
A manager or executive in the customer services area is likely to have a college degree, usually in the business administration area. This first example can be downloaded here: Customer Services Cover Letter Template.
Administrative Assistant / Executive Secretary
This next letter will be helpful to anyone working as an administrative assistant, or senior secretary, or anyone looking for an executive secretary position in another company. This sample is suitable for individuals that have worked with executives or managers in the past, and are looking to move up in their career.
Someone looking for an executive secretary position is likely to have a combination of a secretarial school background, and some very practical experience as an assistant. This second example can be downloaded here: Administrative Assistant Cover Letter Template.
Stockbroker
This cover letter for stockbrokers is another example that is suitable for individuals with a somewhat narrow but deep focus from a skills set standpoint. Being a stockbroker requires an analytical mindset, specialized knowledge, and the results must be impressive to hold onto clients in this very competitive industry.
There can be quite a bit of job churn as brokers move up the corporate ladder and switch companies. The third example can be downloaded here: Stockbroker Cover Letter Template.
Advertising Professional
This last letter is useful for anyone in the advertising or marketing industry. This letter combines these two job types because oftentimes advertising and marketing professionals work closely together to develop strategies and tactics.
Because of the close tie between these two professions, the skill set required to do each function is somewhat similar. This final example can be downloaded here: Advertising Professional Cover Letter Template.
---
About the Author - More Free Cover Letter Samples
---