How to Write a Cover Letter
Moneyzine Editor
Last updated 23rd Sep 2022
While it's fairly easy to find information on resume writing, it's more challenging to find advice on how to go about writing a cover letter. That's unfortunate because cover letters are typically the first document read by the hiring manager or by staffing personnel.
In this article, were going to explain how to write a cover letter. That explanation will include the four critical components of the document, why they're important, as well as an example. Then we'll close out the topic with links to some resources, including additional examples that can be downloaded.
Today, those same systems that distribute and store resumes allow applicants to include a cover letter. An effective letter is one that will tempt the recruiter or hiring manager to take a closer look at the accompanying resume. Whether the document is distributed by snail mail or electronically, well-written letters produce results.
Writing a Cover Letter
A cover letter is frequently the first document seen by a hiring manager or recruiter. What's written in the letter often determines if the reader is going to take a closer look at the resume, or send everything to the recycling bin. That means the letter has to be short, to the point, and it needs to concentrate on marketing the job candidate's abilities.
To make sure a cover letter meets all of these requirements, it's important to follow a specific formula, or format. The approach outlined below is based on a four paragraph formula:
Introductory Paragraph
Objective Statement
Achievements
Closing Statement
Introductory Paragraphs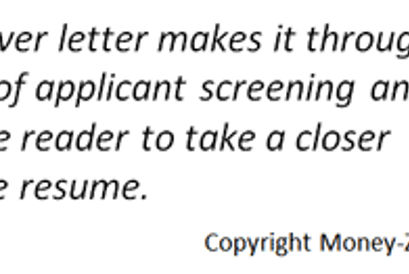 The single most important part of a cover letter is the introductory paragraph. As such, it needs to be a fact-filled overview of
skills
and achievements that later appear in the resume. An example is the best way to illustrate how this is accomplished.
Example: Introductory Paragraph
I have successfully combined my (educational background) and applied skills in the areas of (marketing and operations) to successfully (meet all balanced scorecard targets) and (generate sales in excess of $5.0 million). I have been asked to take on increasingly more responsibility at Company XYZ.
Objective Statements
In the second paragraph of a cover letter, the writer is going to do something relatively simple, but often missed. The job applicant is going to tell the reader why they're sending them their resume. An objective statement is the key element in this second paragraph.
Objective statements are a summary of the job opportunities that a candidate wants to pursue with a particular company. At times it's a good idea to restrict the objective to a single type of position within a company. When using an electronic cover letter, a better approach might be to include several possible objectives.
Example: Objective Statement
I am bringing to your attention my skills, accomplishments, and (talent for selling in a competitive marketplace) so that we can discuss joining XYZ Company as a member of your (direct sales) team.
Achievements
The third paragraph of a cover letter contains an excerpt pulled directly from the resume. Some people might argue that duplicating content is a waste of the reader's valuable time. The experts say this: Pulling vital information from a resume actually saves the reader time. If they are not interested in reading the resume after looking at the achievements, then the job fit is probably not a good one.
Example: Achievements
Major achievements to date include:
Founded accounting firm following college graduation, and grew revenues in ten years to $3,000,000. Later sold the business operations and clientele list to a Big Six accounting firm.
Significantly upgraded consumer opinion of Large Company through the launch of an integrated branding campaign. Large Company was subsequently ranked #1 in consumer satisfaction by J.D. Power and Associates.
Developed new client acquisition strategies for sales team and subsequently trained workforce in new client acquisition program. Within three years, the number of active clients increased by 50%.
Closing Statements
The final paragraph of a cover letter is a straightforward statement of optimism. The writer needs to tell the reader that they're interested in discussing how they can add value to their company. Here are two examples demonstrating how to structure a closing statement.
Example: Closing Statements
I look forward to meeting with you to discuss how I can add value to your company's bottom-line results.
I am eager to discuss with you how I can help turn your company's operations around, and increase your shareholder's value.
Elements of a Cover Letter
It is these four elements, when put together, that concisely tell the reader exactly what the applicant is after, and why they're the best person for the job opening. If the cover letter is effective, the hiring manager should look at the resume and extend an invitation to a job interview.
Cover Letter Resources
This website has several cover letter samples, and resume-writing resources that can be helpful when constructing a letter. Putting together an effective document is a very simple process, but one that's often ignored. Don't make the mistake of taking shortcuts when it comes to a cover letter. A well-written letter is just as effective in landing a job interview as a well-written resume.
---
About the Author - How to Write a Cover Letter
---