Curriculum Vitae Writing
Moneyzine Editor
Last updated 29th Nov 2022
Curriculum vitae, or CVs, are often used by the academic community instead of resumes. While some might say that a curriculum vita does not need to follow a standard format, there are some content expectations among readers.
In this article, we're going to first explain the differences between a curriculum vitae and a resume. Then we're going to talk about the types of positions that require job applicants to prepare and submit this type of document. Next, we'll discuss the information that should be included, and then finish up by providing a sample that can be downloaded for free.
What is a Curriculum Vitae?
Additional Resources
The term curriculum vitae is a Latin phrase, which translates as "course of life." The plural form of the phrase is curricula vitae, while the reference is also frequently abbreviated as CV. Less formal references may refer to the document simply as vita or vitae.
A curriculum vitae is more commonly used in the scientific and academic communities to replace a resume. In general, the format allows for greater detail about scientific research and / or academic experiences compared to the relatively brief format of a resume. The document contains a listing of job experiences and education, and they are usually prepared for the purpose of obtaining a job interview or when seeking employment.
Types of Jobs Requiring a CV
The following types of professions or events may require applicants to prepare a vita:
Graduate Assistants / Grant Proposals
Teachers, Professors, and Administrative Positions at Colleges and Universities
Professional Speakers / Speaking Engagements
Superintendents, Principals, Department Heads
Research Assistants, Research Associates / Professionals
Publishers / Editors
Anyone that's new to these professions, and unsure if it's appropriate to write a CV or a resume, should check with someone already working in the area of interest or an advisor / faculty member at school.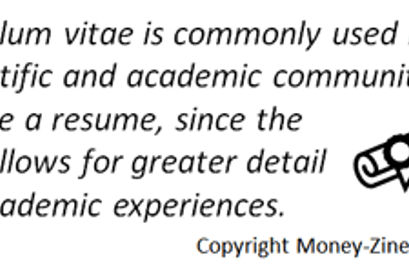 Writing a Curriculum Vitae
Vitae and resumes both serve the same purpose. They are documents that explain the skills, achievements, and educational experiences of the writer. The objective of a CV is to demonstrate to prospective employers, whether it's a publicly traded company or a college / university, the writer is the ideal candidate for their job opening.
Length of the Document
While a resume is generally limited to two pages, CVs can get quite lengthy. For example, one suggested rule of thumb includes:
Bachelor's / Master's Degree Candidates: one to three pages
Doctoral Candidates: two to five pages
Experienced Researchers / Academician: five or more pages
Contents
In the United States, a CV is expected to include a fairly comprehensive listing of work history. This includes places and lengths of employment, academic credentials, citations / publications, as well as significant achievements. At times, it may even be appropriate to include samples of the job applicant's work.
In Europe, a standardized CV model has evolved known as the Europass, which was developed by the Council of Europe. The idea behind the use of the Europass within the European Union is that a standardized document allows for easier movement between jobs throughout member countries.
The types of information typically included in this document includes:
Education
Internships / Grants / Fellowships / Academic Awards
Master's and / or Doctoral Thesis
Publications / Published Work
Presentations / Papers Written
Dissertation Topics
Graduate Courses / Study
Specialized Training
Field Work / Foreign Study
Skills (Personal, Communication, Managerial, Computer)
Languages Spoken
Research / Consulting Engagements
Research Experience
Teaching Experience
Committee Involvement / Activities
Professional Licenses / Certifications
Even though curriculum vitae can go well beyond the two page limit of a resume, the document still needs to be concisely written. The objective is to demonstrate to a potential employer the writer is the ideal job candidate. This is done by highlighting skills and achievements; avoid providing superfluous information.
Proofreading
Once the document is written, follow the same "quality control" rules that apply to resumes. For example, put the document aside, and don't look at it for a day or two, then read through it again. This passing of time will help readers to quickly identify mistakes, making proofreading more accurate.
Once the writer is satisfied their curriculum vitae is ready to send to prospective employers, let a trusted friend, associate, or faculty member take a final look. It always helps to get someone else's prospective, and leverage their experiences.
Examples
As promised at the start of this article, we're going to provide several examples of well-written documents. The first example is a Curriculum Vitae Resume Builder. This document can be used as a visual example, as well as a template when preparing a CV.
The second two examples are those of the Europass. This includes samples of the Europass CV for Microsoft Word and a Europass CV for OpenOffice Writer or LibreOffice.
---
About the Author - Curriculum Vitae Writing
---