Medicare Part D: Prescription Drug Insurance
Moneyzine Editor
Last updated 29th Nov 2022
On December 8, 2003, Congress passed a comprehensive Medicare prescription drug program, known as Medicare Part D. This program was aimed at providing Medicare recipients with prescription drug insurance.
The move came as a result of research findings indicating that when Medicare beneficiaries did not have outpatient prescription drug insurance, they paid roughly 20% more than patients with insurance coverage. These benefits were introduced as part of the Medicare Modernization Act.
Medicare Prescription Drug Discount Card
Additional Resources
Starting in May 2004, Medicare beneficiaries without prescription drug coverage had an opportunity to apply for a prescription drug discount card. Those cards were first distributed in June 2004. It was hoped the discount card would allow individuals to save between 10 and 15% on their annual prescription drug spend, with discounts ranging up to 25% off the cash price of individual drugs.
These discount drug cards were not intended to provide a true prescription drug insurance benefit to individuals; the intention was to provide for a discount program until a more comprehensive program could be introduced: Medicare Part D.
Medicare Part D
Starting in January 2006, everyone with Medicare, regardless of income, health status, or prescription drug usage, now has access to prescription drug coverage. The Medicare plan covers both generic as well as brand name prescription drugs. This program is supported by participating pharmacies located throughout the United States. The purpose of this program is to provide protection against the high cost of medications.
Part D Eligibility
Individuals are first eligible for Medicare Part D when they enroll in the Medicare program. Eligibility usually starts three months before turning age 65, and concludes three months after turning age 65. Individuals that do not sign up when they're first eligible will normally be assessed a penalty to join.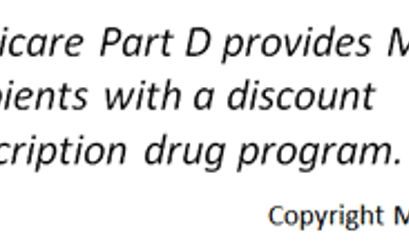 Open enrollment for Medicare Part D begins around October 15th of each year, and extends into early December. The sooner an insurance carrier is chosen, the more certain it will be that benefits will flow smoothly in January.
Enrollment in a Medicare prescription drug program can be done in one of several ways, including:
Joining a Medicare prescription drug plan.
Joining a Medicare Advantage Plan, or
Enrolling in a Medicare Health Plan that offers drug coverage.
Part D Premiums
Individuals that enroll in Medicare Part D are required to pay a monthly insurance premium. The exact premium paid will vary by plan. Deductibles as well as copayments and coinsurance payments will also apply. Medicare approved insurance providers can be found by visiting the Medicare website. While some prescription plans may offer additional coverage, this benefit usually comes with a higher monthly premium.
Additional premiums are due if household income is above a certain threshold as demonstrated in the table below:
Part D Premium Adjustments in 2020
Individual Tax Returns
Married Filing Separate
Joint Tax Returns
Plan Premium
$87,000 or less
$87,000 or less
$174,000 or less
$0
$87,001 to $109,000
$174,001 to $218,000
$12.20
$109,001 to $136,000
$218,001 to $272,000
$31.50
$136,001 to $163,000
$272,001 to $326,000
$50.70
$163,001 to $500,000
$87,001 to $413,000
$326,001 to $750,000
$70.00
$500,001 or more
$415,001 or more
$750,001 or more
$76.40
Note: The above table shows the 2020 premiums, which are based on the participant's 2018 federal income tax return.
Qualifying individuals may not have to pay premiums or deductibles; however, they need to contact Social Security at its toll free telephone number 1-800-772-1213 (TTY 1-800-325-0778) to find out if they qualify.
Pharmacy Networks
A state is the smallest service area, or network geography, that is permitted in the Medicare prescription drug program. This means the pharmacy network coverage has to be at least the size of the state in which it is offered. Minimum requirements for these networks also include:
For urban areas, 90% of Medicare participants must live within 2 miles of a network pharmacy.
In areas of the country considered suburban, 90% of Medicare participants must live within 5 miles of a network pharmacy.
Finally, for rural areas, 70% of Medicare beneficiaries or participants must live within 15 miles of a network pharmacy.
Prescription Drug Program Privacy
Approved discount prescription drug programs are required to comply with all HIPAA privacy provisions. A participant's protected health information or PHI can only be used for the health care operations, and in the marketing of products and services that are within the scope of this particular Medicare endorsement.
Part D Solicitations
The Medicare Part D prescription drug plan is in the news almost on a daily basis. Before signing up, it's a good idea to gather information on the drugs needed, options offered by various plans, as well as writing down the coverage desired in a plan.
The Federal Trade Commission (FTC) has issued a number of warnings concerning solicitations from scam artists claiming to represent Medicare Part D providers. What these swindlers are really after are Social Security Numbers, checking accounts, and credit card numbers. This information is then used to commit financial fraud.
The FTC and the Centers for Medicare & Medicaid Services, wants everyone to know how to protect their personal identification information. Suspicious activity should be reported to the U.S. Department of Health and Human Services Fraud Hotline at 1-800-447-8477, in addition to calling the FTC at 1-877-382-4357.
---
About the Author - Medicare Part D: Prescription Drug Insurance
---