Medicare Part B: Medical Insurance
Moneyzine Editor
Last updated 25th Nov 2022
Medicare is a federally-sponsored program designed to provide individuals age 65 and older, and those with qualifying disabilities, with health care insurance. The entire program is split into several parts. Medicare Part B is medical insurance that helps participants pay for the costs of doctor bills and outpatient medical care. Part B also covers some of the medical services that Medicare Part A (hospital insurance) doesn't cover.
Enrolling in Medicare Part B
Enrolling in Medicare Part B is not mandatory, but there are three distinct ways of enrolling. Anyone eligible for Social Security or Railroad Retirement benefits are automatically enrolled in Part B starting on the first day of the month in which they turn age 65. The three ways of manually enrolling in Medicare Part B include:
Initial Enrollment
Additional Resources
The initial enrollment period for Medicare Part B starts three months before the month in which an individual turns age 65 and ends six months later, which is three months after turning age 65. Please note that although some citizens may not be eligible for full Social Security benefits until after the age of 65, this does not affect Part B eligibility.
General Enrollment
If an individual does not sign up for Part B when they first become eligible, they can take advantage of the general enrollment period each year. General enrollment runs from January 1st through March 31st of each calendar year; coverage begins on July 1st.
Anyone delaying enrolling in Medicare Part B may have to pay an additional percentage of the current premium. This is explained in more detail later on, when premiums and deductibles are outlined.
Special Enrollment
The special enrollment period is for those individuals that were eligible for Medicare, but decided to wait to enroll in Part B because they had health care coverage through their employer or a spouse's employer.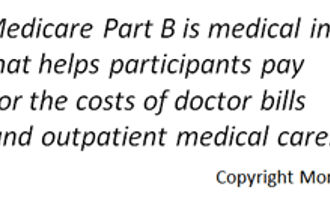 Under these circumstances, it's possible to apply for Part B while still covered by a healthcare insurance plan. Individuals can also apply during the eight months following the month an employer's health plan coverage ends, or when employment ends, whichever comes first.
Anyone signing up for Medicare Part B during their special enrollment period does not have to pay an additional amount towards their premium. However, individuals that sign up during general enrollment may have to pay an additional premium.
Medicare Part B Coverage
Medicare Part B is designed to pick up where Medicare Part A leaves off. That means Part B will cover certain medically necessary services such as non-routine doctor visits, outpatient surgery and supplies, diagnostic tests, and items that are termed durable medical equipment. This includes wheelchairs, walkers, oxygen equipment, and in-home hospital beds.
Under certain conditions, Medicare Part B can also cover second and even third opinions for surgery that isn't considered a medical emergency. Part B will also cover the costs of laboratory services such as blood tests, and some screening tests in addition to urinalysis.
If the patient requires home health care services, the cost of these expenses are also covered by Medicare Part B. This includes reasonable and necessary skilled nursing care, health aid providers, physical therapy, and durable medical equipment such as wheelchairs and walkers.
Preventative Services
Starting back on January 1, 2005, the Medicare program expanded the preventative care services offered under Part B insurance to include:
Bone Mass Measurements: qualified individuals can have their bone mass measurements taken as a preventative measure every 24 months.
Cardiovascular Blood Screening: qualifying patients are eligible for blood tests for cholesterol, lipid or triglycerides and other tests used to detect the onset of cardiovascular disease.
Colorectal Cancer Screening: includes sigmoidoscopy (every 48 months), colonoscopy (every 24 months for high risk patients, 10 years otherwise), and Barium Enema (every 24 months for high risk, 48 months otherwise).
Diabetes: includes screening test such as plasma glucose for certain individuals at risk.
Glaucoma: once every 12 months when performed or supervised by an eye doctor that can legally provide the service.
Pap Test and Pelvic Examination: high risk individuals can have these tests once every 12 months, including a clinical breast examination.
Prostate Screening: includes digital rectal examination and PSA test once every 12 months for men age 50 and over.
Mammograms: once every 12 months for women age 40 and older.
Immunizations: includes the flu shot (once per season), pneumonia, and hepatitis B.
Finally, the preventative services offered under Medicare Part B also includes a "Welcome to Medicare" physical examination.
Part B Premiums, Deductible, and Coinsurance
In 2019, the Medicare Part B monthly premium was $135.50. In 2020, premiums will increase to $144.60. Taxpayers with a status of married, filing jointly will pay higher premiums if their modified adjusted gross income is in excess of $174,000. The higher premium limit is $87,000 for all other taxpayers as demonstrated in the table below. Note there is a two year lag for this premium limit (2018 income applies to 2020 premiums).
Part B Monthly Premium in 2020
Individual Tax Returns
Married Filing Separately
Joint Tax Returns
Premium
$87,000 or less
$87,000 or less
$174,000 or less
$144.60
$87,001 to $109,000
$174,001 to $218,000
$202.40
$109,001 to $136,000
$218,001 to $272,000
$289.20
$136,001 to $163,000
$272,001 to $326,000
$376.00
$163,001 to $500,000
$87,001 to $413,000
$326,001 to $750,000
$462.70
$500,001 or more
$413,001 or more
$750,001 or more
$491.60
Note: The above table shows the 2020 premiums, which are based on the participant's 2018 federal income tax return.
Individuals that delayed enrollment in Medicare Part B past the Initial Enrollment Period, will pay premiums that are up to 10% higher for each 12 month period delayed. These increases are applied to the monthly premium for life.
The deductible for Part B is $185.00 per year in 2019, and will be indexed to the average increase in costs associated with Part B services. In 2020, the Medicare Part B deductible increases to $198.00 per year.
After the deductible is satisfied, there is a 20% coinsurance payment due on all Part B covered services. Our article on Medicare Supplemental Insurance provides information that can help patients control deductible and coinsurance payments within the Medicare program.
---
About the Author - Medicare Part B: Medical Insurance
---