Medicare Eligibility
Moneyzine Editor
Last updated 29th Nov 2022
Medicare is an important health insurance program run by the federal government that provides for both hospital care (Medicare Part A), medical care (Medicare Part B), and prescription insurance (Medicare Part D). In this article, we are going to discuss eligibility rules, and some of the more common terminology found within this program.
Medicare Eligibility Rules
In general, U.S. citizens or permanent residents are eligible for Medicare benefits if they have worked for at least ten years in a job that paid money into the Medicare system. Eligibility can be verified simply by looking at a paycheck. Most companies show Medicare tax as a separate line item or combine it with
Social Security
taxes.
Additional Resources
This eligibility rule also applies to a spouse, meaning that if either an individual or their spouse worked for ten or more years and paid money into the Medicare system, then both are covered. Individuals must be age 65 years or older to receive Medicare, unless they have been diagnosed with a permanent disability, or permanent kidney failure that requires dialysis or a kidney transplant. Therefore, there are only two conditions needed to qualify for Medicare benefits:
Money (tax) was paid into the Medicare system for at least ten years.
Individuals must be age 65 or older, unless they have a disability or permanent kidney failure.
Part A Eligibility
Medicare Part A
is the terminology used for hospital insurance. This insurance helps to pay for hospital care, skilled nursing facilities, home health care, and hospice care. Most citizens are eligible to receive Medicare Part A at age 65, and will receive this benefit without paying monthly premiums.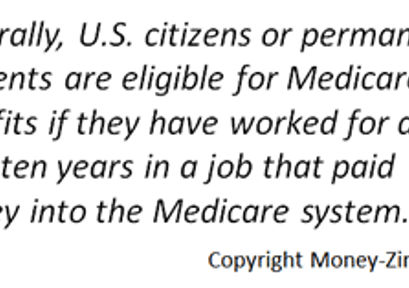 The Medicare eligibility guidelines for Part A (hospital insurance) for individuals age 65 and older include:
Receiving Social Security or retirement benefits from the Railroad Retirement Board.
Eligibility to receive Social Security or retirement benefits from the Railroad Retirement Board, but have not yet applied for these benefits.
An individual or their spouse worked for the government in a Medicare covered job.
The eligibility guidelines for individuals under age 65 include:
Receiving Social Security or benefits from the Railroad Retirement Board due to a disability for 24 months or more.
Receiving dialysis treatments or in need of a kidney transplant.
Part B Eligibility
Anyone passing the eligibility rules for Medicare Part A automatically qualifies for
Medicare Part B
(medical insurance). The coverage under this program is for doctor services, outpatient care, and some of the other medical services that are not covered under Part A. Unlike Part A (hospital care), Part B coverage requires payment of a monthly insurance premium. In 2019, the monthly premiums for Medicare Part B (medical insurance) were $135.50. In 2020, premiums increase to $144.60. Taxpayers with a status of married, filing jointly will pay higher premiums if their modified adjusted gross income is in excess of $174,000. The higher premium limit is $87,000 for all other taxpayers as demonstrated in the table below. Note there is a two year lag for this payment schedule (2018 income applies to 2020 premiums).
Part B Monthly Premium in 2020
Individual Tax Returns
Married Filing Separately
Joint Tax Returns
Premium
$87,000 or less
$87,000 or less
$170,000 or less
$144.60
$87,001 to $109,000
$170,001 to $214,000
$202.40
$109,001 to $136,000
$214,001 to $267,000
$289.20
$136,001 to $163,000
$267,001 to $320,000
$376.00
$163,001 to $500,000
$87,001 to $413,000
$320,001 to $750,000
$462.70
$500,001 or more
$413,001 or more
$750,001 or more
$491.60
If an individual does not choose Part B insurance when they first became eligible for this benefit, then the cost of this insurance may be higher. As a rule, the cost of Medicare Part B can go up 10% for each year that a person could have enrolled in Part B, but chose not to enroll. The 10% increase to the monthly premium is paid as long as someone is enrolled in Medicare Part B, which may be for life.
Part D Eligibility
Everyone that qualifies for Medicare benefits is also eligible for Medicare Part D, which is a plan that provides for prescription drug coverage. The intention of this program is to protect individuals from today's high cost of prescription drugs as well as future costs.
Medicare Part D
is provided by private insurance companies. Beneficiaries will need to choose, or enroll, in a drug plan and pay a monthly premium to the insurance provider they select. In addition, like other insurance, if a participant decides to delay enrollment in a drug plan when they first become eligible, they may wind up paying more for coverage later on.
Alternatives to Medicare
Keep in mind there are options beyond Medicare Part A and Part B coverage. We've talked about these options in our article:
Medicare Supplemental Insurance
. For more information on Medicare enrollment, eligibility and monthly premiums, visit the
Medicare website
.
---
About the Author - Medicare Eligibility
---