Medicaid Benefits
Moneyzine Editor
Last updated 29th Nov 2022
Medicaid is a state and federally funded health care insurance program for low-income individuals and families, as well as those that can demonstrate need. To be eligible for Medicaid benefits, individuals need to fall into one of over 25 different eligibility categories.
In this article, we're going to provide a quick introduction to the Medicaid program. That discussion will include eligibility requirements, the application process, as well as the types of health care benefits that Medicaid has to offer. Then we will finish up with a quick overview of how a participant's out-of-pocket costs are administered by these plans.
Additional Resources
When reading this material, it's important to note that certain local level programs may be called by a name other than Medicaid. For example, the California Medicaid program is named MediCal, while in Georgia it's called Georgia Better.
Medicaid Eligibility
Generally, there are 25 different eligibility categories that can be classified into five broad coverage groups. This includes children, pregnant women with children, adults with dependent children, individuals over age 65, and those with disabilities.
Medicaid eligibility will differ from state to state, but individuals are eligible as a member of a mandatory or optional group as outlined below. All states are required to cover mandatory groups, but individual states can choose whether to cover groups categorized as optionally eligible.
Mandatory Medicaid Groups
Mandatory groups include low-income families with dependent children, pregnant women, and children with income levels that are below established federal poverty levels. In addition, certain low income Medicare beneficiaries may also be eligible for Medicaid.
Optionally Eligible Medicaid Groups
Unfortunately, the Medicaid optionally-eligible beneficiaries will vary from state to state. Individual states can use their discretion to provide benefits for some optionally eligible groups. For example, individuals who would be eligible for Supplemental Security Income if they were not in medical institutions, or individuals receiving only state supplemental payments.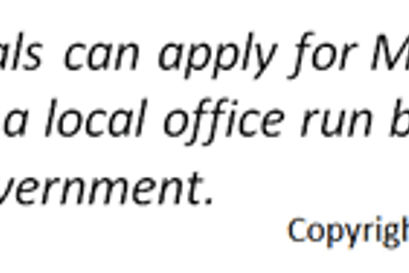 For more complete information on the application process or eligibility, we have contact information for
Medicaid Applications for each state
. The
Centers for Medicare and Medicaid website
is also a useful resource.
Finally, if someone believes they're eligible but have been denied Medicaid for any reason, they can appeal the eligibility determination. The appeal information will be printed on the eligibility notice received in the mail.
Applying for Medicaid
Individuals can apply for Medicaid through a local office run by their state government. That office is responsible for processing Medicaid applications, and they're also responsible for answering any questions about their particular program.
Although processing an application can take time, states are required to render a decision on a standard Medicaid application within 45 days. If the application is based on a disability, the state has a right to process that application in 90 days. One of the most common reasons for the denial of Medicaid benefits has to do with incomplete applications. Make sure all the required documentation accompanies the form, and the required sections of the form are completed.
Medicare and Medicaid
Under some circumstances Medicaid will pay a recipient's Medicare premiums, deductibles, and coinsurance. These same individuals may also be eligible for the payment of Medicare related expenses if their income is greater than 100%, but less than 120% of the poverty level. Again, it's necessary to check with the state run program for the exact eligibility rules.
Medicaid will pay for Medicare Part A premiums if an individual is disabled and they've lost their Medicare coverage because of work. Income must also be below 200% of the poverty level, and resources (assets) can be no more than twice the standard allowed under Supplemental Security Income.
Health Care Help through Medicaid
In order for state run programs to be eligible to receive federal matching funds, there are certain basic services that must be offered to categorically needy populations. The healthcare help available through this program must include services such as:
Inpatient and outpatient hospital services
Payment of physician services
Surgical and medical dental services
Nursing facility (NF) services for individuals aged 21 or older
Home health care for persons that are eligible for nursing facility services
Family planning services and supplies
Nurse / midwife services
Laboratory services and X-rays
Pediatric and those services provided by a family nurse practitioner
Federally-qualified health center services and ambulatory services that are otherwise covered under a state plan
* Rural health clinic services and other ambulatory services that are otherwise covered under a state plan
The most commonly covered health care services under an optionally eligible Medicaid program include:
Services provided by clinics
Prescription drugs (for more information, please see Medicare Part D)
Prosthetic devices
Dental insurance
Services of an optometrist including eyeglasses
Nursing facility services for individuals under age 21
Intermediate care facilities and other services for the mentally retarded
States may also provide home or community-based care waiver services to certain individuals who are eligible for Medicaid. Such services can include case management, personal care services, respite care, adult day health services, and home health aides.
Duration of Medicaid Benefits
Individual states determine both the amount and duration of Medicaid benefits offered under their programs. Generally, federal guidelines require the amount, duration, and scope of each service be sufficient to reasonably achieve its purpose. States are responsible for placing appropriate limits on Medicaid services based on medical necessity and other types of controls.
Usually, Medicaid beneficiaries are allowed to choose among participating healthcare providers. States may also elect to run their programs through prepayment arrangements such as a health maintenance organization, or HMO. Check with a local Medicaid office about HMOs or Medicaid Health Maintenance Organizations, and the possible access to expanded benefits under those arrangements.
Payment of Medicaid Benefits
Medicaid is operated as a vendor payment program. That means payments are made directly to participating healthcare providers. These providers are required to accept Medicaid reimbursements as payment in full.
States are allowed to charge small deductibles, coinsurance, and copayments to certain Medicaid recipients and for certain services. However, states are not allowed to charge copayments for emergency care and family planning services. In addition, pregnant women, children under age 18, hospital or nursing home patients who are expected to contribute most of their income to institutional care, and categorically needy HMO enrollees are also exempt from copayments.
Caps on Medicaid Benefits
Finally, the total amount of federal payments for Medicaid services does not have a preset limit or cap. The federal government must match whatever an individual state is willing to provide its constituents. The only requirement is the reimbursement rates to healthcare providers must be sufficient to attract enough providers so that Medicaid benefits and services are available under the plan, and services are available to the qualifying population in that particular state.
---
About the Author - Medicaid Benefits
---