Long-Term Care Insurance
Moneyzine Editor
Last updated 29th Nov 2022
Federal law now makes it easier for everyone to buy and own long term care insurance. That's because it's easier for states to start programs that help reduce the worry, and stress, of paying for long term care.
In this article, we're going to first help explain exactly what is meant by long term care, and the services consumers can expect under those programs. Next, we'll discuss some of the steps needed when choosing a long term care provider. Finally, we will finish up with a discussion of the advantages of these programs, and how this insurance can help protect a family's assets.
Long Term Care
Additional Resources
There is a misconception that long term care is only for the elderly; that's simply not true. This type of care includes a variety of services that are administered to individuals with both chronic illnesses as well as disabilities.
Typical long term care services include assistance, or support, with daily activities including getting dressed, taking a bath, or even using the bathroom. These types of services can be used at home, in the community, through assisted living organizations, or in a nursing home.
Choosing a Long Term Care Provider
Not everyone is going to require long term care, but consider the fact that in 2012 Medicare estimates revealed nine million Americans over the age of 65 need long term care. In 2020, the federal government believes that over 12 million men and women will need this kind of care.
Add to this information published by the U.S. Department of Health and Human Services, which estimates that individuals reaching the age of 65 have a 40% chance of entering a nursing home. For those individuals entering a nursing home, roughly 10% will stay there for five or more years. These facts drive home the need to think carefully about how to choose a long term care provider.
Steps to Choosing Long Term Care
As just demonstrated, picking the right long term care provider is an important decision. When making plans for long term care, it's important to think about future health care needs, which is not always an easy thing to do. Some of the important questions that need answering include:
What kind of care might I need in the future?
How might the kind of care I need change over time?
What are my choices when it comes to long term care providers as well as insurance companies?
How much can I afford to pay for my care?
Answering these questions should provide insights into the depth and breadth of the care, and insurance coverage, needed in retirement.
Choosing Long Term Care Insurance
When shopping for long term care insurance, there are four additional factors to consider beyond the health questions just mentioned. These items include: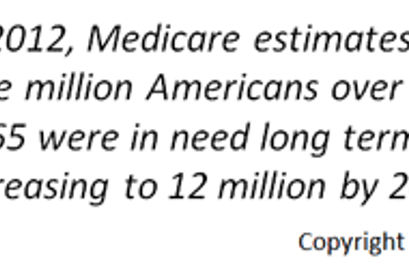 Protection from Inflation: since most long term care insurance provides for a fixed amount of daily coverage, consider buying a policy that offers protection from inflation. Consensus among the experts indicates the cost of this type of medical care coverage increases at an annual rate of 5%.
Amount of Coverage: the cost of providing long term coverage can vary greatly from state to state, so it's important for individuals to understand where they might be living when they're age 80 or older. Recent research indicates the national average cost of long term care is nearly $70,000 per year, while in some metropolitan areas it can cost twice this amount.
Length of Coverage: typically, it's possible to find insurance that will protect individuals anywhere from two years through a lifetime. Most individuals need from three to five years of coverage, and that policy length will save 40% versus premiums that a lifetime policy charges.
Insurance Carrier's Financial Health: when buying long term care insurance, make sure the insurance carrier will be around when needed. To learn more about the financial health of companies, take a look at our article on Bond Ratings. That article contains information that can help figure out if an insurance carrier has the financial strength to still be around in 20 years.
Calculating Long Term Care Needs
Our Long Term Care Calculator can help Individuals that are trying to determine how much long term care insurance they might need. That free online tool allows users to enter an estimate of their daily long term care costs (in today's dollars), along with the number of years of coverage, existing funds they might have set aside, as well as the projected annual increase to LTC (long term care) costs.
The calculator will help users to figure out what their long term care needs might be, as well as any gap you might have in this need. As is the case with all of our online tools, the long term care calculator comes complete with detailed instructions.
Recent Changes to LTC Law
Most long term care expenses are not covered by Medicare, but they are covered by Medicaid, and that benefit comes at a cost. That's because Medicaid is a financial needs-based program. To qualify for benefits under that program, individuals need to pass an asset test, and possibly an income test as well. Passing these tests means most individuals would have to spend nearly all of their savings before they qualify for benefits.
Fortunately, the federal government now allows LTC policyholders that have exhausted their insurance benefits to receive help without using up all of their life savings.
Partnership for Long Term Care
Under the Partnership for Long Term Care program, if someone buys a private LTC policy that is approved by their state and those insurance benefits run out, they will qualify for Medicaid and still be able to keep assets equal to the value of the insurance purchased.
For example, let's say Bill purchased a LTC policy approved by his state that provides him with $300,000 in long term care benefits. Under the Partnership for Long Term Care program he is allowed to retain $300,000 in assets and still qualify for Medicaid. Without such a program, Bill might be required to spend nearly all of his assets before qualifying for help.
Additional Information on LTC Insurance
As of 2014, nearly all 50 states are participating in this program. To find out the extent of a state's participation, visit longtermcare.gov and look for information on State Partnership Long-Term Care Insurance Programs. It's also possible to telephone the American Health Care Association at 202-842-4444, and they can help figure out if a Partnership plan is currently offered in a particular state.
---
About the Author - Long-Term Care Insurance
---