Flood Insurance
Moneyzine Editor
Last updated 25th Nov 2022
Even if a community has never experienced widespread flooding before, purchasing flood insurance is something every homeowner should consider. Many owners mistakenly believe their homeowners insurance policy provides flood insurance. Renters often make the same mistake, thinking that they don't need coverage, but this isn't always true.
Flood Insurance Statistics
People are mistaken in their beliefs about flood insurance, because they see and read stories about homes that are flooded, and the recovery assistance that is offered by the federal government. But that assistance to the homeowner is in the form of low interest rate loans, not insurance. In fact, according to national statistics, nearly 25% of all flood insurance claims come from areas that have minimal flood risk.
Additional Resources
Just because a flood has never occurred in a community, does not mean people living there are not at risk. Homes located in a floodplain have a 26% chance of suffering from flood damage over the course of 30 years. Compare that to the 4% risk of loss due to fire, to put things into perspective. A home built in a high-risk area is five times more likely to suffer damage from a flood than a fire over the course of a 30-year mortgage.
Flood Insurance and Loans
Mortgage companies typically require homeowners to maintain flood insurance during the term of the loan, if the structure is in a high-risk area. If the home is not in a high-risk area, but instead in a low-to-moderate risk area, owners may not be required to carry flood insurance. Keep in mind what was mentioned earlier; nearly 25% of all flood insurance claims come from these areas.
If during the lifespan of a mortgage, the floodplain map changes for a community, the mortgage company will notify borrowers they must purchase flood insurance. In fact, these flood plain maps change all the time, and the local community plays a large role in this process. That is because together with the Federal Emergency Management Agency (FEMA), the community will collect the information needed to create an accurate Flood Insurance Rate Map (FIRM) via a Flood Insurance Study (FIS) of the region.
Flood Zones and Flood Insurance Rate Maps
A Flood Insurance Rate Map, or FIRM, is created by the National Flood Insurance Program for floodplain purposes. A FIRM will show a township's base flood elevations, floodplain boundaries, as well as flood zones.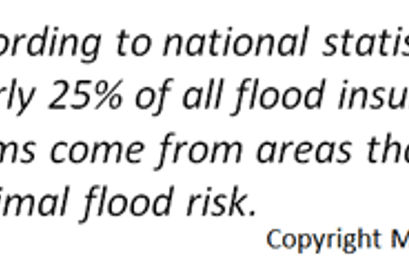 As a homeowner, or even a renter, this map can be used to get a more reliable indication of the flood zones near a home. However, floodplain maps are updated as meteorological events occur. Homeowners can contact their insurance agent, insurance company, or a township's floodplain manager to get the most up-to-date information on a flood zone. Alternatively, it's possible to conduct this research using
FEMA's interactive flood plain map
.
National Flood Insurance Program
The National Flood Insurance Program, or NFIP, enables homeowners and property owners living in participating communities to purchase affordable flood insurance protection. This insurance was designed to provide assistance to property owners, while meeting the rising cost to repair buildings damaged by flooding.
Participation in the National Flood Insurance Program is based upon an agreement between local communities throughout the United States and the federal government. At the heart of that agreement is the understanding that participating communities will adopt and enforce a floodplain management-building ordinance that reduces the future financial risks associated with constructing new developments in Special Flood Hazard Areas (SFHA).
In exchange for their cooperation in passing local ordinances discouraging building in these SFHAs, the federal government agrees to make available affordable flood insurance to protect that community's residents against the financial hardships associated with a flood loss.
Purchasing Flood Insurance Coverage
Homeowners can get up to $250,000 worth of insurance on their home's structure, and an additional $100,000 on the contents in the home. Renters can get up to $100,000 worth of flood insurance on the contents in the home.
The flood insurance policy will also cover the home's foundation, and the equipment that is necessary to support the home. This includes items such as water heaters, furnaces, and electrical panels. Flood insurance does not cover any improvements to the basement such as finishing walls, floors, and ceilings. Personal belongings kept in the basement are also not covered by this insurance.
Flood Insurance Costs
There are a number of factors that are used to calculate flood insurance costs. This includes the amount of coverage, the age of the home, and the home's location in a flood zone. For example, insurance premiums for the maximum coverage available on homes located in low-to-moderate risk areas ($250,000 on the structure and $100,000 on the contents) currently run around $475 per year.
That might sound like a lot of money, but keep in mind the typical homeowners insurance policy does not cover flood damage. Renters should also consider purchasing flood insurance if the home they are renting is sitting in a flood plain. Certainly the renter would not be responsible for the structure itself, but if they have purchased furniture or other items of value that are in the home, then it may be a wise move to purchase insurance to provide coverage for the contents in the home.
---
About the Author - Flood Insurance
---