Top Employee Benefits
Moneyzine Editor
Last updated 29th Nov 2022
When employers talk about an employee's total compensation package, they oftentimes include the expenses associated with providing benefits. These are the on and off-the-job perks that companies provide at little or no cost to the employee.
In this article, we're first going to provide an overview of employee benefits programs, and why it makes sense to offer them to employees. Next up, we're going to talk about mandated versus optional benefits programs. Then we're going to finish up by providing a variety of statistics, including the most common benefits offered today, as well as those employees value the most.
Employee Benefits Programs
Additional Resources
The objective of a good employee benefits program is to help protect both employees and their families from the possibility of severe economic hardships caused by illness, disability, loss of life, or unemployment.
A comprehensive employer program will also provide retirement income for the employee and their family, as well as suitable assistance such as paid time off from work.
Administering and Selecting Programs
Employers consider the cost to provide and administer benefits plans an integral part of the total compensation package offered to its employees. While these benefits programs are typically managed by employers, oftentimes employees are asked to contribute small premiums or copayments to enjoy the added coverage.
Employers offer benefits to employees for one or more of the following reasons:
Attracting and retaining a talented workforce.
Aligning benefits packages with competitive offers in the marketplace.
Promoting higher levels of morale among employees.
Providing opportunities for promotion or advancement as workers resign, retire, or move to other positions within the organization.
Keep in mind that no single program can provide for the needs of all employees, it is usually a combination of benefits that is most effective in meeting the employer's objectives. That being said, there are two broad categories of benefits offered by employers in today's work environment: mandated and optional.
Mandated Benefits Programs
Mandated benefits are those required by law. These include federal or state sponsored programs that aim to provide for the most essential needs of employees and / or their families. Examples of three very important, and mandated, benefits include:
Social Security
Unemployment Insurance
Workers Compensation
While unemployment provides help to those that lose their jobs, workers compensation programs provide assistance to those disabled by occupational illness or injury. Social Security protects the aged and disabled against expenses that might otherwise exhaust their entire savings.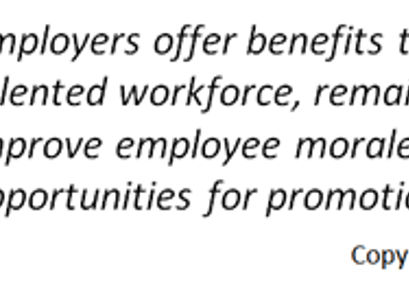 In March 2010, the Patient Protection and Affordable Care Act, also known as Obamacare and the Affordable Care Act (ACA), was signed into law. While not mandating health care coverage, the law states that firms employing fifty or more people, and not offering health insurance, will pay a shared responsibility requirement if the government subsidizes an employee's health care costs.
Optional Benefits Programs
As the name implies, optional employee benefits includes a wide array of programs that employers can choose to offer employees; typical programs include:
Retirement / Pension Plans
Flexible Compensation
Paid Leave
This list can be quite extensive; for example, some companies pay for the food employees consume while at work.
Employee Benefits Statistics
In July 2013, the U.S. Bureau of Labor Statistics and the U.S. Department of Labor released a report on employee benefits as part of their National Compensation Study. Major findings from that study include:
Paid leave was the most commonly provided benefit to employees, including paid holidays which were made available to 77% of employees and a paid vacation time benefit which was also available to 77% of employees.
Medical care plans were made available to 70% of workers in the private sector while only 51% of workers participated in such plans.
Employees with families contributed an average of 32% towards their medical care premiums, while single employees contributed an average of 21% towards this benefit.
While 64% of employees had access to retirement plans, only 49% of employees participated.
Finally, life insurance was provided to 57% of employees and 55% of workers participated, which translates into a 97% take-up rate.
Paid Holiday and Vacation Time
Perhaps one of the most valued of all employee benefits includes paid time away from the job, which is often spent with family and friends: holiday pay and vacation time. Nationally, the average number of paid holidays is eight.
Paid vacation time is normally a function of tenure or length of service. The table below shows the national average number of paid vacation days as a function of the time spent with a company:
Length of Service
1 Year
5 Years
10 Years
20 Years
Paid Vacation Time (Days)
10
14
17
19
Source: 2013 National Compensation Study
Benefits Valued by Employees
A very interesting study of benefits was conducted in 2004 by the United States Office of Personnel Management or OPM. The OPM is an Executive Branch agency charged with the responsibility for setting policy for the Federal Government's employees.
The survey results were based on the responses of 856 employees, including current and new employees (those with less than three years of service), and the margin of error for the survey was +/- 3%. The survey focused on the following ten benefits programs:
Employee Health Benefits
Retirement Annuities
Thrift Savings Plan
Retiree Health Benefits
Life Insurance
Flexible Spending Accounts
Tele-Work / Telecommuting
Child Care Subsidy
Health And Wellness Programs
The survey asked the respondents several questions about the above programs. For example, comparing their benefits to those offered to non-Federal employees. However, there was one very important question they asked that fits nicely with this topic:
Which of the Currently Available Benefits is Important to You to Remain in or Accept Federal Employment?
The answer to this question helps us to better understand exactly which benefits employees value the most. The following table contains the percentage of respondents indicating a particular benefit was "very important or important."
Employee Benefit
Percent Rating
Retirement Annuity (Pension Plan)
91%
Thrift / Savings Plan: 401(k) 403(b)
89%
Employee Healthcare Benefits
89%
Retiree Healthcare Benefits
87%
Life Insurance
71%
Long-Term Care Insurance
63%
Health / Wellness Programs
53%
Flexible Spending Accounts
45%
Tele-work / Telecommuting
40%
Child Care Subsidies
31%
Much of this information seems intuitive. For example, many employees value a retirement plan because this is something that everyone expects to benefit from in the future. On the other hand Child Care Subsidies can only be enjoyed by a sub-segment of the employee population, since not everyone will have children or children requiring child care services.
Most Common Employee Benefits Offered Today
We're going to finish up with several more interesting statistics. By examining the list that follows employers can benchmark their company's offerings, while employees can determine if their employer is offering a competitive set of benefits.
According to the National Compensation Study conducted by the Bureau of Labor Statistics and published in July 2013, the following is a list of the most common benefits offered in the workplace today.
Benefit Type
Employers Offering
Unpaid Family Leave
80%
Vacation Pay
77%
Holiday Pay
77%
Health / Medical Care
70%
Prescription Drugs
68%
Paid Jury Duty
62%
Paid Sick Leave
61%
Paid Funeral Leave
60%
Defined Contribution Retirement Plan
59%
Life Insurance
57%
Employee Assistance Programs
48%
Dental Care
45%
Non-Production Bonus Pay
40%
Short Term Disability
40%
Paid Personal Leave
38%
Healthcare Reimbursement Account
37%
Wellness Programs
35%
Dependent Care Reimbursement Account
35%
Long Term Disability
33%
Paid Military Leave
32%
Health Savings Account
20%
Defined Benefit Retirement Plan
19%
Financial Planning
19%
Long Term Care Insurance
16%
Paid Family Leave
12%
Childcare
10%
Subsidized Commuting
6%
Flexible Workplace
6%
Payroll Deduction IRA
5%
Stock Options (Performance)
2%
Please Note: Life insurance is that which does not include employee contributions. Non-production bonuses include payments for attendance, safety, employee recognition, hiring, incentive compensation, retention bonuses among others.
Once again, it's not surprising that benefits fulfilling essential financial and social needs of employees top this list such as vacation pay and prescription drug plans; while we see more "luxurious" benefits such as stock options and a flexible workplace are offered to less than 10% of workers.
---
About the Author - Top Employee Benefits
---