Speed Interviewing
Moneyzine Editor
Last updated 29th Nov 2022
Details Last Updated: Tuesday, 23 March 2021
One of the latest techniques to hit the job market is the speed interview. The method, much like speed dating, allows both the interviewee and hiring company to assess the potential match of candidate to corporation. It also exposes the applicant to a large number of hiring companies in a short timeframe, thereby maximizing the chance of finding a job and speeding up the employee turnover process. In this article, we're going to explain why companies are increasingly using speed interviews. We're also going to explain how they're structured and conducted. Finally, we'll provide some hints and tips on how to prepare for this type of meeting.
Speed Interview Technique
As certain professional and technical skills start to become scarce in corporate America, the speed interview has emerged as a way to screen a large number of candidates quickly. Companies using this technique realize it allows them to assess not just how well the candidate matches up against the required job skills, but also if there is a good corporate culture fit. Hiring managers often need to fill gaps quickly in their organizations, and human resource departments have reacted to this need by using the speed interview technique. This approach allows them to sift through dozens of applicants in a single afternoon. The swiftness of this process not only involves the initial job interview itself, but also typically results in an immediate decision to bring the candidate back for a second interview. Job applicants also benefit from this process, since speed interviews are frequently held with multiple hiring companies during the same session. This allows the candidate to compare and contrast a relatively large set of potential employers.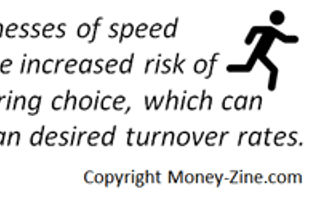 One of the weaknesses of this technique is the increased risk of making a poor hiring choice, which can lead to higher than desired turnover rates. Job candidates are also forced to make quick decisions, which can result in misunderstandings about the candidate's role in the organization, as well as their ability to cope with the demands of the company's culture.
Meeting Structure
Speed interview sessions are usually held during career fairs or during college recruitment events such as career days. Recruiters may also choose to conduct telephone interviews as part of a pre-screening process. Oftentimes, pre-screening of candidates is reserved for more senior-level positions. Depending on the size of the event, the number of participating companies can range from a dozen recruiters to over 100. Hiring companies can expect to interview over 100 job candidates in a single day. The total length of the interview will only be 5 to 15 minutes in length, and candidates can expect the interview questions to be challenging. Even more so than traditional interviews, speed interviewing favors extroverted candidates since there is very little time for introverts to gain the comfort they normally need to communicate effectively with strangers. If the dialog is successful, candidates are usually offered the option of participating in a more traditional full-length interview.
Preparation
First impressions do count, especially when it comes to speed interviews. Job candidates have a very short amount of time to make a great impression. Individuals seriously looking for a job will always try to maximize their chances of being offered an opportunity to join the ranks of an employer. Undoubtedly, these events are less formal than more personalized interviews, but that's not an excuse to dress in blue jeans and sneakers. The best approach is to dress professionally. Most people today would describe this as business casual. In fact, it's not a good idea to "overdress" either because the better outfit should be reserved for the second interview.
Interview Tips
Following the tips below can help make the most of the short meeting time:
Be Polite: shake hands with the recruiter when introduced, and make sure to thank everyone for their time and consideration. Ask the recruiter for a business card so it's possible to follow up with a thank you letter.

Bring Documents: a large number (10+) of copies of an up-to-date resume should be brought to the meeting. This can also include examples of work products that demonstrate the quality of work a candidate is capable of creating.

Do Some Homework: if at all possible, obtain a list of the employers attending the session, and do some research on the company and / or the types of jobs they are trying to fill.

Prepare an Elevator Speech: an elevator speech allows the job candidate to get their point across quickly. These speeches last for 30 seconds and contain roughly 100 to 150 words.
This last point is an important one because developing a good elevator speech may take some practice. A good elevator speech will tell the listener why you're a uniquely qualified applicant. It should also convey to the employer the benefits you'll bring to their company. Finally, practicing the speech will not only result in greater confidence, and create the opportunity to improve the story, but also allow the speech to sound more natural.
---
About the Author - Speed Interviewing
---