Legitimate Work at Home Jobs
Moneyzine Editor
Last updated 29th Nov 2022
Details Last Updated: Tuesday, 23 March 2021
Despite what some advertisements might claim, legitimate work at home jobs are difficult to find. Many of these opportunities are better at putting money in the advertiser's pocket than that of the people looking to move away from the traditional office environment.
Fortunately, there are legitimate opportunities; if you know how to recognize them and where to look. In this article, we'll start by explaining how to identify some of the less-than-honorable remote work business models. Next, we'll quickly review three legitimate ways to avoid working in a centralized location. Then we'll talk about resources that can help everyone to establish a work from home business model.
Work from Home Opportunities?
Perhaps the biggest problem with the work from home promise is that companies fail to disclose all of the costs associated with their business model. Oftentimes, you're required to place local newspaper ads, or photocopy information. They can also involve the purchase of envelopes, paper supplies, stamps, startup kits, and even tutorials. Legitimate work at home programs will clearly explain what is involved with the platform sold. The answers to the following questions should be clear before agreeing to any business model:
It's also a good idea to see if complaints have been logged at the Better Business Bureau or the state's Attorney General's office. For a realistic view of what is involved, ask for references, and talk directly with the people involved. The following three examples are oftentimes cited as poor opportunities:
Medical Billing
This opportunity involves the creation of an at-home claims processing center. Getting started involves the purchase of $2,000 to $7,000 worth of equipment, specialized training, and support. To make this business successful, it's also necessary to find clients, which is difficult since very large players dominate the market.
Craft Work
This type of work involves assembling something for a company, with payment rendered for each part assembled. In some instances, the at-home worker may be required to purchase specialized machinery.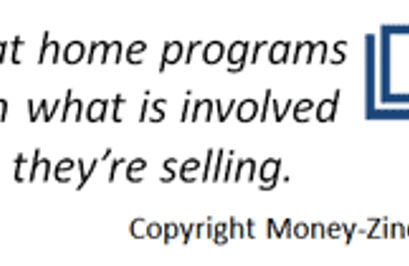 These companies have very high quality standards that workers will have a hard time meeting. The company will often take the merchandise assembled, but refuse to pay for the product due to its "inferior" quality.
Envelope Stuffing
In exchange for an upfront fee, the company will send a tiny brochure explaining how to get this business started: By placing advertisements in local newspapers. The only way to make money is if someone responds to the advertisement; which is very unlikely.
Legitimate Work at Home Opportunities
There are at least three ways that everyone can legitimately earn a living at home: telecommuting, freelancing, and running your own business. Each of these is discussed in more detail in the paragraphs below.
Telecommuting
Telecommuting has been around for years and relatively recent technological advances have made this approach even easier. Broadband access, video conferencing, email, and powerful personal computers are inexpensive and everywhere. In fact, call centers often have remote agents that answer customer calls from the comforts of their homes. Some telecommuting jobs may require employees to spend at least part of the workweek in an office environment. Making telecommuters come into the office provides managers with a sense of security and control.
Freelance Work
Some people like the idea of working as a consultant for companies on an as-needed basis. Freelancing from home is becoming more popular because companies are hesitant to hire professional staff to address what appear to be short-term or low-volume problems. Most professionals can act as freelance consultants and work from a home office. The following companies specialize in matching employers with freelancers:
Market Research
While participating in a market research panel is not a substitute for full or part-time employment, these companies do allow participants to earn small sums of money as well as test market new products:
Starting a Business
Anyone that has a talent for writing, grocery shopping, pet care, running errands, decorating, crafts, baking, cooking... can usually find a market willing to buy those services. Start out by conducting research on several topics, and see what lessons others have learned. Once a business model is chosen, it's going to take some "sweat" equity to get it started. The best part about running your own business is that all decisions are yours alone. While that may sound challenging to some, the rewards that come from the efforts are also yours to keep.
Online Resources
If you're a skilled professional who enjoys online education and e-learning, and like the idea of adding income to your household, the following online resources can help:
The following website offers specialized information for women:
Classified Ads
The chance of finding a legitimate opportunity in the classified advertisement section of the newspaper is low. A better approach is to search any of the major resume and job posting websites and look for certain keywords such as telecommuting, freelance and part-time.
Evening Classes and Volunteer Work
Another quick way to gain experience, or a skill, is to check out the local schools of higher education and see if something sparks an idea. Graphic arts, photography, journalism, painting, software coding, sewing, are just some of the opportunities available through local colleges and universities. Finally, volunteer work can also be an extremely rewarding opportunity. Not only does this help the local community, but it also allows volunteers to gain valuable experience.
Victims of Work at Home Schemes
Anyone that thinks they've been a victim of a work at home scheme can contact the following government agencies. If it involves fraud through the mail, please contact the United States Postal Service in addition to the Federal Trade Commission at 1-877-FTC-HELP.
---
About the Author - Legitimate Work at Home Jobs
---