Job Listings for Teens
Moneyzine Editor
Last updated 4th Oct 2022
In this article, we're going to review a number of websites that specialize in job listings for teens. But first we're going to quickly talk about some of the labor laws that apply to teenagers, as well as the earlier work we've published on resume writing.
Teen Labor Laws
If you're a teenager, there are some child labor laws that are in place to protect you from excessive work hours. These laws are summarized below:
14 to 15 Year Olds: the work hours when school is in session are limited to 3 hours a day or 18 hours a week. You can't work any later than 7:00 p.m. When school is out, it's possible to work up to 40 hours a week.
16 to 17 Year Olds: can work for an unlimited number of hours in any occupation except for those deemed hazardous by the Secretary of Labor. A hazardous occupation might be those involving heavy machinery when the likelihood of a serious injury is present.
18 to 19 Year Olds: while still considered a teenager based on age, the child labor laws no longer apply. That means you can work in any occupation that someone over the age of 20 can work.
Finding a Job
In some of our earlier work, we talked about part time jobs for teens, and finding a summer job. Those articles cover the fundamentals, and the importance of certain tactics such as networking. Both of these articles discuss the importance of putting together a resume.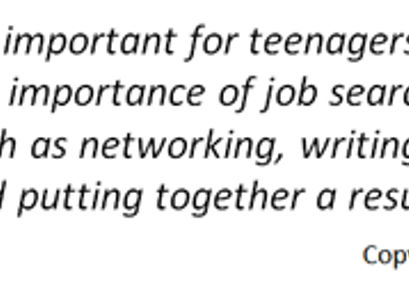 In fact,
resume writing
is so critically important that we have one article tailored specifically to teenagers:
Resumes for High School Students
. That particular article even has an
example
that can be downloaded for free.
Most of the advice in the above articles applies to face-to-face visits to retail and other establishments, where it's possible to hand the owner a copy of a resume and introduce yourself. We are going to close the loop on this topic, and include some resources found on the internet that teens can also use to find a job.
Online Job Listings for Teens
While we still believe that the face-to-face interactions are the most effective way for a teenager to find a job, there is certainly no harm in doing an online search. We've put together a list of quality websites that specialize in teen jobs, part time jobs, or positions in retail stores. These are all good prospects for anyone new to the workplace.
SnagAJob.com
SnagAJob allows users to search for a job by zip code, which is an excellent way for a teenager to quickly narrow down their choices. SnagAJob specializes in teen jobs that are both part time and full time positions in the retail, restaurant, and service sectors. This includes clients such as Home Depot, Wendy's, Rite Aid, Friendly's and Michael's.
CoolWorks.com
CoolWorks specializes in finding seasonal jobs "in some of the greatest places on Earth." If you're a teen that thinks a National Park, theme park, ski resort, or camp is one of the greatest places on Earth, then you might want to check out the 75,000 job listings they have in places like Yellowstone National Park.
Teens 4 Hire
Teens4Hire claims to be the number one career and recruitment site for teens. The site includes many types of job openings that are appropriate for teenagers including: full-time, part-time, seasonal, vocational, apprentice, internship, co-op, volunteer, and even military jobs.
Youth Rules
The final online job site tailored to teenagers is Youth Rules. Launched by the U.S. Department of Labor in May 2002, Youth Rules! was created to increase public awareness of Federal and State rules concerning young workers. Through YouthRules!, the U.S. Department of Labor and its partners seek to promote positive and safe work experiences that help prepare young workers to enter the workforce.
---
About the Author - Job Listings for Teens
---