Finding College Jobs
Moneyzine Editor
Last updated 29th Nov 2022
Here's the scenario. You're back at college and constantly calling up mom or dad to hit them up for money. It's a humbling and sometimes humiliating experience, but college life can be expensive. But one day it dawns on you that finding a college job is the respectable thing to do! Yeah, right... Forget about respect, most college students would rather party than work any day of the week. You're probably thinking about getting a job because you'd like the freedom to sneak away from that campus food a couple of nights a week.
Additional Resources
In this article, we'll be looking at several options available to college students looking for a job. Those options include work study programs, on-campus employment opportunities, as well as resources available to help locate a job near the college campus.
Work Study Options at College
If you qualify, perhaps the best option is to enter a work study program at college. These are jobs that pay well, and the money can be used help pay for tuition or expenses. Whenever looking into this alternative, make sure you completely understand the payment arrangements. Since these programs are usually run out of a school's financial aid office, the rules on payment can be restrictive. Sometimes the money is paid directly to the student; sometimes it goes into an account where it's used to pay for college tuition. If you're looking for a job to help pay for school expenses, work study is the way to go. If you're looking for spending money, then you might have to look elsewhere.
Finding On-Campus Jobs
Since most colleges and universities support
work study
programs for financial aid purposes, they already have a process in place that supports employing students as part of their workforce. Once that support is in place, it's natural to leverage it to put even more students to work around campus.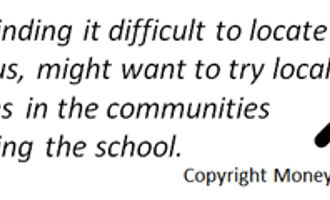 Finding an on campus job just takes a little legwork. Once again, pay a visit to the
financial aid
office and ask them for help in finding a job at the college. After all, college students are a bargain. They don't have a college degree - yet - and the students are smart. They can easily handle jobs with a decent amount of responsibility such as helping with campus security. An inexpensive and smart workforce, it's a great combination.
Locating College Jobs
Employing students is clearly a mutually beneficial arrangement for both the student and the school. But how do you go about locating these college jobs? At the top of the list should be a visit to the financial aid office to find out if they have anything to offer. At the very least, they should be able to point you in the right direction. After all, they are in an office with the name FINANCIAL AID, and that's what's needed. If you draw a big zero there, the next stop on the list should be the school's career center. If you've never been there before, then you're missing out on something big, and that's worth the digression.
The school's career center is THE place to be. After all, you are going to college to qualify for a good paying job after graduating from school. We're going to let you in on a little secret here: Large companies love to hire college students. That's because it cuts down on their recruiting costs.
It's a natural, symbiotic relationship that needs to be leveraged. Even if you decide that working while in school is not for you, then make sure everyone in the career center knows your name. They know where all the hot jobs are because they're in constant communication with companies trying to fill them. That knowledge is something you need to tap into, and in the working world it's called job networking.
Additional Resources
If you haven't found a college job at this point, we have several more tips to help out. We're not big on repeating advice, so you might want to take a look at two articles already published. The first is called
Finding a Summer Job
, where there is sound advice on how to find work in a local community. The second is
Part Time Jobs
, which discusses strategies and identifies resources for college students considering part time employment.
Resumes for College Students
Finally, if anyone is finding it difficult to locate a job on campus, they might want to try local businesses in the communities surrounding the school. Many of these businesses may already offer jobs to local students, and are prepared to accommodate a student's busy schedule. Before applying for a job, it's a good idea to look at our article:
Resumes for College Students
. There we provide many helpful suggestions, including a
resume format
that's just perfect for anyone still in school.
---
About the Author - Finding College Jobs
---