Finding a Summer Job
Moneyzine Editor
Last updated 29th Nov 2022
Schools out soon and guess what? The parental units say you can't lie around the house all summer long, and tell you to start finding a summer job. It really does make sense, because you could use the extra money to help pay for college. Even better, you could buy some new clothes. But how do you get started searching for a summer job? If you don't have five offers sitting on the kitchen table, take a look at some of the tips we're offering. While the information that follows can apply to anyone that's looking for a job, this article is especially well-suited to teenagers. That's because young adults have certain limits, including time, money, or the ability to get around. While an adult might be able to drive 30 miles each way to work, teenagers can't. Travel expenses simply take too high a toll on a paycheck.
Benefits of Summer Jobs
Additional Resources
Mom and Dad might have enough pocket change to keep you good through the summer. But even if this is true, the benefits of finding and working a summer job go well beyond the monetary rewards. They're a great learning experience for anyone new to the roles and responsibilities of the workplace, and the importance of things such as showing up to work on time. They can even help with decisions about longer term career aspirations. Summer jobs also help build the
interpersonal skills
needed later in life. You'll learn to deal with a boss as well as inpatient customers. At the end of the summer, you'll be a little bit smarter, a bit richer, and even have some work experience that looks good on a resume.
Getting Started Finding a Summer Job
Now that you're convinced a summer job will help to build character, and will teach you every one of life's lessons, one big question still remains. How to get started finding a summer job? Like most things, start at the beginning, and that means
putting a resume together
.
Resumes
It might seem like a waste of time to put together a resume just for a summer job, but this will oftentimes provide a much needed edge. This website has many resources on
resume writing
. We've even made the process of putting together a resume pretty easy in our article:
Resumes for High School Students
. It explains exactly how a teenager should put together a resume, and even has an example that can be downloaded for free.
Networking
Now that the resume is together, it's time to start honing
job networking skills
. This means talking to relatives, and letting them know you're looking for work this summer. Since you have a resume together, it's easy to send them a copy so they can shop it around at their company.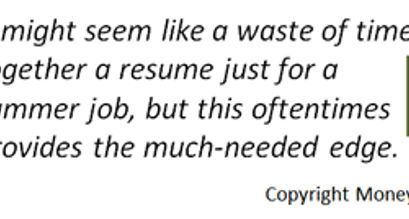 Friends, neighbors, and relatives are a great network that might be able to open doors this summer. Don't forget to talk to school counselors; they might have a good lead or two to share. But just in case, let's look at some other ways of finding that dream job this summer.
Help Wanted Ads
A local newspaper is another great source of job leads. Some of the best summer jobs can be found right near your home. Check the local newspaper's classified section or help wanted ads. The Sunday edition of a paper usually has a much larger selection. While a teenager isn't qualified to work in a jet propulsion laboratory, they can be helpful in a number of ways. In the local newspaper, there should be advertisements for summer camp counselors, retail store jobs, and the like. Just be careful about those "get rich this summer" schemes. These ads usually start to appear in the newspaper and are stapled to utility poles starting in May. If it sounds too good to be true, then it probably is. If you need to satisfy your curiosity, then give them a call. If you don't get paid, then at least you'll have a good story to tell everyone when you're back at school. In addition to checking out the local newspaper, check with a high school guidance counselor or township bulletin board.
Teens Making Calls to Advertisers
Before making any calls, it's important to understand when and where you can work. Go through this information in your head, and write it down before calling. Make sure there is an adult around when making calls. If you have any questions, or the person on the other end of the phone says something you don't understand, hand off the call to an adult.
Local Retail Stores
If there is a shopping mall nearby, or better yet, a downtown area that's full of retail stores, this should be the next stop. (Sometimes trying to find a job can be fun for teens.) When visiting the mall, it's important to be prepared. Bring copies of the resume and dress for success, which means dressing like you're working in the stores being targeted. First impressions are important. The store manager needs to be assured you'll fit in well with the rest of the employees.
Online Search
There are some specialized websites that cater to young adults, but they are often hooked up with larger companies or specialize in just a couple of job types, such as recreational camps. We've listed some of the better websites in our article:
Job Listings for Teens
.
Volunteering
If you really don't need the money, then volunteering is a great summer job; especially for those that are 14 or 15 years old. You will very likely gain quality work experience, and this type of activity really shines on a resume. It's also possible to find
volunteer work
by calling local, state, and national parks. Local hospitals often look for volunteers all year round. Township officials may also be a great source of volunteer work. At the very least they should be able to direct you to a listing of volunteer activities in your community. There are also national organizations such as
Habitat for Humanity
that are always looking for a helping hand.
Starting a Company
If you don't think a traditional summer job is the way to go, then you might want to consider starting a company. The ideas for this kind of work are only limited by your imagination, and what others are willing to pay for the service. Examples of summer jobs that are good for young adults age 14 through 17 include start up companies such as cutting lawns, house painting, making customized t-shirts, car detailing, house sitting, grocery shopping for others, and pet care. For some of these jobs, you might want to consider having a partner or two just to make sure there are enough resources when business is booming. Finally, don't be upset if you can't find the right summer job this year. Any work will provide enough experience to help improve a resume, and increase the chance of finding an even better job next summer.
---
About the Author - Finding a Summer Job
---