Finding a New Job
Moneyzine Editor
Last updated 29th Nov 2022
It's a difficult decision to leave the security of an existing job behind. Sometimes a change of scenery is needed to reinvigorate a career. Finding a new job isn't easy; and the important place to start is with an informed decision.
Finding a Job for the Right Reason
There is a reason the saying "the grass isn't always greener on the other side" has been around for years. Anyone thinking about finding a new job needs to be 100% certain it's for the right reason. Getting even with a boss, or leaving because of a coworker's attitude are perfect examples of the wrong reasons.
Tools for Changing Jobs
Additional Resources
There are many very good reasons to look for a new job. But in most cases, the decision should be aligned with someone's long-term
career plans
. External forces, such as an overbearing boss, should be secondary considerations. The best tool for figuring out if a new job is the right decision is a piece of paper and a pencil (or a spreadsheet).
Job Evaluation Matrix
This exercise starts by writing down all the things that are important in a job. Try to be objective when making the list. Factors like commuting time, or transportation mode (car or mass transit), work hours, time for family, vacation, and employee benefits are typically included. The list should contain a mix of lifestyle and career attributes. Then rank the importance of each attribute from 1 to 10. Next, rate your old job versus a potential new job against each of these factors. When going through this process, being objective is important. Taking an honest approach will oftentimes result in a surprising answer. To save time, we've already put together a
Job Evaluation Matrix
.
Putting a Resume Together
If the above assessment indicates a new job is the way to go, the next step involves
putting together a resume
. The single most important step in writing an effective resume is choosing the right format. The best
resume format
is one that highlights strengths, and does not draw attention to any weaknesses. There are three mainstream formats in use today including:
Chronological: the most traditional resume style used today. A chronological resume lists career history in reverse chronological order. It's a good choice if someone has worked consistently over the years, and is looking for a job that naturally follows their career progression.
Functional: this format puts the writer's skills right up front, and bundles their work history to tell a story of what they've learned, and the skills acquired over time. The functional resume is a good choice for anyone that has significant gaps in their work history or doesn't have a lot of experience such as a student.
Combination: the ultimate resume format for finding a new job. The format starts off like a functional resume, and then follows up with a chronological format. The combination resume is the best choice if the writer has a great deal of work experience.
To help speed things along, this website has an entire article dedicated to
Resume Writing Samples
.
Job Networking
A number of sources report that approximately 60% of all jobs are found through
networking
. It's an essential component of any job search and should be employed early in the process. Generally, networking falls into two categories: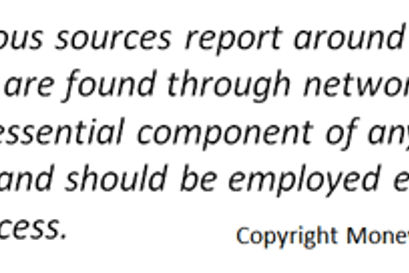 Informal: these are the casual conversations with everyday people. Based on the concept behind six degrees of separation, there are networking opportunities that occur all the time, and it's important to take advantage of these opportunities.
Targeted: includes attending trade shows, participating in newsgroups, and discussion boards. This form of networking seeks out, and contributes to, a specific community of professionals.
Online Job Search Resources
The Internet has made the process of finding a new job a little bit easier. For example, there are a number of resume posting services like Monster.com or CareerBuilder.com that provide a great deal of exposure. Just make sure these resources are aligned with all job search objectives. Finally, we'd like to finish up this topic with two thoughts:
Don't underestimate the power of your own networking abilities. The number of jobs found this way makes this a very compelling job search tool.
Don't let anyone force you to leave a job. If you're faced with a hostile work environment, there are people ready to help. If your boss is... well a boss, then just remember that managing up is your responsibility. Keep the communication line open, and make sure expectations are based on reality.
---
About the Author - Finding a New Job
---