Employee Assistance Programs (EAP)
Moneyzine Editor
Last updated 29th Nov 2022
In today's competitive workplace, it's increasingly common for employers to help employees deal with problems that reach beyond the office environment. The packaging of these support policies is referred to as employee assistance programs, or employee assistance plans. When
looking for a job
, it's important to understand the complete package of benefits an employer has to offer. In this article, we're going to first define what is meant by an employee assistance program, including their components. Next, we're going to discuss one of the biggest concerns with these types of offerings: confidentiality. Finally, we're going to talk about the ways these programs can be structured, and provide an example of a typical policy statement.
Employee Assistance
Additional Resources
The purpose of an employee assistance program, or EAP, is to help workers that might be experiencing either a personal, or work-related, problem to gain access to valuable counseling services. Companies recognize that all employees can experience problems from time to time, and these problems can affect performance both on and off the job. By providing access to qualified counselors, employers benefit in three ways:
Counseling can eliminate distractions that keep employees from reaching their full potential.
Losing an employee because of personal problems costs employers money both in terms of the process needed to hire a replacement as well as the lost knowledge and training investment they have in existing employees.
Finally, running a good assistance program demonstrates to employees they are valued by their employers.
Typical Components of an EAP
The following section contains some generalizations when describing the types of plans offered in EAPs, realizing that large companies can afford to provide employees a wider range of programs. In fact, EAPs, and their services, can also be extended to family members. That being said, the components of an EAP might include help with:
Drug and Alcohol Rehabilitation
Abusive Households
Career Planning / Financial Advice
Outplacement Services / Resume Writing / Interviewing Skills
Housing / Relocation Services
Retirement Planning
Health Care / Mental Health Care
Child / Elder Care
Legal Aid / Advice
Grief / Loss of Loved Ones
Workplace Stress
Companies typically allow counseling and other forms of help to occur during normal work hours and / or evenings. Counselors are skilled workers trained in helping employees solve their problems. Counselors may also refer employees to trained professionals, or volunteers in local communities.
Cost of Programs to Employees
To encourage those in need of help to participate, employers normally offer these services free of charge to full-time employees. Employers often place restrictions on the number of sessions that can be held with counselors before fees are charged. The cost of referrals to other professionals is usually covered under the benefits of
health care programs
.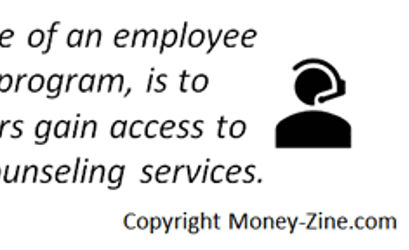 Prior to scheduling a meeting with a counselor, the employer usually requires the employee to contact the program's administrator, which is frequently a member of the company's
human resources department
. This in-house registration, while necessary from a controls standpoint, raises the issue of confidentiality among participants.
Confidentiality of Information
If an employee assistance program is to be successful, employees must have every reason to believe the information shared as part of the program will be kept confidential. This means all private and personal information provided to counselors will not be shared with anyone outside of the program. In the event that a referral to the EAP comes from an employee's supervisor or manager, and also involves discipline related to the employee's on-the-job performance, the information concerning the employee's performance should not be divulged to counselors. There is certain information that might need to be disclosed under the mandate of state law. These disclosures typically involve circumstances where someone might be in imminent danger, for example in cases of:
Child or elder abuse
Threats of suicide or homicide
For this very reason, the EAP policy statement needs to be clear on the sharing of information, and the legal obligation for such disclosures.
Structuring an Employee Assistance Program
There is a lot of variation in the structure of these plans. EAPs are usually structured in one of four ways, depending on the size of the company offering the program:
Internal Programs: in this structure, organizations utilize full-time internal members to staff their EAP. While referrals may be made to off-site agencies and locations, the central office is usually located on-site. This model is commonly used in larger organizations that can achieve the economies of scale necessary to make this model cost-effective.
External Services: companies can also contract with an external provider of EAP services. These vendors can provide either on-site or off-site locations that are used by multiple firms.
Integrated Systems: with an integrated system of EAPs, there are centrally located groups that manage contracts with external service providers. Some companies also combine this type of service with an employee's managed care / behavioral health care benefits.
Consortia: in this last structure health care coalitions, trade associations, and other types of affinity groups join together to offer benefits to their employees. With a consortium, the costs to run the program are shared among the membership. This makes these traditionally "big company" benefits available to smaller businesses.
EAP Policy Statement
So what exactly does an EAP policy statement look like? While an example will be provided, please keep in mind the statement needs to be tailored to the individual components of a given plan.
Example Statement
XYZ Company's Employee Assistance Program (EAP) is designed to assist our employees with personal challenges that may affect their on the job performance. These challenges may fall into many categories including: drug and alcohol abuse, legal, marital, relocation, grief, abusive households, financial, childcare, eldercare, and outplacement services. Our company believes that all employees face serious problems at one time or another in their lives, and it's important to provide help during those times. Our EAP is structured to deliver access to quality service providers that can administer the proper care when it's needed. If you're struggling, then we encourage you to seek the help of our EAP, and our promise is that any referral for treatment will be kept confidential within the bounds of the law. Participation in this plan is voluntary, and will never threaten an employee's chances of future employment or promotion. All contact, participation, and treatment will remain confidential and will not be shared with Company XYZ. All services provided within the EAP will be available to employees free of charge. The cost of long-term treatment or rehabilitation services is provided as defined under our mental and health care insurance plans.
---
About the Author - Employee Assistance Programs (EAP)
---