About Job References
Moneyzine Editor
Last updated 25th Nov 2022
When seeking employment, you're frequently asked to provide a list of references. The good news is that employers only ask for them when they're serious about hiring someone. That's a good reason to have a list ready to send to a recruiter, hiring manager, or the employer's human resources department. In this article, we're going to thoroughly discuss the topic of job references. That discussion will include the factors to consider when choosing a good reference, composing a list, and even writing a letter. Finally, we're going to finish up with a brief discussion of references that are difficult to control.
Choosing a Good Job Reference
Additional Resources
Picking a good employment reference goes beyond developing the right selection criteria. The person being used needs to be prepared to answer any questions they might be asked by a potential employer. It's also a good idea to collect contact information, and prepare a summary list of individuals that can be shared with a potential employer. Finally, in some instances it may be appropriate to ask a reference to prepare a written letter. With that in mind, here are the exact steps to follow:
Picking Individuals
Choosing the right employment reference is a difficult decision. The person must be able to provide a strong recommendation. It's not necessary to pick former supervisors or managers; especially if they're not able to provide an accurate assessment of your strengths and accomplishments. Oftentimes, the best references turn out to be former coworkers, or a person in another department that is familiar with the quality of your work. When someone is selected, it's critical they have every reason to answer questions in a positive manner.
Select a Mix of References
Typically, all job candidates need around five references that should represent a diverse mix of associates. For example, the list might include former supervisors, coworkers, business partners, former professors, coaches, and even customers.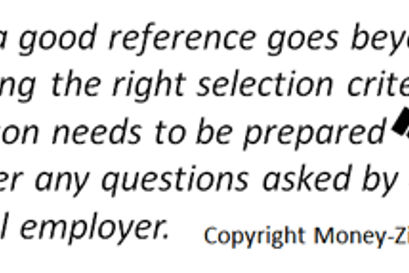 Avoid selecting personal friends and family members, and make sure the people selected are able to answer a simple range of questions such as:
Can you explain to me why (the job candidate) left their last job?
Can you tell me if (the job candidate) ever held this job title - (title listed on resume)?
Was (the job candidate) ever promoted while working for your company?
How would you characterize (the job candidate)'s relationship with coworkers?
What do you think are (the job candidate)'s strengths and weaknesses?
How well did (the job candidate) work when under pressure or tight deadlines?
Asking Permission
Before listing someone's name on any document, they should have agreed to act as a reference. If the right people were picked, they will be glad to help you
find a job
. In fact, many of them will be flattered by this opportunity. There is a good chance this offer will be rejected too. Some people are just not comfortable acting as a reference. Don't be discouraged if someone turns down the offer; it happens.
Assembling Contact Information
Once someone has agreed to act as a job reference, make sure their contact information is current and accurate. This includes names, job titles, company names, work address, as well as direct contact information. This last category includes email addresses, cell phones, day and evening telephone numbers.
Briefing References
The people picked as references need to be familiar with your current job duties, and responsibilities. Ideally, they should also be aware of your strengths and accomplishments. They should be familiar with your career plans and the types of jobs or positions being sought. Sending them an up-to-date resume is an effective way to prepare them for a call from a potential employer.
Maintaining References
Finally, it's important to maintain contact with the individuals on the list. Make sure they remain up-to-date on career aspirations, and give them a call if a potential employer is going to be contacting them with some questions. Maintaining good job references can take some work. In some cases a simple telephone call is adequate; in other cases it may be beneficial to have a quick discussion over lunch or a cup of coffee.
Putting a List of References Together
After the references have been finalized, the list needs to be assembled into a document. If an employer asks for a copy at the end of a
job interview
, they need to be quickly provided with a well-written and current list. A list of references is no longer included on a
modern-day resume
; those days are long over. They should be included in a separate document that is labeled as such. The general format to follow is described below.
Example Job Reference Format
The format for each job reference is pretty simple and should include:
Full Name
Current Job Title
Company Name
Street Address
City, State, Zip Code
Telephone Number
Email Address
We've constructed a template that can be used to create a job reference list. The example can be downloaded and customized to suit someone's individual needs:
Sample Job Reference List
.
Reference Letters / Letters of Recommendation
It's not a very common practice today, but an employer might ask to have a reference write a letter of recommendation. If so, the reference should be asked to include the following elements in that letter:
Professional Connection: a brief description indicating how the reference has come to know you, and why they are qualified to write a letter of recommendation.
Job Qualifications: this part of the letter should explain your qualifications, skills, achievements, and how these attributes make you a valuable addition to any company.
Conclusion / Summary Statement: a simple statement indicating this reference would highly recommend you for a job opening, as well as their contact information. This way if the reader has any follow-up questions they can quickly get in touch directly with the reference.
Modern Day References
In an effort to save some of the time involved with face-to-face job interviews, many companies are turning to the search engine powers found on the Internet, such as Google, to find information on job candidates. Websites such as Facebook, Twitter, and LinkedIn can also provide insights that a traditional job interview can't. In fact, websites specializing in "connecting" professional such as LinkedIn and Jobster allow recruiters to quickly identify coworkers, past and present. Unfortunately, these individuals are not always the ideal reference. While we're not suggesting that anyone distance themselves from these online communities. We're just pointing out that in the competitive job marketplace, recruiters are using any, and all, information they can find; this includes online profiles.
---
About the Author - About Job References
---