Essential Car Accessories
Moneyzine Editor
Last updated 29th Nov 2022
One of the many options consumers need to think about when buying a new car are the accessories to purchase. At one time, air conditioning was viewed as a luxury feature to have in a car. Today, nearly all new cars come with air conditioning installed as standard equipment.
Choosing Car Accessories
In this article, we will be talking in generalities; there will be exceptions to these rules given the wide variety of makes and models in the marketplace. For example, if a car happens to have air conditioning listed as an option, buyers would be well advised to buy it if living in one of the warmer parts of the country.
Additional Resources
When the car is eventually sold, it will be difficult to find a buyer that is willing to drive a vehicle without air conditioning if the outside temperatures hit 90 degrees. Air conditioning is something that most people need, especially if older relatives might be transported from time to time.
This same argument applies to standard shifts or manual transmissions; cars without automatic transmissions. When buying a minivan, this accessory will add value to the vehicle when it's eventually sold. But if the vehicle is a road-eating sports car, the standard shift might be far more desirable.
It's important to identify car accessories that are valued by anyone interested in buying a used car. That means saving a little bit of money when buying a new car might limit the number of potential buyers later on. For that very reason, saving money in the short term could be a costly mistake in the long term.
Valued Options
This last point is worth repeating. Consumers should purchase options that not only make driving the car more enjoyable, but also hold their value when it's sold. That means taking into consideration accessories that other buyers will value, since they'd be willing to pay a premium for those options.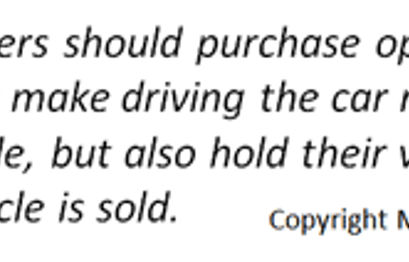 According to used car experts such as Kelley Blue Book, the options that tend to hold their value best include items such as moon roofs, T-tops, leather seating, and premium wheels. This last category includes aluminum wheels, and more exotic steel or even chromium wheels.
If offered, sports packages tend to hold their value very well. This may include a rear spoiler or a sports-tuned suspension. Other valuable options include power door locks and power seating. Upgrades to the engine, in terms of more horsepower, tend to add value to sports cars and trucks, but do not add value to most cars or minivans.
Custom Cars
When taken to the extreme, however, some options can actually detract from the value of the car. For example, a custom paint job is really tailoring a car to an individual's tastes. In this case, the car becomes very "personal." Keep in mind that a lot of buyers may not appreciate a car with orange flames on the hood, they might even detract from its value; thereby lowering its resale price.
Convenience versus Value
Convenience items may make the car a little more enjoyable to operate, but they add little or no value to the selling price of a used car. Once again, the experts tell us this includes power windows, remote keyless entry systems, premium alarm systems, and auxiliary lights.
The more common accessories, such as a rear defogger or tilt steering wheel, tend to be treated as standard equipment, and nearly all cars are expected to have them installed. For this reason, they also tend to add little to the value of the car.
Optional stereo equipment is by far one of the more popular choices in new vehicles. Unfortunately, they tend to be ignored when reselling the car. Once again, if someone sets out to build the ultimate car stereo, they are customizing the car, and that can detract from its value.
Safety
It's one thing to worry about the features that will add value to the car; it's another to worry about its passengers. It is impossible to place a value on the personal safety of others. The advice here is to purchase as many car safety features as possible. This includes front air bags, side air bags, anti-lock brakes, all wheel drive; whatever is offered by the manufacturer.
Automobile insurance companies will even reward policyholders for buying these options. Nearly all companies offer discounts on insurance premiums when safety accessories are installed in a vehicle.
Popular Colors
The color of a car is certainly not an accessory, but it is worth a mention in this article. There are certain colors that never seem to go out of style: white, black, dark gray, silver, and reds. Be careful of colors that might be trendy, because they may be out of style when the car is eventually sold. For example, that purple sports car might look great the day it was driven off the dealer's parking lot; but in four to six years from now, it might not be easy to sell a used purple car.
---
About the Author - Car Accessories
---