Buying a Used Car
Moneyzine Editor
Last updated 29th Nov 2022
Ironically, buying a used car is oftentimes more complicated than buying a new one. In addition to the research needed when purchasing a new car, it's important to understand a vehicle's reliability record too. Fortunately, the time spent doing a little research now will save a lot of headaches later on.
Researching Used Cars
Before buying any car, new or used, the first thing the owner needs to do is identify their high-level driving requirements. This process can be started by thinking through the following questions:
Is a car needed to drive short trips to local retail stores?
Is a highly dependable car needed; one that will reliably make the commute back and forth to work each day?
Additional Resources
It's important to think about how the car is going to be used, because that information is vital to understand before conducting any research. It's also important to think through some of the features needed in the car:
How many passengers should the car hold?
Is a lot of cargo space required for storing luggage or sports equipment?
Does the design of the car need to reflect the driver's personality?
While people might dream about sitting behind the wheel of a little red two-seater with the top down; that type of car is impractical if it's going to be used to drive a team of soccer players to practice. It's critical to ensure the car serves its intended purpose.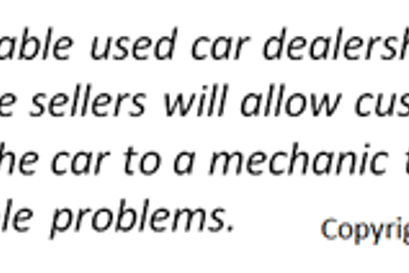 It's equally important to make sure the car purchased is a good value. Don't talk with dealers about needing a cheap car; that's not what's needed. Cheap cars are just that; inferior products, which will break down frequently. Most people are really looking for an inexpensive car; one that is a good value.
Quality Ratings
The biggest concern many people have when buying a used car is the wear and tear put on the vehicle by the previous owner. In fact, many buyers shy away from secondhand cars because they're concerned about the care, or lack of care, provided by a prior owner. An equally important concern is the number of repairs a used car will experience once purchased. No one wants to buy a car, and then spend another $1,000 on a repair.
Each year, Consumer Reports recruits about 250,000 of their magazine subscribers to participate in a survey detailing their experiences with used cars. From those surveys, Consumer Reports is able to compile a rating system of those cars. Most local libraries carry copies of this magazine, or it's possible to subscribe to the service over the web.
A second source of car ratings is J.D. Power and Associates, which gathers information from around 50,000 surveys they conduct. From this information, they compile lists of dependable used cars. They don't have ratings for all makes and models, like Consumer Reports does; just a concise list of the best performing used cars on the market today, grouped by category. This list includes passenger vehicles such as sedans, light trucks, sports utility vehicles, and minivans.
Recall Information
The National Highway Traffic Safety Administration is responsible for compiling a list of manufacturer's recalls on automobiles. Their website has a database of information on compliance testing, defect investigations, and consumer complaints. The process works like this: If they receive enough consumer complaints about the same problem with a vehicle, then they may launch a defect investigation. If their investigation reveals that a component has a defect in workmanship, then they will work with the manufacturer to see if a recall is necessary.
Researchers should also look for patterns of information in their consumer complaints area. Keep in mind that all used cars have problems, so look for patterns that might indicate a potential weakness.
Car Safety Ratings
Finally, the car should not only be reliable, but also safe to drive. The expectations of a car should be twofold: They need to be able to transport the driver and passengers from point A to point B, and they should be able to do so in a safe fashion.
In our article on Car Safety Ratings, we not only list some of the safest cars on the road today, but also talk about websites that contain additional information on this very important topic.
Test Driving Cars
At this point several makes and models of cars that meet the driver's functional requirements have been identified. That list was narrowed down during the research phase, so the remaining cars are those with a reliable repair record and safety history. At this point, it's time to take a car out and test drive it.
Listen to the car's radio before starting the test drive; if the car radio is playing during the road test, it's impossible to listen for clues the car has a problem and might be in need of a repair.
Mechanical Problems
When evaluating a vehicle, listen for noises while the car is accelerating, slowing down, and cruising. Is there excessive wind or tire noise? Is there a rattle in the car's dashboard? Does the engine sound unusually loud when accelerating?
Vibrations can also indicate a problem. Does the steering wheel shake while driving at different speeds? Do small bumps seem like craters? Does the brake petal shake when it's depressed?
It's also important to conduct a visual examination of the vehicle. Does the interior or exterior wear seem in-line with the car's mileage? Has the car been repainted (which can be a sign of a previous accident)? Is blue smoke coming out of the tailpipe, or vapors coming out from under the hood of the car?
Paying Car Mechanics
Once the car's been driven, make some notes, and take the car to a trusted automobile mechanic. Reputable used car dealerships will allow customers to take the car to a mechanic to look for possible problems, as should private sellers.
Tell the mechanic everything that was observed during the test drive. This gives the mechanic an idea of what problems might exist, and allows them to better focus their attention. Most mechanics will charge a small fee to evaluate the car, but the money is well spent if they find a serious problem with the vehicle. Their report can also help get a fair price when negotiating with the seller
Used Car Warranties
Buyers of used cars also want some reassurance they'll be able to drive the car for a while before they'll have to pay for a repair. In the used car marketplace, there are several different types of warranties offered:
"As Is" Car Warranties: this is essentially no warranty on the car at all. Even if purchased "as is" from a dealer, consumers have some protections under the law; including what are called implied warranties.
Implied Warranties: any car sold is expected to meet reasonable quality standards. Implied warranties mean that if someone bought a car they should be able to drive it. If the car breaks down shortly after purchase, then it may be possible to make a claim for an implied warranty, or a warranty of merchantability.
Manufacturer's Warranties: if the used car is newer, it might be covered under the original manufacturer's warranty. When buying a used car with a manufacturer's warranty, make sure to obtain a copy of the documents and understand what is, and isn't covered.
Extended Warranties: frequently found on used luxury cars, which are often sold as certified pre-owned vehicles. Since these vehicles are returned to the dealership and sold as pre-owned, the automobile manufacturer will often extend the car's warranty past the original expiration date.
More information on this topic can be found in our article: Used Car Warranties.
Used Car Values
Once driven off the showroom floor, new cars often lose a significant amount of their resale value. This is especially true during the first two years of ownership. This loss in resale price is commonly referred to as a car's depreciation in value. After the first two years, the decline in value begins to slow. This is one of the reasons buyers are often able to find bargains in the secondhand car market.
Kelley Blue Book has been helping people value cars for around 90 years; nearly as long as they've been manufactured. The Blue Book values used to be a single rate that provided users with a very good idea of the car's value in a used condition. Today, they have refined their system to include three different values:
Trade In Value: the price that a seller might expect to get for a used car when trading it in at a dealership.
Private Seller Value: the price that a buyer might expect to pay when buying a used car from an individual or private seller.
Suggested Retail Price: the price that a dealer might charge when they are selling a used car.
Car Loan Calculations
Finally, we have a complete line of car loan calculators that range in sophistication from a simple calculator, which enables users to determine monthly loan payments, to buy versus lease a car tools.
---
About the Author - Buying a Used Car
---