Buying a Car over the Internet
Moneyzine Editor
Last updated 29th Nov 2022
Anyone thinking about buying a car over the Internet is going to be pleasantly surprised with the experience. Buying a car online is a fairly simple process. It also eliminates a lot of the unpleasant interactions often associated with a visit to the local car dealership.
Unfortunately, the word "haggle" is often associated with new cars. The American Heritage Dictionary defines the term haggle as an argument that takes place in an attempt to come to terms. Unfortunately, most people don't enjoy haggling with someone they just met. Dealerships are also associated with the following:
Additional Resources
Bait and Switch Tactics: seeing what appears to be an outstanding deal advertised, only to find the vehicle is no longer available and being pushed to purchase another make and model.
Hard Sells: if there is one thing that any salesperson learns through experience it is they need to close the deal. Some salespersons simply don't know when to give up, and high-pressure sales tactics, which occur at some car dealerships, are annoying to virtually everyone.
Buying a Car Online
The sales pitches, high-pressure sales tactics, and all the other ways dealerships have devised to confuse consumers are eliminated when buying a car online. The consumer is now in control, often conducting their research from the comfort of their home.
So where exactly do these online cars come from? Ironically, they come from the same exact dealerships that everyone dreads visiting. Most online shoppers are looking for either convenience, or they are comparison shopping. Car dealerships know that to expand their market reach, they need to offer consumers these conveniences too.
Conducting Research
We've covered researching a car elsewhere in this website in much greater detail than explained below. The first step in this process is to figure out what functionality is needed in a car, and which cars provide those features. Some of the more important factors to consider include:
Budget: perhaps the single most important consideration is the affordability of the car. This website has some great car loan calculators that can help to simplify this step in the process.
Use of Car: is the car going to be a taxicab for the local soccer team or is it going to be driven back and forth to work? The functional requirements of the car need to be identified. This is the "practical" part of the research process.
Reliability and Safety: for many people a car must not only be able to move them from point A to point B, but it also needs to provide reliable and safe operation.
Test Driving Cars
Even if a certain car meets all of the functional requirements outlined earlier, the car still needs to be taken for a test drive. It may have an annoying blind spot or the interior color may not look like the pictures in the brochure. Not many people are "average" with respect to height or weight, so it's important to make sure there is enough room in the vehicle to drive or sit comfortably.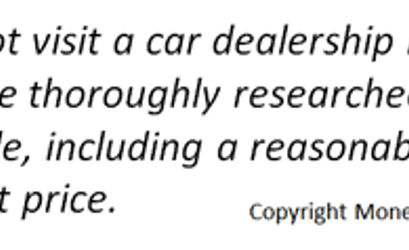 Since the objective is to buy the car over the Internet, be careful about working too closely with a salesperson. If that happens, they might try to claim a sales commission later on. Keep in mind that even if a car is purchased online, the dealership might be the same one that provided the test drive. If that's true, they might owe a sales commission to someone if they've been helping on a regular basis.
It's easy enough to say "I'd like to test drive this car, thanks for your help." Don't negotiate with anyone, just kick the tires and move on.
A Second Round of Research
Now that the list of affordable cars that meet the driver's requirements, and provide an enjoyable experience have been identified, it's time to double back for a second round of research. This is especially true when struggling with a decision between two makes and models.
This round involves taking a look at customer satisfaction ratings, fuel economy, safety and reliability. It may be possible to go back to some of the same sources of information used earlier. A car purchase is a big decision; taking one last look at what owners are saying can help to solidify a decision.
Warranties
Some people believe that if they purchase a car online, they are obligated to bring the car back to that same dealership for service under the new car warranty. That's complete nonsense. The car is under warranty by the manufacturer, not the dealership.
The dealer is an agent working on behalf of the manufacturer. In this capacity, they're getting paid by the manufacturer for making in-warranty repairs on defects. Think about it this way. If someone purchased a car in California, then moved to New Jersey, they wouldn't have to drive back to California for repairs covered by the warranty.
Comparison Shopping for Cars
The final step in the process is comparison shopping. This involves not just comparing offers, but also evaluating those offers versus the car's invoice price. Here's where the Internet really comes in handy.
There are some websites that will actually quote a price for a new car without any questions asked. Other sites want contact information before sending a quote. We're going to finish up this topic by listing some of the major players in this market, and what to expect as far as the car purchasing services offered by each.
Kelley Blue Book
Kelley Blue Book built its reputation on its used car pricing expertise; the KBB of today offers new and used car buyers much more. Services found on KBB include:
New Car Pricing
Used Car Trade In Values
Side by Side Car Comparisons
Ratings and Reviews
Buying Advice
Financing and Insurance Tools
Used Car Listings
Dealer Price Quotes (requires information before quote)
MSN Autos (Formerly Carpoint)
MSN Autos also allows users to research cars and make side-by-side comparisons. MSN's approach is to leverage the power of its entire network. Some of the information, such as financing and advice, is not as focused on cars as the information found elsewhere. The total array of services offered exclusively by MSN Autos includes:
New Car Pricing
Side by Side Comparisons
Ratings and Reviews (from Consumer Reports)
Buying Advice
Dealer Price Quotes (requires information before quote)
Edmunds
Edmunds is another website dedicated to car buying decisions and research. Edmunds has some unique approaches to the logical ways people buy a car, such as sorting by price. Other services include:
New Car Pricing
Side by Side Car Comparisons
Ratings and Reviews
Buying Advice
Used Car Listings
Dealer Price Quotes (requires information before quote)
CarsDirect
One of the unique features of CarsDirect is they provide price quotes without requiring any contact information. That's a big plus when just trying to get a feel for how much it's possible to get off the MSRP (or sticker price). Perhaps the most comprehensive approach to buying a car over the Internet, services offered by CarsDirect include:
New Car Pricing
Used Car Trade In Values
Side by Side Car Comparisons
Ratings and Reviews
Buying Advice
Financing and Insurance Tools
Used Car Listings
Dealer Price Quotes
---
About the Author - Buying a Car over the Internet
---