Disaster Tax Relief
Moneyzine Editor
Last updated 29th Nov 2022
Over the last several years, taxpayers in the United States have been affected by a number of natural disasters. Fortunately, there is a special disaster tax-relief provision that can help them recover from the financial impact of nature's wrath.
In this article, we'll talk about some of the tax relief made available to qualifying individuals affected by large scale superstorms or other natural disasters. That help can range from additional time to file a tax return, through publications issued by the IRS that can be used to determine the deductible loss of personal property.
Tax Relief and Natural Disasters
Additional Resources
Perhaps the most important form of tax relief provided by the Internal Revenue Service (IRS) is the priority service granted to those affected by a disaster. This includes both the granting of additional time to complete and file a tax return, as well as delaying payment of income taxes owed the government. Businesses and individuals can also get a faster tax refund by claiming losses related to a disaster on their tax return; typically achieved by filing an amended return.
Declaring Disaster Losses
Disaster tax relief is covered in IRS Topic 515, Casualty, Disaster and Theft Losses, which applies to areas declared by the President of the United States to be disaster areas. This tax topic applies to losses defined as those resulting from the destruction of, or damage to, a taxpayer's property from any sudden, unexpected, or unusual event such as a flood, hurricane, tornado, fire, earthquake, or even volcanic eruption.
If property was not completely destroyed, the decrease in the fair market value of the property must be determined. For a home, this is often done through a professional appraisal that compares the before and after market value of the home. From this calculated loss in value, the homeowner must subtract any compensation already received, or they expect to receive in the future from a homeowners insurance policy or another source of monetary relief.
Personal Property and Homes Damaged
If personal property or a home is damaged or destroyed in a disaster area, gains are not immediately reported from insurance proceeds, or other relief received, for unscheduled personal property. A gain is only declared to the extent the replacement property cost less than any compensation received.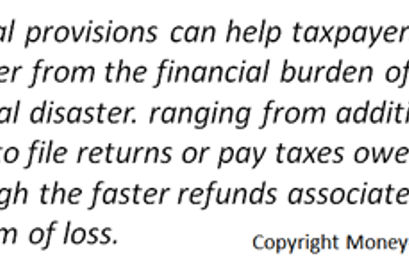 For example, if a property owner was paid $10,000 for lost furniture and the actual cost to replace the furniture was $8,000, the property owner must declare a gain of $2,000. The IRS allows taxpayers to postpone this gain for four years after the close of the first tax year in which the gain was realized.
IRS Rules for Tax Relief
There are special IRS tax return rules that apply to individuals living in disaster areas too. For example, casualty losses are normally deducted in the year the loss occurred. Under certain conditions, the IRS may allow individuals to deduct the loss on an amended form for the prior year, one that has already been filed with the IRS. This allows the taxpayer to deduct the loss and receive a refund sooner.
Being a victim of a disaster can be a life-changing event, but the government plays a key role in easing the financial burden. Disasters are fairly rare, so talking to a tax professional or contacting the IRS will ensure victims receive all the help they deserve.
Tax Law Provisions for Disaster Situations
There are special provisions that can help taxpayers recover from the financial burden of a natural disaster. As mentioned earlier, this can range from the IRS granting additional time to file returns or pay taxes owed, through the faster refunds associated with a claim of loss. In fact, the IRS has several publications dedicated to the topic of disaster tax relief.
Publication 547, Casualties, Disasters and Thefts: describes how to determine and claim a disaster loss including:
Definitions of a casualty, theft, and loss on deposits
How to calculate the amount of a gain or loss
How to treat insurance and other reimbursements
Limits on deductions
How to report a loss or theft
Special rules that apply to disaster areas
Publication 584, Casualty, Disaster, and Theft Loss Workbook: this workbook helps individuals figure out their loss on personal property, including schedules that can help calculate losses to a home and vehicles.
Publication 2194, Disaster Resource Guide for Individuals and Businesses: a 120-page book dedicated to those affected by a major disaster or victims of an emergency. The resource guide can help individuals claim unreimbursed casualty losses on property that was destroyed by a natural disaster.
---
About the Author - Disaster Tax Relief
---