30 Informative Accounting Statistics & Trends for 2022

Martynas Pupkevicius
Last updated 25th Nov 2022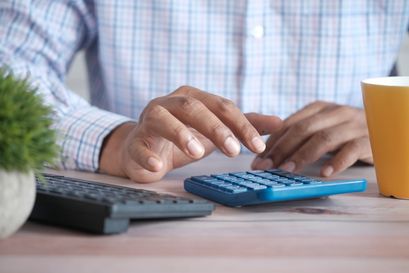 The accounting industry offers an essential service that businesses and individuals require to handle their finances. Accountants provide valuable assistance, be it calculating a company's profitability or handling the taxes for the average person.
This page highlights accounting statistics that will help you understand the basics of the profession.. We will break up the information into various categories to help you find accounting trends that interest you most. Also, read to the very end for answers to commonly asked questions. These will help you get a better idea of the issues and facts about the accounting industry.
Without further ado, let's dive into the freshest accounting industry stats.
Top 10 Accounting Statistics and Facts of 2022
In 2020, $110 billion was generated in the accounting industry.

90% of accountants feel there was a cultural shift in the industry.

Over half of accountants think providing financial advice is part of the job.

57% of accountants are improving their technological literacy

Around half of accountants share that new regulations are a big challenge.

79% of firms offer covid-related services.

$56,032 is the starting salary of accountants.

The volume of work done remotely is being increased by 43% of accountancy firms.

Around half of small businesses rely on reputation to choose an accountant.

10-15 years is the average time to make partners in accountancy companies.
General Statistics and Facts About Accounting
As of 2020, the size of the accounting industry is $544.06 billion.
The massive industry is worth over half a trillion dollars as of 2020. It is constantly growing as the number of businesses that need accounting services increases. Companies understand the value of a good accountant, which can help them grow.
However, accounting software that automates the work can undermine growth. AI-based software allows the average person to perform complicated tasks only accountants were able to do before.
(Research and Markets)
51% of companies share that regulatory change is one of their biggest challenges.
Accountants can help overcome regulatory challenges for companies to avoid paying fines. Keeping up with regulations can take a lot of resources. Therefore, it makes sense to outsource the task to a trusted accountant. They can keep an eye on new industry regulations and be ahead of the curve with necessary changes. One of the fun facts about accounting is that accountants can increase their pay rates based on the amount of money they save by helping out a company.
(Accounting Today)
9 in 10 accountants from around the world feel there has been a cultural shift.
According to this accounting statistic, 90% of accountants feel the attitude towards their profession has been shifting. Accountants' perceived importance has increased, making it easier for them to get work. Therefore, they don't have to sell themselves as hard to get clients to pay for their services, and at the same time, accountants' pay rates go up.
(Sage)
The accounting market is predicted to reach $735.94 billion by 2025.
Statistics on accounting show the industry is growing, gaining almost $200 billion in market size over a period of five years. The impressive growth numbers strongly indicate that accounting is a healthy industry. Therefore, students looking to choose a profession they can rely on for an income cannot go wrong with accounting.
(Research and Markets)
The accounting industry is expected to bring in $142 billion in revenue in 2022 in the US.
The accounting industry's revenue has been growing for the previous three years despite the pandemic, increasing from $133.4 billion in 2021, and $127.8 billion in 2020. Accounting statistics for 2022 show the sector remains resilient this year as well.
(Statista)
Based on accounting statistics for 2022, 29% of businesses with less than $250 million in revenue use automated accounting software.
Profitability is hard to achieve for new companies, so cutting costs is paramount to facilitating growth. Additionally, the cost of accounting services increases at the same time a company is growing.
Smaller companies don't have as much need for complex accounting services, so it makes more sense for them to invest in automated accounting software to save money.
(MineralTree)
Job-Related Accounting Statistics
At 150,050, California has the highest number of accountants and auditors.
Having a solid economy that demands their services, it's no surprise California is the leading state when it comes to the number of accountants and auditors. It's followed by New York with 112,360 and Texas with 109,470. Florida and Pennsylvania come next with 73,690 and 50,240, respectively.
(Statista)
62% of respondents feel the current accountancy training program will not be enough to run a successful accounting practice in 2030.
Technological developments are constantly challenging industries to adapt, and when it comes to accounting, this is one of the facts that can't be overlooked—professionals that have got their pulse on the latest developments are more likely to provide a better service.
Therefore, it makes sense that current accountancy training methods could be obsolete by the end of the decade. As new technologies arise, accountants will need to learn new skills.
(Sage)
51% of accountants feel they also need to provide financial business advisory services, according to accounting stats.
Services like growth modeling and cash flow are frequently demanded from the modern-day accountant. That's because these skills go hand-in-hand with other services that accountants provide, and having these skills can increase pay rates.
It means that the scope of what accountants do for businesses is expanding. The challenge is learning these new skills, but it also raises the bar on their ability to earn more. Businesses are going to pay more for accountancy services that include business-related advice.
(Sage)
Accounting statistics show 41% of finance and accounting professionals feel that problem solving gives them the most job satisfaction.
Professionals working in accountancy are motivated by the challenge of the job. The uniqueness of each business and industry means the methods required to solve problems differ. It also means accountants can specialize in different fields.
(Robert Half)
60% of bigger accountancy firms share that technology is helping them retain staff.
Technology allows accountants to do less work that is considered boring and repetitive. Therefore, they can get on with tasks that are more creative and require critical thinking.
Better work satisfaction allows accountants to stay satisfied with their job for longer at firms that make use of technological advancements.
(Wolters Kluwer)
The average CPA salary is $65,289 per year, while for accountants, it is $55,459.
These are industry averages, and they are based on CPA statistics which means that there might be accountant jobs that can pay much more than CPA positions.
Arguably, based on accounting salaries by state, accounting positions have a higher earning potential if the best firms in the United States are headhunting you. It also depends on the quality of the clients the firms are servicing. Some industries provide lucrative payments for accountancy services.
(Indeed)
57% of respondents share that technological literacy is the main additional skill accountants train for.
Accountants who cannot use current technology are severely falling behind in the business, as they must have a grasp of the software businesses are using to manage money.
However, knowledge of older systems is also important since not every business has completely digitized its operations. It means accountants must be well-rounded in the services they can provide.
(Sage)
The average CPA salary is $70,838 per year, which is the highest in the field.
Certified public accountants have the highest salary, so it's one of the most desired positions in the field. Accountant/office manager ($63,748) comes second followed by the position of fixed asset accountant ($61,711). The average income of accountants is usually north of $50,000, which means it's one of the higher-paying jobs.
(Zipia.com)
The starting salary for accountants is $56,032.
Accounting has one of the higher starting salaries compared to other industries. However, the salary depends on the level of education that the accountant has received. For instance, the average salary of an accountant with an associate degree is $56,174, while an accountant with a graduate degree would get $58,639.
(Indeed, Salary.com)
On average, it takes 10-15 years for an accounting employee to become a partner in a top firm.
This is one of the most interesting facts about accounting. There is no shortcut for employees to reach partner level in accounting firms. However, numbers show the time required for it to happen in smaller firms is usually shorter.
That's because fewer employees are trying to receive the top jobs at the firm. Also, smaller firms do not have the same pull to attract top talent from the job marketplace.
(Journal of Accountancy)
Current Trends in Accounting
Tax (38.9%) and auditing services (42.1%) are the biggest performers in the accounting industry.
Companies and private individuals want to ensure they have their finances to avoid getting in trouble with the law. So it's no surprise regulations and tax laws are the biggest drivers of demand for accounting services.
(IBISWorld)
The covid pandemic was a catalyst for moving from paper to digital payments, according to 58% of finance professionals.
Based on accounting industry trends, the movement from paper to digital during the pandemic has transformed many facets of businesses and the way consumers interact with them. For example, the increase in digital payment provided accountants with better systems to follow transactions and prepare for tax audits. Also, automating tasks such as processing check payments to vendors and invoicing customers became more common.
(MineralTree)
Coronavirus-related accounting services are offered by 79% of firms.
Accounting stats show many businesses need help in complying with the new regulations. Accounting companies have played a key role in helping businesses overcome pandemic-related difficulties. While it isn't the biggest earner in the industry, the service has been the most widely offered since the start of the pandemic.
(Accounting Today)
Small Business Accounting Stats
In 2017, the number of businesses that filed S-Corp tax returns was 4.7 million businesses.
This accounting statistic indicates that there are just under 5 million small businesses in the United States. However, 4.3 million of these small businesses report having less than $1 million in assets. This means that most businesses are very small and in their first stages of growth.
This is a turbulent period for most companies since they need to have funds to weather potential storms.
(IRS SOI Tax Stats)
50% of businesses have increased the use of ACH payments from 2020 to 2021.
Accounting is far easier when digital systems are used for making payments or sending money to employees, and an increasing number of companies are using ACH for payments.
However, accounting industry statistics suggest around 45% of businesses still use paper checks for the majority of their payments. This is inefficient for accountants and reduces the viability of automated accounting systems to be set up.
(MineralTree)
Around 70% of small businesses don't have an accountant.
Many small businesses put off getting an accountant believing that the average cost of accounting services is too high. That's why over half of small businesses rely on managers or owners to complete accountancy tasks.
However, accountants can often improve the running of a business by providing financial guidance, effectively paying for themselves.
(Onpay)
49% of small businesses share that recommendations are the top deciding factor for choosing an accountant.
Good reputation is one of the best ways for accountants to secure new clients. Therefore, asking clients to leave reviews online can help improve the overall perception of an accounting company and attract new clients.
(Onpay)
Shifting Towards Remote Work: Modern Accounting Facts
The majority of tax returns were prepared without in-office contact in 2021.
At the same time, fewer face-to-face interactions were observed during audits. And even in places where measures became more relaxed, people have continued to use digital means for many services, suggesting remote work is here to stay in the accounting industry.
(Wolters Kluwer)
Accounting statistics show 43% of accountancy firms are increasing the amount of work done virtually.
The benefits of remote work include increased productivity, higher job satisfaction, more flexibility, and a larger pool of workers. Therefore, it makes sense for accountancy firms to embrace the remote work trend—at least partially.
(Wolters Kluwer)
81% of accountancy firms feel that there will be a big increase in remote work after the pandemic.
Companies understand that the work culture is shifting. Remote work is becoming one of the most desirable aspects of a job and also one of the most relevant accounting industry trends. This means that employers must think strongly about how their business is set up.
Many companies are having success with a hybrid model. Hybrid offers the best of both worlds since face-to-face interactions are not completely eliminated.
(Anywhere Work Survey)
Bottom Line
Accounting industry statistics indicate that accountancy is an in-demand service by small and big businesses alike. In addition, the average salary of over $50,000 means that the work is well-compensated compared to most other industries.
As technological advancements in the accounting industry pick up speed, industry trends from increasing automation to remote work are expected to continue in the following years. Finally, with accounting industry growth predicted at $200 billion between 2020 and 2025, the industry is healthy and as important as ever.
FAQs
Should you outsource accountancy services for your business?
Should you hire an in-house accountant or outsource from a company?
How do accounting services calculate the cost?
Can software replace accounting services?
When is it the right time to move on from an accounting firm?
References
Our content quality team consulted the following expert sources to maximise the value and accuracy of this page:

Martynas Pupkevicius
Martynas is a seasoned freelance writer that has written on a broad range of topics over his 10 year career. He enjoys diving into the research and sharing what he's learned with readers.