Mortgage Brokers
Moneyzine Editor
Last updated 29th Nov 2022
Families thinking about buying a new home may have considered working with a mortgage broker. Many borrowers believe mortgage brokers can lend a helping hand when it comes to finding the best deal on a loan. But as we'll see, a mortgage broker may not always have the borrower's best interests in mind.
We'll start this article by explaining the role mortgage brokers play in the real estate market today. We're also going to cover some of the pros and cons of using a broker. Then we'll finish up with some advice on how to go about finding a reputable mortgage broker.
What is a Mortgage Broker?
Additional Resources
A mortgage broker helps individuals looking to finance, or refinance, a home to find the best deal on a mortgage. At one time, banks and other lending institutions were the only option borrowers could turn to when shopping for a mortgage. But as competition in the industry improved, the use of brokers increased as future homeowners looked for help finding a low-cost mortgage.
Most mortgage brokers are registered with the state in which they operate, and are personally liable in cases involving fraud. They have both a legal and moral responsibility to disclose all loan terms to consumers. The typical services offered by a mortgage broker include:
Assessing a client's credit history, and the affordability of a mortgage
Reviewing of offers in the marketplace to secure a loan that fits their client's needs
Gaining pre-approvals from lenders
Gathering and organizing required documentation such as pay stubs and bank statements
Completing applications
Filing of all required materials with the selected lender
According to statistics sited by the National Association of Mortgage Brokers (NAMB), nearly 70% of residential mortgages are obtained using a mortgage broker, or a lender acting as a broker. The remaining residential loans are obtained through traditional lending institutions and banks.
Pros and Cons of Using a Mortgage Broker
The biggest benefit of using a mortgage broker is access to loans. A broker can save a borrower thousands of dollars if they're able to deliver the right home loan at the lowest cost possible.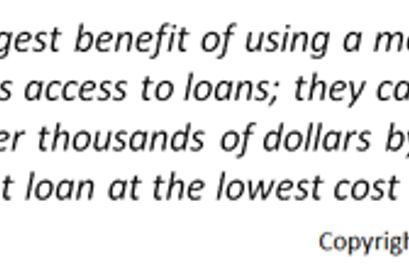 Unfortunately, some brokers don't always have their client's best interests in mind. In fact, even though the industry itself recognizes their obligations to consumers, their loyalty falls short when it comes to supporting legislation requiring a fiduciary responsibility to customers.
If a decision is made to use a broker, keep in mind they make money by charging fees to their clients. Anyone shopping around for a home loan should pay a visit to local lenders in addition to working with a broker. Taking this approach will increase the likelihood of getting the best deal possible.
Finding a Mortgage Broker
The National Association of Mortgage Brokers (NAMB) is the only national association representing this industry. With affiliates operating in all 50 states and membership in excess of 25,000, the NAMB provides its members with education, certifications, and government representation. All members are required to conduct themselves according to a published code of ethics, as well as best lending practices.
It's possible to find a local mortgage broker affiliated with the NAMB by visiting their website.
Working with a Broker
Before working with any broker, it's important to ensure they have a responsibility to their customers. Asking the following questions can help guarantee the broker is both professional in conduct as well as trustworthy:
Are you licensed by the state?
Are you affiliated with a mortgage association?
Is this the best possible rate based on my credit score?
Can I get a list of references?
How many options will you typically provide?
What are the fees you will earn on this loan?
This last question is an important one because the fees charged can be significant.
Broker Fees
A mortgage broker's role is to bring lenders and borrowers together, and they receive compensation in exchange for providing this service. For that reason, all fees charged by mortgage brokers can be negotiated. In fact, compensation may come from both the customer as well as the lender.
A reputable broker will provide a truth-in-lending disclosure statement that outlines the terms and conditions of the mortgage including the annual percentage rate or APR, the total financing charges (including fees) over the course of the loan, and the total amount financed. A Good Faith Estimate will contain a listing of all the fees associated with the loan, as does the HUD-1A Settlement Statement.
The typical starting point for a broker is to charge a client one point, which is one percent of the total loan amount, in exchange for providing their services. In addition to asking for a percentage of the loan, clients may also be asked to pay application fees.
Anyone that decides to work with a mortgage broker should also shop around before committing to a loan. Comparison shopping is the only way to ensure the best possible value is extracted from the broker.
---
About the Author - Mortgage Brokers
---