Exchange Traded Funds (ETF)
Moneyzine Editor
Last updated 30th Sep 2022
An exchange traded fund, or ETF, might best be described as a hybrid between a share of common stock and a mutual fund. In fact, because of the way ETFs are structured, they present some interesting options to both the novice and seasoned investor.
Defining an Exchange Traded Fund
Generally, ETFs are portfolios of securities (just like a mutual fund) that are actively traded on a stock exchange (just like a share of common stock). When first introduced, exchange traded funds attempted to duplicate a commonly-known, and well-respected, market index such as the NASDAQ 200 or the S&P 500.
Today, ETFs provide investors with a much wider selection of options including currency, precious metals such as gold or silver, commodities, as well as natural resources such as oil, natural gas, and other energy products. Even with all this diversity, exchange traded funds share some common characteristics including:
They are listed on a stock exchange, and traded continuously.
They can trade at a discount, or premium, to the total value of all assets held within the ETF.
They are typically based on some well-known stock index, or are well-defined with respect to the allowable investments, which keeps turnover and other fund management costs low.
Benefits of Exchange Traded Funds
Since ETFs are traded like common stock, investors enjoy the flexibility an exchange has to offer. For example, it's possible to invest in shares on margin, short sell shares, or take a long-term position. Investors can buy and sell these securities just like common stock, through their broker, and shares in ETFs are traded throughout the exchange day.
Limiting Market Risk
Exchange traded funds also provide the investor with the ability to purchase a portfolio of stocks, thereby eliminating the risk associated with an individual stock. They are also designed to be efficient because, just like a mutual fund index, they are not actively managed. The portfolio is only adjusted, or balanced, so it contains the right mix of the index it is mirroring.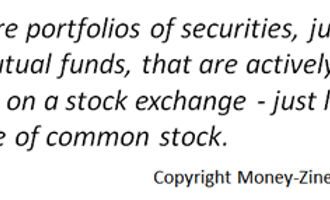 These funds do, in fact, enjoy a robust trading market. The
NASDAQ
100 tracks some of the fastest growing technology companies listed on that exchange. There is a NASDAQ Index tracking stock, QQQ, which is one of the most actively traded funds of this kind in the world. The latest statistics indicate that over 46 million shares of this fund are traded daily (as of October 2020).
To sum things up, exchange traded funds offer the benefits of a mutual fund index fund, but add the flexibility of stock trades. This combination is quite attractive to investors.
Federal Income Taxes
According to SEC regulations, there is a small tax advantage ETFs have over mutual funds. However, when purchasing shares for a non-taxable account, such as a 401(k) account or an IRA, this advantage does not apply.
For example, mutual funds in the United States are required to realize a capital gain that is not necessarily balanced by a loss. This can happen as new shares of an open-ended mutual fund are created or destroyed through purchases and redemptions. The fund managers are thereby forced to purchase and redeem shares of stocks that make up the fund on the open market.
The SEC requires all mutual funds to distribute capital gains to the fund's shareholders each quarter, which can have some undesirable capital gains tax implications on a federal income tax return. Since ETFs are not redeemed by shareholders but exchanged on the open market, the only time capital gain taxes come into play is when that individual shareholder closes out their position.
Disadvantages of Exchange Traded Funds
Just like common stocks, investors need to pay brokerage commissions when ETF shares are traded. Unlike most mutual funds, embedded fees may also apply, and these can eat into the return on investment.
For example, many funds sell at a bid - ask spread. Which means an investor can purchase shares at $10.125, but selling is occurring at $10.000. These funds don't always sell at the Net Asset Value (NAV) of the underlying portfolio, so trades could take place at prices above or below the value of the assets. This is referred to as selling at a premium or discount.
Because of the commissions and underlying fees, a mutual fund index generally supplies superior returns to the investor. Commissions will significantly impact the investor's total return if the strategy includes making small, monthly purchases.
Top ETFs on the Market Today
We're going to finish this publication on exchange traded funds by providing a list of some of the more common / popular funds on the market today, as determined by daily trading volumes. These funds have been broken down into two categories:
U.S. Index-Based ETFs
Commodity-Based ETFs
The two tables below contain the fund names, stock ticker symbols, as well as the daily trading volume as of October 2020:
U.S. Index-Based ETFs
ETF Name
Stock Ticker
Trading Volume
ProShares UltraPro Short QQQ
SQQQ
80,387,002
SPDR S&P 500 ETF Trust
SPY
69,392,844
Financial Select Sector SPDR Fund
XLF
56,984,446
Invesco QQQ Trust
QQQ
46,698,322
iShares MSCI Emerging Markets ETF
EEM
42,263,117
ProShares Ultra VIX Short-Term Futures ETF
UVXY
40,935,955
Direxion Daily S&P 500 Bear 3X Shares
SPXS
38,230,464
ProShares UltraPro QQQ
TQQQ
37,456,856
iPath Series B S&P 500 VIX Short Term Futures ETN
VXX
34,765,651
iShares Silver Trust
SLV
33,043,147
Commodity-Based ETFs
ETF Name
Stock Ticker
Trading Volume
iShares Silver Trust
SLV
33,043,147
iShares Gold Trust
IAU
21,362,293
SPDR Gold Trust
GLD
8,411,706
ProShares Ultra Bloomberg Crude Oil
UCO
5,230,791
United States Oil Fund LP
USO
4,795,479
United States Natural Gas Fund LP
UNG
4,303,587
ProShares UltraShort Bloomberg Crude Oil
SCO
3,190,775
SPDR Gold MiniShares Trust
GLDM
2,070,105
ProShares UltraShort Silver
ZSL
2,002,554
Invesco Optimum Yield Diversified Commodity
PDBC
1,748,691
---
About the Author - Exchange Traded Funds
---