Prepaid Debit Cards
Moneyzine Editor
Last updated 25th Nov 2022
Owning a credit card is a convenient alternative to carrying cash. But these cards have their drawbacks too, especially if the desire to buy goods or services overshadows the ability to pay for them. Prepaid debit cards offer consumers both the convenience of electronic purchases, as well as protection against overspending.
In this article, we're going to talk about prepaid debit cards and how they differ from credit cards. As part of that discussion, we'll talk about the advantages and disadvantages of holding and using these cards. We'll also review the typical fees associated with debit cards, and what can happen if it's lost or stolen.
Debit Cards
Additional Resources
At one time, consumers had three options when making a purchase: cash, check, or a credit card. But carrying around cash was inconvenient, and writing a check took a lot of time at the register. Credit cards were convenient, but required discipline to stay out of debt.
Debit cards (also known as check cards or bankcards) are the fastest growing form of payment in the United States. In fact, survey data collected by the Federal Reserve in 2007 , 2013 and 2015 indicates:
Payments made by debit, credit, and EBT cards grew by over 36% from 2003 to 2006, totaling 48.1 billion transactions.
Payment card networks processed 53.7 billion debit and general-use prepaid card transactions valued at $2.07 trillion in 2013.
Debit cards grew faster than any other form of payment, accounting for 75% of all the card growth from 2003 to 2006.
In 2006, the number of debit card payments (25.3 billion) exceeded the total number of credit card payments (21.7 billion).
The average debit card purchase ($39) was less than half that of the average credit card purchase ($98).
Fraud losses to all parties of debit and general-use prepaid card transactions totaled $1.57 billion in 2013.
The average number of payments per active credit or debit card fell slightly, from 10.1 payments per month in 2012 to 8.6 in 2015.
Debit card payments grew by 38.4 (13.7 percent per year) from 2000 to 2015.
Among active consumer cards, non-prepaid debit cards were used for 22.8 payments per month, on average, more than two-and-a-half times as often as consumer credit cards in 2015.
Note: EBT cards are electronic benefits transfer cards, and are typically issued by a government agency for use in the purchase of food and other essential goods.
Debit versus Credit
Whenever someone uses a credit card, he or she is borrowing money from the card issuing company to pay for something. Through this process, a credit card is really a loan of money. If the balance is not paid for in full, the card issuing company will charge the cardholder a fee to collect the interest due on the loan.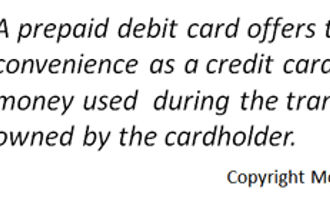 While a prepaid debit card offers the same convenience as a credit card, the money used in the account is owned by the cardholder. That's why they're sometimes referred to as "prepaid" debit cards. Money is removed (debited) from the account (prepaid) as it's used to pay for goods and services. There is no line of credit extended to the accountholder, and no
loan of money
is created by each transaction.
Advantages and Disadvantages
There is no doubt that debit cards are growing in popularity, and perhaps one of the most compelling reasons to use one is to avoid overspending. Some of the other advantages include:
Creditworthiness: consumers with poor payment history may not qualify for a credit card, but should be able to open a debit card account.
Financial Limits: since the card is linked to an account, the financial limits are established and controlled by the accountholder. This can help limit any temptation to overspend.
Convenience: they're generally accepted by the same merchants that accept credit cards. They can be used at retail stores, for online purchases, at ATM machines, and over the phone.
Fraud Protection: consumers have the same protections as credit cards, if the cardholder reports the fraud quickly.
Debit cards may be growing in popularity, but using one has its drawbacks too. Some of the disadvantages include:
Creditworthiness: consumers with a poor payment history can often qualify for a debit card; however, use of that card does not help to establish a good credit rating.
Fraud Protection: when fraud is committed with a credit card, the issuing company is motivated to recover their lost funds, including tactics such as withholding payments to merchants. With a debit card, the bank may not act as aggressively to recover money fraudulently removed from a cardholder's account.
Limits of Liability: if reported within two business days, cardholders are not responsible for more than $50 of unauthorized use. After two business days, the liability can grow to $500. Finally, after 60 days, the loss can grow to the total of all money placed in the account, plus any line of credit used as overdraft protection.
Card Fees: finally, the convenience of using a debit card comes at a cost: numerous fees. When compared to a credit card, they are both costly and the rules complex.
Transaction Fees
Credit card issuing companies make money through the fees they charge cardholders, as well as merchants that honor their card. For example, the cardholder can be charged a financing fee (interest on unpaid balances), and an annual membership fee. These companies also collect a small fee each time the card is used. This is referred to as an interchange fee, and is paid by the merchant, while all other fees are paid by the cardholder.
Unfortunately, companies issuing debit cards charge many fees, for example:
Inactivity Fees: money paid after a card has been inactive for a specified number of days. Inactivity is usually defined as no deposits, withdrawals, or purchases ($1.50 per month).
Card Issuing Fees: includes both initial card fees ($17.50), as well as fees to issue replacement cards ($7.50).
Bank Withdrawal Fees: paid at bank teller windows for withdrawals of money from the debit card account ($4.00).
ATM Withdrawal Fees: paid at machines other than those directly associated with the company issuing the debit card ($1.50 per transaction).
Delivery Fees: charged if the cardholder elects to receive monthly statements by U.S. Mail ($0.95 per statement).
Note: The example fees shown above are those actually charged by a card issuing company.
---
About the Author - Prepaid Debit Cards
---