Payday Loans
Moneyzine Editor
Last updated 25th Nov 2022
If a cash advance is needed to cover short-term expenses, borrowers have the option of taking out a payday loan. As the name implies, this type of loan is paid back when the borrower receives his or her next paycheck.
In this article, were going to be covering the topic of payday loans. We'll start by describing the application and approval process. Then we'll talk about the pros and cons of borrowing money using these types of loans. Finally, we'll provide a short list of alternatives.
Payday Loan Process
Additional Resources
Also known as paycheck, payday, and personal cash advances; these are a relatively short-term loans needed by a borrower until their next paycheck is received. This type of loan is normally offered by independent lenders that are oftentimes able to complete the entire process over the Internet.
Since the cash is usually needed on a short-term basis, the process of obtaining the loan is normally quite simple:
Borrowers are required to complete an online application and / or speak with one of the lender's telephone agents.
A representative of the lender will contact the borrower to answer any questions the applicant might have about the information appearing on the application and / or ask the borrower to provide additional documentation.
Once approved, the lender electronically deposits the money into the bank account of the borrower.
Once the borrower has received their paycheck, lenders will electronically remove the money borrowed plus any fees and finance charges owed the lender. Most lenders offer the option of rolling over the same loan. Each time the loan is rolled over, new fees are charged. Many states have laws in place that limit the number of times the loan can be extended using rollovers.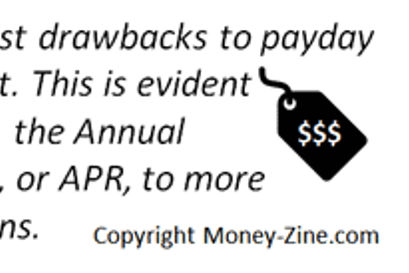 Truths in lending laws require clear disclosure of all the terms and conditions associated with borrowing money. This includes the full disclosure of all fees and finance charges associated with a payday loan. Lenders are also required to provide the borrower with the loan's calculated
Annual Percentage Rate
, which provides a standardized measure of the overall cost of the loan.
Qualifying Rules
Borrowers must meet certain qualifications before loans are approved. Even with a bad or no credit status, a borrower may still qualify. Requirements usually include:
A steady or reliable source of income
Applicants must be 18 years or older
Applicants must be a U.S. citizen or a permanent U.S. resident
An active checking account to receive the deposit from the lender
Note: Due to specific protections, active military personnel may be excluded from receiving payday loans from certain lenders.
Pros and Cons
The major advantage of a cash advance is the near instant access to money. But as we'll soon see, this benefit comes with a high price. The advantages and disadvantages of these loans are summarized below.
Pros
Short-term money is relatively easy to obtain.
Credit checks are usually not part of the loan approval process, thereby providing consumers with poor credit access to a loan.
Most lenders only require proof of employment and a valid bank account to be eligible for a loan.
No collateral is required to secure the loan.
The entire process, from application to electronic deposit, can happen in as quickly as 24 hours.
Cons
If the borrower is unable to repay the loan, the fees associated with extending the term can rapidly add to the expense of borrowing money.
Terms and conditions associated with these contracts oftentimes provide the lender with a great deal of power to collect unpaid balances, and typically offer the borrower few protections.
Fees and interest paid is high relative to more conventional loans.
Interest Rates
One of the biggest drawbacks to payday loans is their cost. This is evident when comparing the Annual Percentage Rate, or APR, to more conventional loans. A sampling of typical interest rates appears below for two of the largest states in the nation as of October 2020:
California: 460% for an 8-day loan, 214 on a 31-day loan
Texas: 661% for a 14-day loan
Using the above rates as an example, an individual in California looking to borrow $200 would be required to repay roughly $235 after only eight days. Interestingly, borrowing $200 over 14 days would only cost the borrower about $1 more. The high interest rates, along with less-than-favorable terms, frequently result in payday loans falling under the label of predatory lending.
Alternatives
If the high rate of interest on these loans is alarming, it's good to know there are viable alternatives that borrowers can explore:
Credit Unions: while these financial institutions might offer lower interest loans to its membership, their qualification guidelines will be more stringent.
Overdraft Protection: banks will frequently offer overdraft protection on checking accounts for a fee, thereby offering the accountholder instant access to a loan.
Employer Advances: employers may offer employees in need of short-term funds a loan in the form of a cash advance.
Credit Cards: oftentimes card issuing companies offer accountholders the ability to receive cash advances.
Family Loans: as painful or humbling as this might seem, borrowing money from a family member or friend is a good choice if the borrower is confident they're able to pay back the money owed.
Household Budgets: creating a budget is a great way of monitoring a household's expenses and starting the process of putting away money for a rainy day.
---
About the Author - Payday Loans
---