Freezing Credit Reports
Moneyzine Editor
Last updated 29th Nov 2022
One of the ways to combat identity theft is to freeze a credit report. It's effective in preventing a thief from opening an account or new line of credit. Unfortunately, these restrictions don't stop all forms of theft. In this article, we're going to explain how freezes can be used to help prevent identity theft. We're also going to explain how to go about limiting access to a credit report. Finally, we're going to talk about the types of identity theft a freeze doesn't prevent.
Restricting Access to Credit Reports
Additional Resources
Going through the process of freezing a credit report is a very effective way of preventing someone from stealing an identity and / or taking out a loan in a victim's name. It's also effective in stopping a thief from applying for a
credit card
, opening up a bank account, or even signing up for cell phone service. In many states, consumers are permitted to place a "freeze" on their credit, which restricts access to their report. In doing so, the probability that an identity thief is able to open a new account is greatly diminished. This process does not affect
credit scores
, and consumers cannot be denied access to their
free annual credit report
, even if it's frozen. Unfortunately, the laws governing these restrictions vary from state to state. Oftentimes states allow victims to restrict access for free, while charging non-victims a fee.
Fees Charged
Fees can range from free (for identity theft victims) to around $10. A fee is charged by each of the three credit reporting agencies, so a consumer can expect to pay around $30 to freeze all their reports. Married couples will pay up to $60. When applying for new credit, restrictions can be temporarily lifted. Again, fees will vary by state, but the temporary or the permanent removal of a freeze typically costs $5 to $10 per report.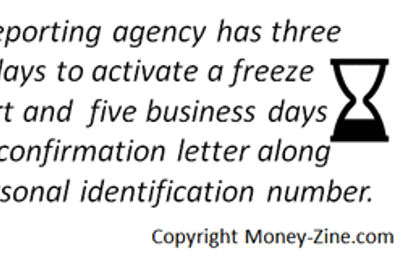 Finally, some states allow these restrictions to expire after seven years, while in other states it remains active until a removal request is made by the consumer.
Requesting a Freeze
Limiting access involves contacting all three
credit-reporting agencies
: Equifax, Experian, and TransUnion. The most effective way to do this is through a written letter. Victims of identity theft can avoid paying fees by sending the credit bureau a copy of a police report, or a report filed with a law enforcement agency. Along with payment, the information typically required when restricting access to a report includes:
Full name, middle initial as well as any suffix (Jr., Sr., III), address, Social Security Number and date of birth.
The street addresses of all former residences over the past five years.
Proof the consumer is living at their current address, such as a recent utility bill that includes both a name and address.
A copy of a government-issued identification card, such as a driver's license or military identification.
Written correspondence should be mailed to the following addresses:
Equifax Security Freeze
P.O. Box 105788 Atlanta, GA 30348
Experian Security Freeze
P.O. Box 9554 Allen, TX 75013
TransUnion Security Freeze
P.O. Box 2000 Chester, PA 19022-2000
Timelines
The credit-reporting agency has three business days after receiving a request to activate a freeze on the report. After five business days, the agency must send a confirmation letter along with a personal identification number, or PIN. Consumers cannot use their Social Security Number, or any portion of it, to create a password. The PIN is used to temporarily, or permanently, remove restrictions. As of September 1, 2009, all credit reporting agencies must allow access to reports within 15 minutes after receiving a request.
Temporarily Lifting a Freeze
Since restricting access to a report is used to prevent identity thieves from opening new lines of credit, these restrictions will have to be lifted whenever applying for credit. Companies that have access to a report prior to a freeze will have access afterwards too. This includes
mortgage
, cell phone, and / or credit card companies. In addition,
debt collection agencies
working on behalf of those companies will also have access to reports.
Limitations
Preventing unauthorized access to credit reports limits the potential for a stranger to obtain a new line of credit or a loan in a victim's name. Unfortunately, it has no impact on the following account types:
Existing credit cards or debit card accounts
Existing bank accounts
Certain new accounts such as telephone service and even some bank accounts that can be opened without running a credit check.
That being said, they are considered effective in stopping a thief from opening the majority of new account types.
---
About the Author - Freezing Credit Reports
---