Credit Report Monitoring
Moneyzine Editor
Last updated 23rd Nov 2022
Individuals worried about identity theft should consider enrolling with a credit monitoring service. These programs will monitor credit reports, and will notify participants when a change or inquiry is made to their report. These services can include locking or unlocking a file, automated notifications, as well as access to credit scores.
In this article, we're going to cover the topic of credit report monitoring. We'll talk about the two main reasons why consumers should consider paying for a service. We'll also compare the offerings from several of the large service providers, as well as the fees associated with these programs.
Credit Report Monitoring Services
Additional Resources
Individuals enrolling with a monitoring service will be automatically notified anytime a change is made to their credit history file. Typically, monitoring services will include credit inquiries, opening of new accounts, payment delinquencies, employment changes, change of address, and other modifications to public records. Services are offered as single bureau, or the monitoring of all three national credit-reporting agencies.
Consumers are generally interested in these services for two reasons:
Credit Scores: higher scores generally result in lower interest rates on loans. Employers, as well as insurance companies, also track scores; therefore, it makes sense for consumers seeking new credit, or applying for a loan, to monitor this closely.
Identity Theft: by closely monitoring a report, consumers are able to detect fraudulent or suspicious activity associated with identity theft on their reports.
Free Monitoring
There are currently three companies offering nationwide credit reporting services: Experian, Equifax, and TransUnion. By law, consumers are able to request one free copy of their credit report from each of these three credit-reporting agencies every twelve months.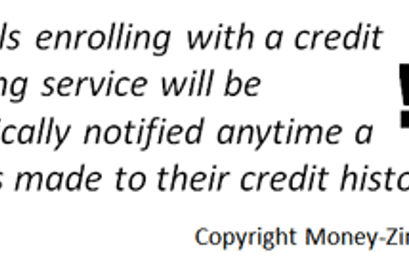 By staggering requests for a free credit report, it's possible to monitor activity at four-month intervals. This no-cost option, is arguably the most effective way for individuals that are unwilling, or unable, to pay a service provider to watch for suspicious activity on their reports; free of charge.
Service Providers
Companies offering credit monitoring services generally provide either one-bureau, or three-bureau service. It's also not surprising the same companies compiling these credit history reports are the "big name" companies offering monitoring services. Specifically, TransUnion offers TrueCredit, Equifax offers Complete Advantage, while Experian offers Credit Manager. In the sections below, each offering is compared to those of Identity Theft service providers such as LifeLock, and TrustedID.
TrueCredit from TransUnion
Cost:
Program Highlights:
24/7 monitoring
Unlimited access to all three credit reports and credit scores
Notification sent within 24 hours of critical changes to all three reports
Up to $1,000,000 in identity theft insurance
Complete Advantage Plan from Equifax
Cost:
Program Highlights:
Unlimited access to all three credit reports
One free FICO credit score plus access to a score simulator
Customizable alerts and daily monitoring of changes to all three reports
Up to $25,000 in identity theft insurance
Credit Manager from Experian
Cost:
Program Highlights:
Unlimited access to an Experian credit report
Real-time access to Experian's PLUS Score as well as simulations via Score Illustrator
Daily monitoring of fraudulent activity, new inquiries, new accounts, and late payments
Alerts of critical changes to the accountholder's credit report including notifications via email
LifeLock - Identity Theft Protection
Cost:
Program Highlights:
Fraud alerts established at all three credit bureaus, requiring telephone calls each time someone applies for credit in the accountholder's name
Pre-approved credit offers and junk mail blocked
Monitoring of criminal websites and national address databases for fraudulent activities
$1,000,000 service guarantee to pay for curing a failure to detect identity theft or fraud
TrustedID - Identity Theft Protection
Cost:
Program Highlights:
Fraud alerts established at all three credit bureaus, requiring telephone calls each time someone applies for credit in the accountholder's name
Pre-approved credit offers and junk mail blocked
Monitoring of criminal activities related to the accountholder's Social Security Number, bank accounts, credit card numbers, and medical records
$1,000,000 service guarantee to pay for curing a failure to detect identity theft or fraud
---
About the Author - Credit Report Monitoring
---