Top 20 Most Expensive Colleges: A Peek Into Elite Education

Dunja Radonic
Last updated 28th Nov 2022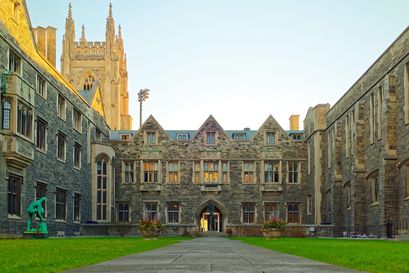 What does the data say about tuition prices in the US? First of all, the general trend is that the prices are rising, regardless of the institution. For out-of-state students who have no other choice, another notable change is the cost of living on campus, which has especially grown in the last year.
In this article, we listed and described the most expensive colleges and their prices. All tuition prices are listed before any sort of financial aid. In many cases, grants, scholarships, loans, and work-and-study arrangements can make a drastic price difference.
All data is taken for the 2021/2022 academic year from National Center for Education Statistics research.
A Look at the 20 Most Expensive Colleges
Columbia University
Columbia offers an all-encompassing curriculum of literature, politics, history, sciences, art, music, and writing, preparing its students for the challenges of today's world. The most expensive college in the US is set in NYC and it enables its students to grow in one of the world's most inspiring cities.
Students have to set aside tuition of at least $61,671 per year, while the cost rises to $82,584 for an on-campus experience. Luckily, 58% of students receive some form of financial aid to weather the country's highest college tuition.
Bard College at Simon's Rock
Bard College is one of the most expensive colleges in the US with a price tag of $61,169 per year, or $82,201 for students who have to live on campus. The price tag comes with the fact that Bard College received a higher academic rating from the Princeton Review than both Harvard and Princeton so it is truly an investment in its students' future. With tuition this high, it's no surprise to know that 85% of students receive some financial aid.
Franklin and Marshall College
Franklin & Marshall College ranks #42 in the category of National Liberal Arts Colleges in the 2022 edition of Best Colleges. It's famous for its majors in Liberal Arts and Humanities, Economics, and Business. And with an acceptance rate of 37%, it's not easy to get into Franklin and Marshall College. Its tuition of $61,062 places it among the most expensive US colleges, even more so looking at on-campus expenses of $80,618 per year. 72% of students receive financial aid.
Vassar College
To attend Vassar College in Poughkeepsie, NY, students have to pay $60,930 in tuition or $80,830 for campus and other expenses. Vassar College tuition is reduced for 67% of students receiving aid, with the average aid award amounting to $54,000. The College offers 51 majors and belongs to the prestigious group of colleges known as the Seven Sisters, so it's no wonder it also found its place among colleges with the highest tuition.
Amherst College
Amherst College offers 41 majors in arts, humanities, social and natural sciences, focusing on innovation, critical thinking, writing and speaking skills that prepare its students for a myriad of careers. It's a highly competitive college with an acceptance rate of only 11%, and one with the highest tuition in the US. Its yearly price (for the academic year of 21/22) is $61,150; with estimated on-campus expenses of $80,050. 66% of students receive financial aid.
Colorado College
The tuition and fees for Colorado College amount to $62,070 for the school year 2021/22. If you add campus expenses, Colorado College will cost you $79,562 a year, making it one of the most expensive private colleges in the country.
Tufts University
Tufts University, located in Medford, Massachusetts and known for its high level of research activity and amazingly successful graduates including ten Nobel Prize laureates. One year at Tufts costs $63,000 for 2021/22, including fees, or $81,700 for living on campus with all expenses. Interestingly, despite attending one of the highest tuition colleges, only 46% of Tufts' students rely on some sort of financial aid.
Brown University
The estimated tuition and fees for Brown University in this academic year total $62,304. On-campus expenses are estimated at $82,570, grouping Brown University with the most expensive universities in the US. More than half of its students use financial aid to cut their expenses for this Ivy League champion known for its superior science and liberal arts programs.
Reed College
Another college with expensive tuition is Reed College, known for its humanities-intensive first year. Reed College also offers 40 majors and programs. Although Reed does have high tuition of $62,730 with fees and $80,970 for living on campus, it has a policy of meeting 100% of every admitted student's demonstrated financial need. This places it #6 in Great Financial Aid according to Princeton Review.
University of Chicago
The next on the list of most expensive colleges is one of the best, most selective universities in the US and worldwide. An astonishing 94 Nobel laureates have been affiliated with this institution, which offers 53 majors and 47 minors. UChicago's estimated tuition for 2021/22 is $62,241 or $84,126 taking into consideration all on-campus expenses. Unsurprisingly, 58% of its students receive financial aid in one form or another.
Landmark College
Landmark College is one of the most expensive colleges in America with $61,490 in tuition and fees and $80,680 for on-campus expenses. It's a college for students who learn differently, such as those with ADHD, autism, or other learning disabilities. All of its students receive some form of financial aid.
University of Southern California
Located in Los Angeles, the University of Southern California is one of the best ranking of all high-tuition colleges when it comes to student life. But aside from being fun, this university is at the very top when it comes to film and business. Being so close to Hollywood, many of its alumni include famous actresses, actors, filmmakers, and photographers. Its tuition with fees is currently $61,503 and $81,659 if you want to experience the exciting life on campus.
Boston College
Boston College is the first institution of its kind in Boston and one of the most renowned Catholic colleges. It's also among the highest tuition universities in the US. Its tuition for this academic year is estimated at $61,706 with fees, while it costs $80,658 to stay on campus. 51% of students receive financial aid.
Dartmouth College
While Dartmouth doesn't have the most expensive college tuition in the country, it does come with a high price tag of $60,870 with fees and $81,501 for an on-campus arrangement. Dartmouth is a liberal arts college with more than 40 departments and programs.
University of Pennsylvania
This Philadelphia-based university costs $83,298 for on-campus students while just its tuition with fees comes to $61,710 for this academic year. This makes it one of the most expensive universities you can attend. Financial aid helps 63% of students in receiving higher education at this highly selective Ivy League institution.
Colgate University
A year at this private liberal arts college costs $61,966 while staying at its famously gorgeous countryside campus increases the price to $80,160. Less than half of its students receive financial aid, although Colgate has one of the most expensive college tuitions.
Wesleyan University
Wesleyan University in Middletown, Connecticut is known as one of "The Little Three" or the "Little Ivies", along with Amherst and Williams. It's one of the most eminent liberal arts universities in the country. It doesn't have the highest university tuition but it is pretty close at $62,049 for a year and $82,245 if you live on campus.
Union College
Union College is set in Schenectady, NY and it's a great place for interdisciplinary research as 75% of its students study more than one discipline. Union's tuition for this year equals $61,659. However, most of its students live on its stunning campus, which costs $78,885 with tuition. 89% of Union students receive financial aid, while 25% receive merit scholarships.
Colby College
Colby College is a small college in Waterville, Maine that focuses on providing an extensive liberal arts education, as well as natural sciences, and interdisciplinary studies. A year at this highest-tuition college costs $61,220 as of 2021/22, and if you add campus expenses on top of that, the amount rises to $78,665.
Carleton College
For the academic year 2021/22 at Carleton, students would have to pay $60,225, or $78,315 with campus expenses. This small college in Northfield, MN offers majors in liberal arts, and natural and social sciences. Getting into Carleton is not easy, as the college has an admissions rate of 18% and is considered a Hidden Ivy, which makes it one of the fanciest colleges in the country.
Conclusion
These colleges are highly popular and prestigious, usually promising a chance for a bright future for graduates. Still, the tuition is chillingly expensive and student loans can be tricky to get out of. That's why it's crucial to learn more about different types of financial aid and ways to make education more affordable. Good luck to all future students!
Sources:

Dunja Radonic
Dunja is an English Literature graduate with years of experience as a writer and translator within the financial sector. She loves diving into as many reports and numbers —especially about topics like personal finance that still need some translating to the public. When she's not working, you'll find her running wild with her pack of dogs, playing board games, or bingeing on pop science videos.