Mobile Homes
Moneyzine Editor
Last updated 23rd Sep 2022
These homes go by many names: manufactured homes, prefabricated homes as well as mobile homes. Regardless of what they're called, these are state-of-the-art dwellings. The energy efficiency, structural soundness, and overall appearance of these houses get better every year.
Manufactured Prefabricated and Mobile Homes
Today's manufacturers of prefabricated homes don't like the term "mobile homes." That's because the name often conjures up negative images of the structures built in the 1950s and 1960s. During those two decades, the mobile home industry experienced a huge growth spurt, and the competition that ensued led to a decrease in overall home quality.
Evolution of Mobile Homes
Mobile homes had their beginnings as trailer homes; living quarters that were originally designed to be pulled behind a vehicle. In fact, this is the place where a distinct split in the fabrication of these homes took place. Down one road we have the evolution of the true mobile or trailer home, which leads to today's recreational vehicles or RVs. Down the other road we have mobile homes, which evolved into prefabricated or manufactured homes.
Mobile Home Quality
Many of the mobile homes manufactured during the 1950s and 1960s were cheaply made, and a relatively unsafe place of permanent residence. Without quality standards to abide by, the homes were fire hazards and were frequently blown off their foundations during storms. By the early 1970s, the federal government stepped in to begin regulating the manufactures of these homes.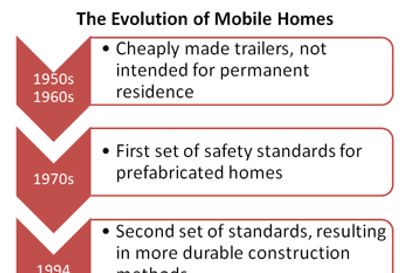 In 1976, and then again in 1994, the U.S. Department of Housing and Urban Development, also known as HUD, began setting safety standards for
prefabricated homes
. This meant these "temporary" homes needed to be structurally sound, just like the "permanent" homes they replaced. Today's mobile homes are better designed; they use more durable construction methods, as well as energy efficient and fire resistant materials.
Buying a Mobile Home
We recently published an article on buying a manufactured home that provides a great deal of information around the purchase of mobile homes. Anyone seriously thinking about buying this type of home may want to take a closer look at that article. Here were going to highlight some of the purchase considerations appearing in that article.
Manufacturer's Warranties
The type of new home warranty offered with a mobile home will vary by manufacturer. Buyers can expect all reputable manufacturers to cover defects in the home such as workmanship, electrical, plumbing, and heating systems. If the home comes with appliances such as a dishwasher, refrigerator, washing machine or dryer, those items are generally covered under the appliance manufacturer's warranty.
When comparing warranties between the makers of mobile homes, pay careful attention to the length of warranty, items covered, and the process for filing a claim.
Mobile Home Site Selection
The purchase of a new mobile home needs to be carefully coordinated with site selection. Many retailers of these homes are also developers of parks or communities, and they can provide a turnkey approach to both home and site selection.
Buyers that plan to purchase their own property need to make sure the home meets local zoning requirements, and has access to utilities such as electric, heating fuel, water, and sewer. Finally, it's important to make sure everyone agrees that the home can be safely transported to the property.
Transporting a Mobile Home
Normally, mobile homes are delivered from the fabricating plant directly to the retailer's location. From there buyers need to work with their retailer to transport the home to its final destination. This is no small consideration, and homes are frequently damaged to some degree during transportation. Make sure it's clear who is responsible for paying the cost of repairs during both phases of transportation.
Installing a Home
One final concern has to do with securing the home to its foundation. Remember, the site needs to be fully prepared to accept the home. That means properly securing the house to the foundation, and making all of the necessary utility hook ups.
Mobile Home Manufacturers
In closing, we'd like to quickly mention four of the top manufacturers of mobile homes. We're talking about a $9 billion industry, so there's a lot to choose from, and that's good news for the consumer.
Clayton Homes
When it acquired Oakwood Homes in 2004, Clayton Homes leaped to the top of the list of mobile home manufacturers in the United States based on the number of homes or units sold. Owned by Berkshire Hathaway, Clayton makes one and two story homes that range in price from $20,000 to more than $300,000. Home sizes range from 500 square feet to 3,700 square feet for its luxury models.
Clayton Homes sells through a network of 1,000 retail distributors operating in 30 states. This includes around 400 Clayton owned stores and over 1,100 independent retailers. Clayton also operates 90 mobile or manufactured housing communities. Clayton is a turnkey provider with home financing, loan servicing, and homeowner insurance subsidiaries.
Champion Enterprises
Once the number one builder of manufactured homes, Champion Enterprises is now the second largest manufactured homebuilder in the United States based on units sold (around 25,000 homes annually). Champion specializes in multi-section ranch homes, but also fabricates two-story, single-section, and multi-family dwellings.
Champion homes range in size from 800 square feet to nearly 4,500 square foot luxury units. Prices range between $25,000 and $200,000, with an average selling value of just over $100,000.
Champion operates twenty-seven plants in fourteen states plus Canada. Champion mobile homes are marketed through 50 company-owned sales centers and roughly 2,400 independent retailers. Consumers can also find these homes sold in over 800 Champion Home Centers.
Fleetwood Enterprises
Fleetwood Enterprises is a well known manufacturer of recreational vehicles (RVs) in addition to being the number three manufacturer of prefabricated homes. Fleetwood sells motor homes (American Eagle, American Heritage, Southwind and Tioga), travel homes (Mallard, Pioneer and Triumph) in addition to folding trailers.
Fleetwood Enterprises' manufactured homes feature extras such as vaulted ceilings, porches and walk-in closets. They operate fabricating facilities in 15 states and Canada. Fleetwood homes are sold through company-owned retail outlets and independent retailer / distributors.
Palm Harbor Homes
Based in Dallas, Texas, Palm Harbor Homes is one of the nation's largest marketers of factory-built homes, selling nearly 8,000 units in 2005. The company offers vertically integrated services including the manufacturing, retailing, financing and insuring of mobile homes.
Palm Harbor offers floor plans which include three baths, four bedroom units ranging in size up to 3,300 square feet. They also offer luxury amenities such as whirlpool baths and stone fireplaces. Homes are sold through 86 company-owned stores and a network of nearly 150 independent dealers in 20 states across America.
---
About the Author - Mobile Homes
---